A Black Male Student Says a White Woman Bit, Choked, and Pinned Him While They Were Kissing. Guess Who Got Suspended?
A judge sides with a Brown University student who says the Title IX process was unfair and discriminatory.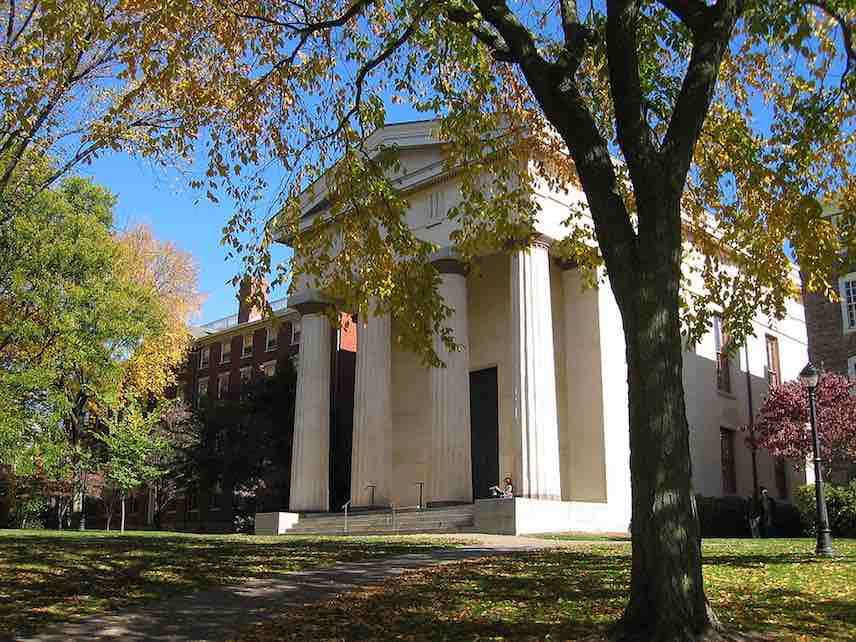 A Brown University student suspended for alleged sexual misconduct has won an important victory: His lawsuit against the university, which makes some of the most eye-popping claims of unfair treatment that I've seen in my years of covering these issues, has survived a motion to dismiss.
Rhode Island District Judge John McConnell, an Obama appointee, ruled that the student, a black male athlete referred to as "John Doe," had presented evidence that Brown officials engaged in an "ongoing, racially discriminatory pattern" of behaviors that violated John's rights, wrecked his freshman and sophomore years, caused his grades to plummet, and may have even contributed to his suicide attempt.
The case should now proceed to a jury trial, according to McConnell.
This case is especially noteworthy because of John's contention that he was essentially presumed guilty because of his race. John is black and his accuser, "Jane Doe," is a white woman. Moreover, Jane was the initiator, at least according to the allegations contained in the judge's decision. John even complained about Jane's behavior—to no avail, he says, because Brown was only interested in Jane's complaint.
I have reviewed both the judge's decision and John's amended complaint. They represent just one side of the story—the side most favorable to John. McConnell has only ruled on the defense's motion to dismiss, which means that his task was merely to consider whether an impartial jury could conceivably side with John. That said, this case has already been "governed by three separate complaints and been subjected to two motions to dismiss," in the judge's words, which means Brown has not made good use of the opportunity to cast doubt on John's rather striking claims, including direct quotes from Brown officials that provide evidence of bias.
John claims that in 2013, he went to a bar where he met Jane. Both consumed alcohol, though both were underage. Outside the bar, they flirted with each other and eventually started kissing. According to the allegations outlined in the judge's decision:
In the back alley, they engaged in some "kinky" behavior. Jane bit John's lip and choked him. She pushed him against the wall and held him there. John had to defend himself against Jane's advances. Jane restrained John and tried to keep him from leaving. She was the more aggressive one and at one point told John, "I make the rules."
Jane initiated a sexual misconduct complaint under Title IX, the federal statute that obligates universities to adjudicate such disputes, in December 2013. Brown discriminated in favor of Jane in a number of ways, according to John: Officials did not take his counter-accusation seriously, and they permitted Jane to amend her complaint the day before the hearing took place, without giving John any chance to prepare his defense. Brown eventually found John responsible for nonconsensual contact and underage drinking and gave him a one-year deferred suspension. Jane appealed the decision because she wanted John expelled, but she lost.
John and Jane were ordered to have no contact with each other and not to talk about the case—conditions that Jane repeatedly violated, according to John. John is an athlete, and Jane attended parties for his team that he was certain to attend; when his mother complained about this to a dean, she was told "it is normally expected that the guy would leave the area."
Months later, just before the end of the school year, Brown informed John that he had to leave campus immediately due to a second sexual misconduct accusation against him. According to John, this accuser, "Sally Roe," would later tell him that Jane had motivated her to make her complaint after discovering that they had both kissed him. (Jane and Sally were in the same sorority.) Sally later apologized to John "for the grief she had caused him," he claimed.
Administrators saw Sally as a way to resume their case against John. One dean, Maria Suarez, called John's coach and said, "We got your boy now, he is out of here," according to the allegations of fact.
John claims he failed two exams because of the added stress. Brown informed him in August 2014 that the investigation had concluded and he could come back to school for his sophomore year.
John became "plagued with self-doubt," according to his lawsuit, and threw himself in front of a moving car after a sexual encounter in October. According to the alleged facts:
John was discharged four days later; that day, Dean Suarez "summoned John and his mother to an 'urgent' meeting" and informed John that if he did not leave the University, he could expect to face hearings on "several matters," including for damage to the vehicle sustained by his attempt at self-harm, which would be brought up as a vandalism charge. She also told him that there was an allegation that he had violated his no contact order with Jane, and that the University could revive the allegations involving Sally. Within the week, John left campus.
John eventually returned to school. He initiated his suit in 2017 after learning from Sally that both Jane and the administration had urged her to make a complaint against him. His suit alleges that Brown engaged in racial discrimination, created a hostile educational environment, and violated his rights in myriad other ways.
Again, that's all according to the information provided by John. It's possible that Brown will refute these claims at trial, or provide evidence that officials had stronger grounds to investigate John—and deem him responsible for nonconsensual contact—than is alluded to here. As best I can tell from the judge's decision, Brown's legal strategy so far has been to argue that John's claims fall outside the statute of limitations. (McConnell did indeed dismiss some aspects of John's lawsuit for this reason.)
Even so, this decision raises very important questions about fundamental fairness for accused students at Brown. It also forces us to confront a particularly vexing matter: whether Title IX is disproportionately enforced in a racist manner against black male students who have sexual encounters with white women. Reporting by The Atlantic's Emily Yoffe has turned up some evidence this is indeed the case.
At the very least, this lawsuit should prompt fourth-wave feminists who cling to a believe-the-victims-at-all-cost mindset to consider why Jane and Sally were entitled to this preferential treatment but John was not.