High Schooler Faces Prison, Expulsion for Shooting Fake Zombies
Play an augmented-reality zombie shooter in a school halllway, go to jail.
An Indiana high school senior played an augmented-reality zombie-shooter game in a school hallway, then posted video of his gameplay to Facebook. Now he's facing potential expulsion and prison time, and his future in the National Guard could in jeopardy.
One look at the trailer for The Walking Dead: Our World reveals that zombies, not human beings, are the targets. The mobile game uses your smartphone's camera to generate the brain-eating creatures wherever you happen to be. It's a completely harmless game:
It looks fun to me, but maybe not to everyone. One of 18-year-old Sean Small's fellow students at Scottsburg High School reported his Facebook video to school authorities, WDRB reports. Principal Ric Manns then consulted with Joe Baker, a school resource officer and deputy in the Scott County Sheriff's Office. In a probable cause affidavit, Baker brilliantly concluded that the video "depicted real Scottsburg High School students walking through the hallway along with fictional zombie characters."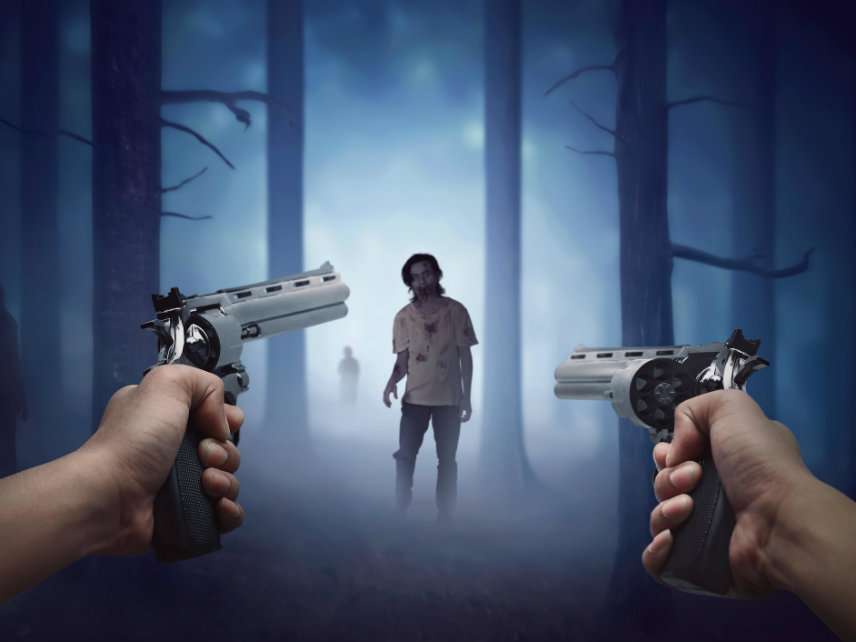 Baker made some other astute observations about how the game works. "Such students could not be identified due to the app's photographic settings," he wrote. "Further, it appeared Sean had used his smartphone to capture the movement of random students walking in the hallway of the school while shooting zombie characters walking in the shooter's immediate direction."
School officials weren't able to find any weapons in Small's possession, and he assured them he didn't mean any harm. Apparently that wasn't good enough. Small was arrested Tuesday and charged with intimidation, a misdemeanor. Though he was released on $1,000 bond, he could face up to a year behind bars and a $5,000 fine if convicted, according to WAVE.
Small is currently a member of the Indiana National Guard, but his future in the service is in jeopardy, depending on the outcome of his case. Small's trial is set for October 23.
Small's father said Sean, who must also attend an expulsion hearing next week, is being punished over nothing. "He's targeting zombies," Kris Small tells WAVE. "So unless zombies are now a protected class in Scott County, I don't think anyone's at threat by this."
Scott County School District 2 Superintendent Marc Slaton wouldn't comment on Small's case. But he did say in a statement to WAVE that the district "takes the safety of our students seriously and as a result we will do our due diligence in providing as reasonably safe as possible environment for our students and staff."