Congressman Launches His Yacht in the Swamp
Rep. Vern Buchanan bought a yacht with a giant loan from a foreign bank that lobbied heavily in favor of tax reform.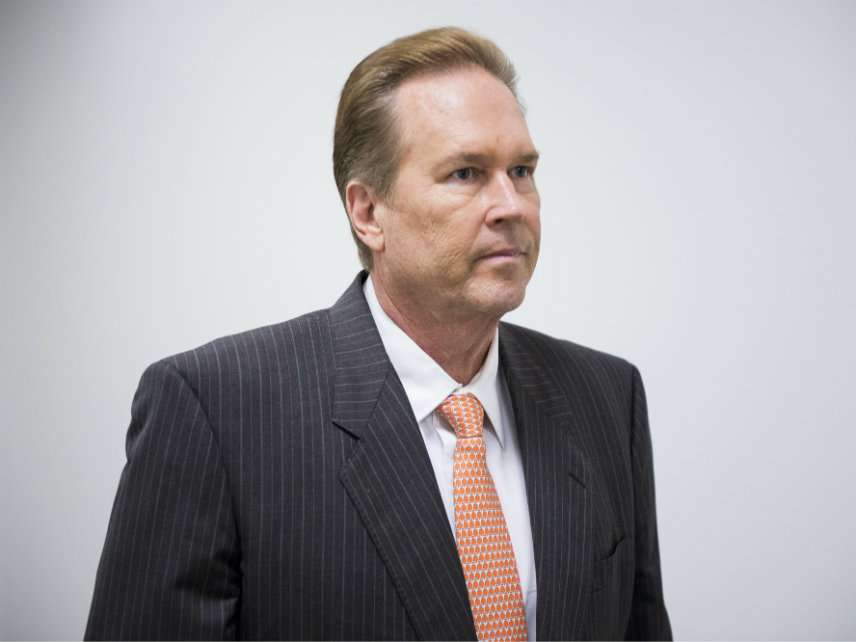 There's nothing wrong with using a loan to buy an expensive yacht, but it's fair to raise questions when a member of Congress does so using a loan from a foreign bank that just happens to be lobbying in favor of some major tax legislation. Especially when said member officially makes the purchase on the same day he votes yes on a bill that benefits his lender.
Rep. Vern Buchanan (R-Fla), the top Republican on the House Ways and Means Subcommittee on Tax Policy, is accused of doing just that. On November 16, 2017, Buchanan voted in favor of a draft of the Tax Cut and Jobs Act. That was the same day he bought a 73-foot Ocean Alexander Yacht, Florida Politics reports, citing a financial disclosure form.
How was Buchanan able to afford such a purchase? Though he's worth about $74 million, the Florida Republican didn't use his own money. Instead, he took out a loan of up to $5 million from BMO Harris Bank, the Chicago-based subsidiary of the Canadian Bank of Montreal, according to an article published by the Florida Center for Investigative Reporting (FCIR) in partnership with the watchdog groups MapLight and Capital & Main.
The timing of that loan and another that Buchanan used to buy a plane is more than a little curious. FCIR reports:
At the time Buchanan's company received the 2017 yacht loan, BMO Harris was lobbying congressional lawmakers on tax policy overseen by the Ways and Means Committee, according to federal records. Buchanan received a separate BMO Harris loan for a plane in 2016. Records show that loan, worth between $5 million and $25 million, was made around the same time that the bank began lobbying lawmakers on "tax reform proposals."
Lobbying efforts cost BMO Harris a total of roughly $760,000 last year.
The tax reform legislation, meanwhile, eventually passed both houses of Congress and was signed into law by President Donald Trump. Both BMO and Buchanan were expected to benefit from the tax cuts.
According to the House Ethics Committee, a loan to a member of Congress is classified as an improper gift if it's provided "at a below-market interest rate." That's not what happened in this case, Buchanan's re-election campaign manager, Max Goodman, tells the Sarasota Herald Tribune. Buchanan got "the going rate" on his yacht loan, Goodman says.
But according to Craig Holman, an ethics advocate at the progressive consumer rights advocacy group Public Citizen, BMO Harris' loans to Buchanan could be cause for concern. "It isn't just business for Buchanan," Holman tells FCIR. "The loans grant Buchanan the luxuries of a personal jet and a yacht. It is very reasonable to assume those luxuries could well influence Buchanan's official actions."
Buchanan's probable Democratic challenger this November, David Shapiro, was quick to attack the incumbent. "Today, we learned the Congressman financed his yacht with a loan from a foreign bank lobbying on the tax bill," Shapiro said in a statement to the Tampa Bay Times. "It's time Vern Buchanan answer the question once and for all: is he representing Florida families in Washington, or his special interests?"
There's nothing wrong, of course, with a member of Congress supporting a bill that lessens a big bank's tax burden. Tax cuts can help everyone—constituents and big businesses alike. Plus, a lot of the banks capable of providing Buchanan with a multimillion-dollar loan were likely lobbying for the tax reform legislation as well.
But the optics are gross. And as Rep. Thomas Massie (R-Ky.) told Reason's Matt Welch last month, members of Congress can't "buy" committee leadership roles without cozying up to corporate lobbyists. In Buchanan's case, accepting a massive loan from BMO Harris as he was voting for legislation that helped the bank creates the impression that a big bank can buy changes in the law the rest of us can't.