Backpage.com Founders Michael Lacey and James Larkin Were Accused of Sex Trafficking by the Senate. Now They Tell Their Story: Reason Roundup
Plus: Europe's terrifying new "terrorist content" rules and zoning reform goes federal.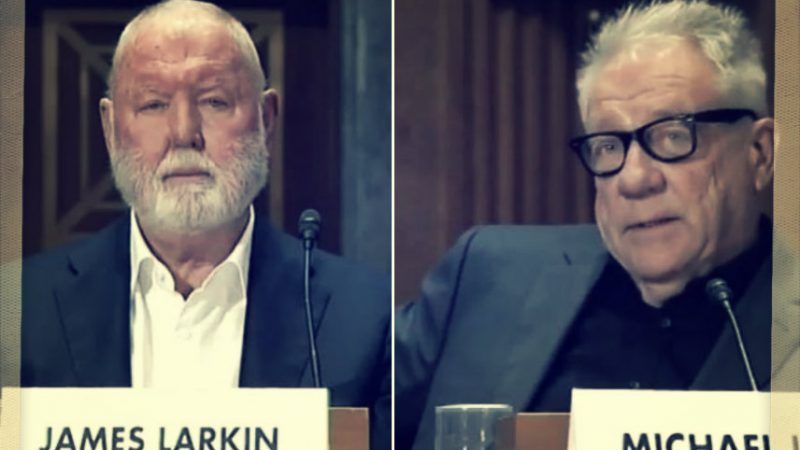 (modified from cSpan screenshots)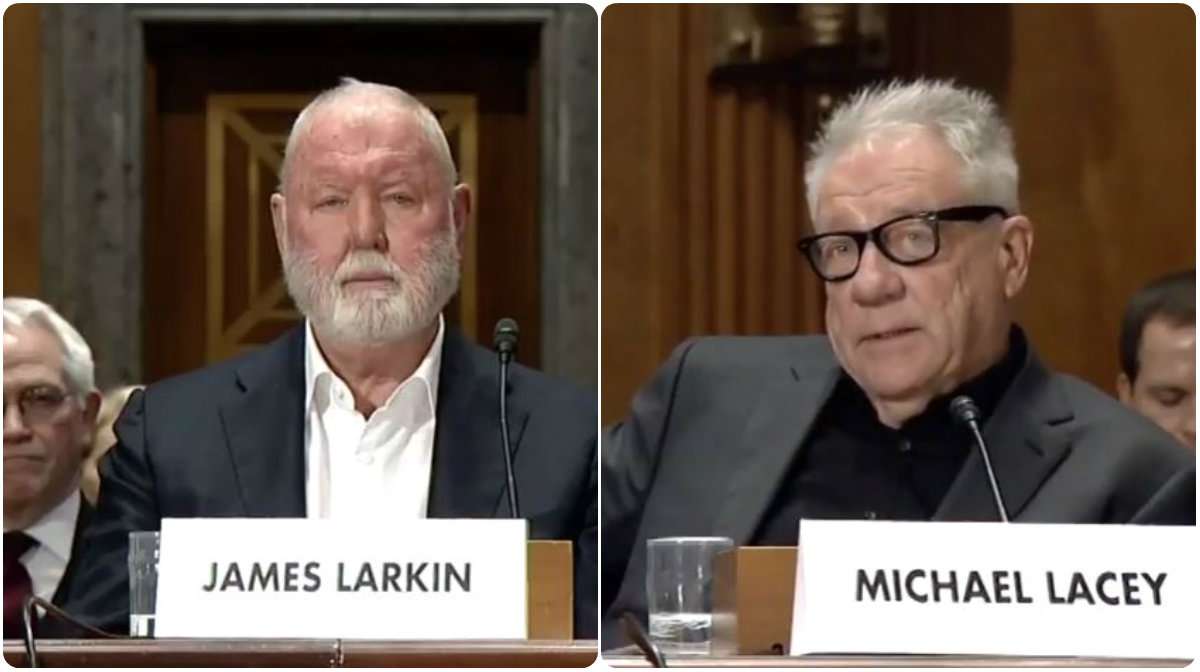 An inside look at how two longtime alt-weekly publishers became targets of a massive, panic-tinged political crusade. I spent July 3 and 4 in and around Phoenix with two of the most vilified men in America, Backpage founders James Larkin and Michael Lacey, who had been accused by senators of facilitating sex-trafficking and targeted by activists and attorneys general across America. I also spoke with a cadre of their family members, former employees, and oldest friends, including Phoenix business coach Francine Hardaway.
"They are the nicest guys. They are freedom fighters. They are not sex traffickers," says Hardaway, one of the earliest writers for what would become Lacey and Larkin's indie-press empire. "I mean, [that they are sex traffickers] is the most absurd thing I ever heard."
But as the founders of Backpage.com, Larkin and Lacey have been cast as complicit in an array of alleged evils. And they're certain its political.
"Part of the reason this has really worked is because you have Cindy and John McCain involved and they see an opportunity to even a score," says Larkin.
The McCains were far from the only enemies he and Lacey made in more than four decades running free newspapers including the Phoenix New Times and the Village Voice. In recent years, everyone from Democratic Sen. Kamala Harris to actor Ashton Kutcher and Joe Arpaio, the crooked Maricopa County sheriff pardoned last year by President Trump, have made them targets.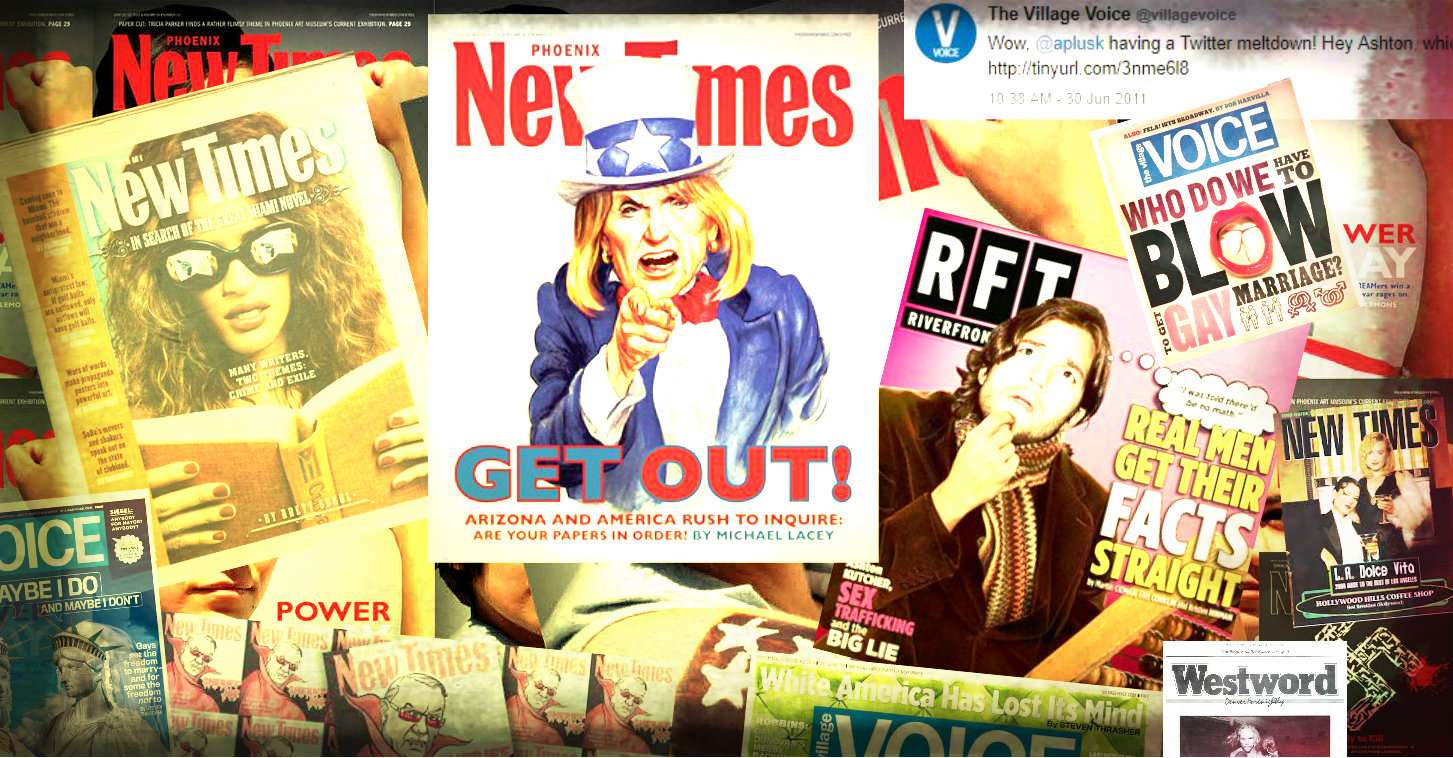 "We spent 40 years doing journalism, groundbreaking journalism, and they want to take all that away," says Lacey when we talk at his home just outside Phoenix on the 4th of July. Three months earlier, in April, armed and masked agents had raided the place on the day before Lacey was celebrating his new nuptials. They did the same at the nearby home Larkin shares with his wife.
Now, both men are tethered to Maricopa County by court order and ankle monitor as they await a trial that the feds say they need until 2020 to prepare for. In the interim, prosecutors have been busy seizing Lacey and Larkin's assets and pushing to disqualify their attorneys.
"I watched it happen to them all their lives that sooner or later, after they've proven themselves nine million times, somebody finds some way to stick it to them," Hardaway tells me. "Mike and Jim, their entire reason for going into business was to be free speech advocates. … And so they're easy targets for being free speech advocates at a time when free speech is a huge question."
Most people think the story of their arrest is a story about sex trafficking. But not even the current federal indictment against Lacey, Larkin, and several other former Backpage bigwigs alleges that, nor did CEO Carl Ferrer cop to it in his April plea deal with the feds.
The story of how Lacey and Larkin ended up here is better understood as one of political retribution meeting moral panic, greed, and good old-fashioned authoritarianism. It's one in which an array of very invested parties colluded to take down a company with financial assets and attitude in equal proportion, despite the fact that it was actively working with law enforcement and against sexual exploitation and underage prostitution.
"We didn't really care what politicians saw in us," says Larkin. "And that's come back to haunt us."
Read more here.
FREE MINDS
New European Union rules "will turn popular social media sites into EU-owned ATMs," warns Techdirt.
EU Commission Moving Forward With Legislation Demanding One Hour Removal Of 'Terrorist Content' https://t.co/Nv9Fu5XBNa

— WILL INVESTIGATE FOR FOOD #GODBLESS (@TimCushing) August 21, 2018
FREE MARKETS
Zoning reform goes bipartisan—and federal? It's great that people of varying political stripes are recognizing how local land-use restrictions can actually impede affordable housing. But do we really want Congress to take the reins on spurring local reforms? Some market urbanism advocates are suggesting so. At CityLab, urban planning researcher and Market Urbanism contributor Nolan Gray writes that "conditioning valuable federal dollars on an end to exclusionary zoning is an idea whose time has come." Read his case why here.
QUICK HITS
Fake News, of which there is soooo much (this time the very tired New Yorker) falsely reported that I was going to take the extraordinary step of denying Intelligence Briefings to President Obama. Never discussed or thought of!

— Donald J. Trump (@realDonaldTrump) August 21, 2018
Prisoners are going on a labor strike in 17 states.
Protesters at the University of North Carolina Chapel Hill last night toppled a Confederate statue known as "Silent Sam."
"Nastya Rybka," the Belarusian "seduction coach" who claims to have proof of Russian interference in the 2016 U.S. election, pleaded not guilty to prostitution charges in Thailand, where she's been detained since February. Rybka recently told the Associated Press that she had given her audio and video to Oleg Deripaska, the Russian oligarch and former Paul Manafort business associate with whom she had a brief relationship. "He promised me a little something already," she said. "If he do that then there will be no problem, but if he don't…"
"Gen Z will comprise 32 percent of the global population of 7.7 billion in 2019, nudging ahead of millennials, who will account for a 31.5 percent share," according to a new analysis.
Environmental activists take up the states' rights mantle.
"It is unclear who she really is, if that is her real name, or if her real motive was to find a worthy gentleman to date." https://t.co/6byHdsyjUa

— Jesse Walker (@notjessewalker) August 21, 2018