Shock Poll: Gary Johnson at 21% in Senate Race, Nearly Twice as Much as GOP Nominee
More New Mexico Republicans favor the Libertarian than their own candidate for U.S. Senate.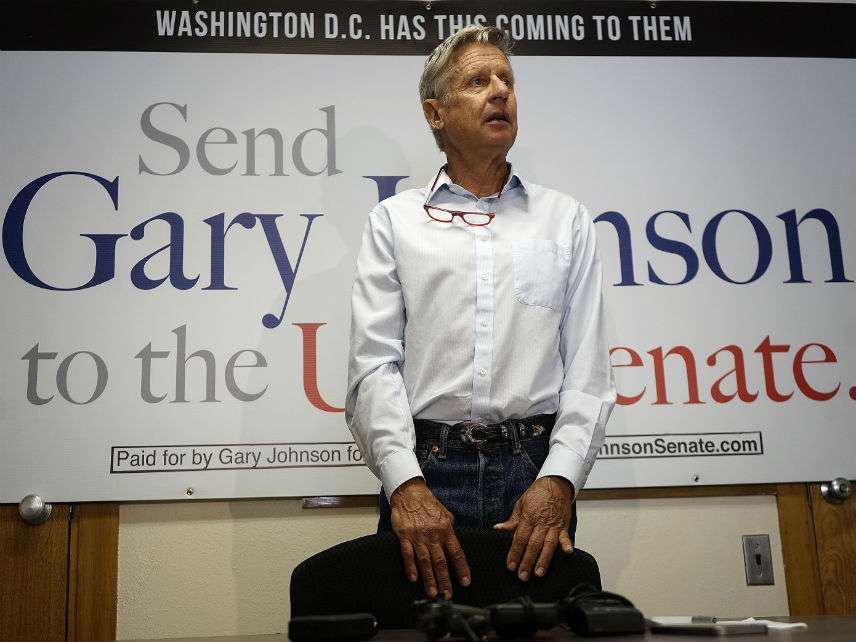 This morning brought the first three-way poll since former New Mexico governor and Libertarian Party presidential candidate Gary Johnson officially announced his candidacy for U.S. Senate last week. And boy, is it a doozy: 39 percent for Democratic incumbent and frontrunner Martin Heinrich, 21 percent for Johnson, and just 11 percent for Republican nominee Mick Rich, according to an August 17–18 Emerson College e-poll of 500 registered voters.
That 21 percent figure, coming as it does before any real campaigning has begun, would mark the second-highest vote total of any Libertarian candidate for U.S. Senate in the party's 47-year history. (Alaska's Joe Miller, a Tea Party guy, received 29 percent in 2016.) Also, an unusually large 30 percent of respondents said they were undecided, perhaps not surprising in a race that until last month showed little interest.
The news for Rich is even worse on second glance: More Republicans in the survey favored Johnson, 27 percent to Rich's 25 percent. And the Libertarian clobbers the Republican among both Democrats (13 percent to 3 percent, with Heinrich getting 60) and independents (25 percent to 7 percent, with Heinrich at 32). Registered Democrats in New Mexico outnumber Republicans, unaffiliateds, and Libertarians by a ratio of 46 to 28 to 24 to 1.
Rich did better in the two three-way polls conducted by his opponents before Johnson's official entry. A Heinrich-backed GBA Strategies poll of 800 likely voters, conducted August 1–5, showed it 49-27-22 for Heinrich-Rich-Johnson, and a July poll conducted by Ron Nielson of 500 registered voters had it at 37-25-24. FiveThirtyEight gives Emerson College a B+ pollster rating, as opposed to GBA's B. (Nielson's NSON Opinion Strategy is not rated, as far as I can tell.)
If the findings from today are replicated by non-push polls going forward, that means that non-Democrats who subscribe to the "spoiler" view of two-party elections (which I don't, for what it's worth) will have a hard time not concluding that the spoiler in this election is Mick Rich.
The Republican has shown zero sign of withdrawing thus far. "What a crazy, wacky world we live in," Rich told the Santa Fe New Mexican last week, declaring that Johnson is "more in sync with [Vermont Sen. Bernie Sanders] than he is with Republicans."
National Democrats, meanwhile, have been painting the Libertarian as a dangerous, kooky extremist. Johnson, Sen. Elizabeth Warren (D-Mass.) tweeted Friday, has "supported abolishing the minimum wage, raising the Social Security retirement age, & gutting health care." Added Sen. Kirsten Gillibrand (D-N.Y.): "We can't afford to…let Gary Johnson take New Mexico backward at the expense of working families."
Bonus links: I interviewed Johnson last week, and Ron Nielson the week before that.