Rand Paul: Trump Should Keep Revoking Ex-Obama Officials' Security Clearances
The Kentucky Republican is glad Trump stripped ex-CIA Director John Brennan of his security clearance. But Trump shouldn't stop there, Paul says.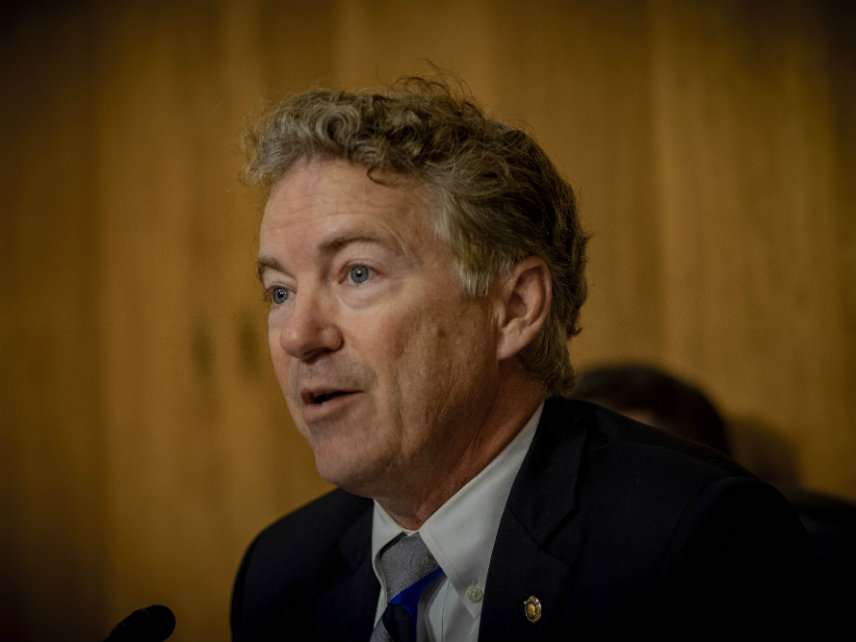 Sen. Rand Paul (R–Ky.) is hailing President Donald Trump's decision to strip former CIA Director John Brennan of his security clearance. But the Kentucky Republican doesn't think the president should stop with Brennan.
On Wednesday, White House Press Secretary Sarah Sanders accused Brennan, who led the CIA for most of former President Barack Obama's second term, of "lying." Brennan's "recent conduct, characterized by increasingly frenzied commentary," Sanders said, "is wholly inconsistent with access to the nation's most closely held secrets."
Sanders' remarks echoed the sentiments of Paul, who has spent weeks calling for Brennan, a harsh critic of Trump, to lose his clearance. Late last month, Paul wrote on Twitter that "Brennan and other partisans" should be stripped of their security clearances. He suggested Brennan has leveraged his clearance into gigs as a cable news talking head.
So it came as no surprise that Paul lauded Trump for taking away Brennan's security clearance. "I urged the President to do this. I filibustered Brennan's nomination to head the CIA in 2013, and his behavior in government and out of it demonstrate why he should not be allowed near classified information," Paul said in a statement. "He participated in a shredding of constitutional rights, lied to Congress, and has been monetizing and making partisan political use of his clearance since his departure."
In an interview yesterday with WKU Public Radio, Paul said he wants other ex-Obama administration intelligence officials, including former Director of National Intelligence James Clapper and former National Security Adviser Susan Rice, to lose their clearances as well.
According to the Kentucky Republican, Clapper lied before the Senate Intelligence Committee when he was asked in March 2013 by Sen. Ron Wyden (D–Ore.) if U.S. intelligence was spying on American citizens. "When he was asked by Sen. Wyden if the NSA was collecting information on Americans, private information, he said no and that was a lie," Paul said. "Later, Edward Snowden revealed that they were collecting all Americans' phone information."
Paul has previously come down hard on ex-Obama administration officials. Last month, he suggested that Brennan, Clapper, and Comey were "bad apples that need to be dismissed from the swamp of Washington." And in April, Paul accused Rice of committing a crime by unmasking the identities of associates to Trump.
While Paul wants Trump to keep stripping security clearances, many former officials are making the opposite case. On Thursday, a dozen ex-intelligence officials blasted Trump's "attempt to stifle free speech." According to the officials: "Decisions on security clearances should be based on national security concerns and not political views."
As Reason's Scott Shackford argued last month, revoking the clearances is a bad move by the president:
What does this threat mean for those in the FBI responsible for investigating the role Russia played in meddling with the 2016 election? What does this mean for whistleblowers or anybody connected to the government who may attempt to warn the public of misconduct? Because this is not an effort to "drain the swamp" in any real way, it's really threatening that anybody who puts out information critical of the president could lose their security clearance and thereby lose job prospects.
Trump shouldn't strip former officials of their security clearances just because he doesn't agree with their political viewpoints. But in this case, it appears that that is Trump's primary motivation.