Alexandria Ocasio-Cortez Bans Reporters From Public Town Halls
If she wants to serve in Congress, she'd better get used to being hounded by the press.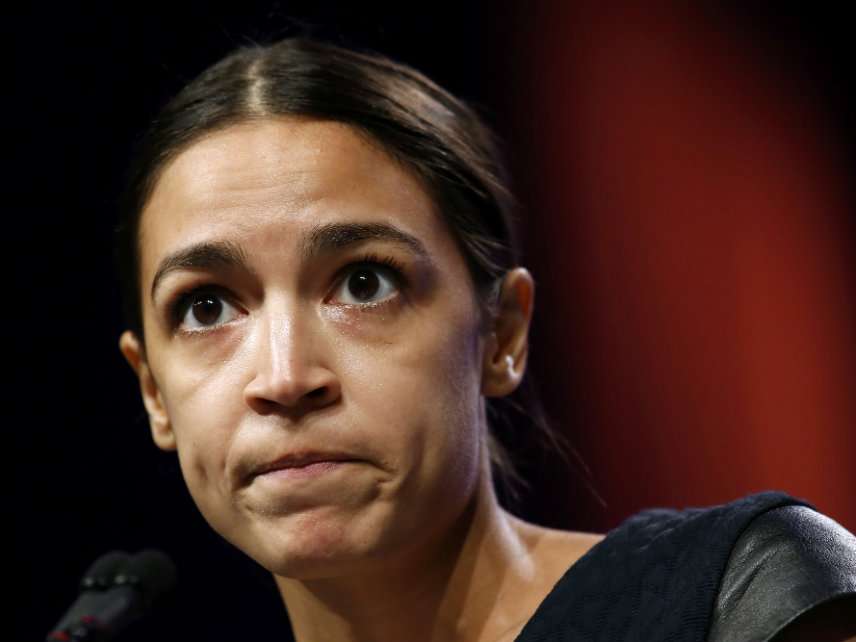 Democratic socialist House candidate Alexandria Ocasio-Cortez banned reporters from attending several of her public town hall events this week.
Ocasio-Cortez, who shocked the political world by defeating Rep. Joe Crowley (D–N.Y.) in June's Democratic primary, held sessions with constituents of New York's 14th Congressional District on Sunday and Wednesday. But while she tweeted out some details about the town halls, she didn't let members of the media attend in person, according to the Queens Chronicle.
The candidate's campaign manager, Vigie Ramos Rio, tells the Chronicle the ban was implemented after reporters "mobbed" her last week following a community meeting. The campaign had apparently made it clear there would be "no Q&A and no one-on-one [interviews]."
Corbin Trent, communications director for the campaign, said that was what led to the media ban. "We wanted to help create a space where community members felt comfortable and open to express themselves without the distraction of cameras and press. These were the first set of events where the press has been excluded," Trent tells the Chronicle. "This is an outlier and will not be the norm. We're still adjusting our logistics to fit Alexandria's national profile."
But many on Twitter weren't buying it:
The socialist bans the media!!!

"The press blackout came after several of @Ocasio2018's public comments were scrutinized by the media and fact-checkers alike."https://t.co/8FxMiWhoe4

— Kayleigh McEnany (@kayleighmcenany) August 17, 2018
From the Bet-Most-Of-You-Didn't-Hear-About-This-Until-Today File: Alexandria Ocasio Cortez banned all media from Town Hall event last Sunday. Not many editorials on this for whatever reason. Via the Queens Chronicle: https://t.co/TfOJztLDk8

— Joe Concha (@JoeConchaTV) August 17, 2018
The same week liberals published coordinated editorials in 350+ newspapers decrying Trump's so-called "assault on the free press…"

Democratic darling @Ocasio2018 banned press from her townhalls. LOL

— Liz Wheeler (@Liz_Wheeler) August 17, 2018
Sure sounds like Ocasio campaign is saying press is there to make people uncomfortable, like an enemy or something https://t.co/Wv15nGuR6W

— Stephen Miller (@redsteeze) August 17, 2018
Trent later told The Washington Post that the campaign won't ban reporters in the future. "It's not been a policy of the campaign," Trent said. "It won't be the policy of the campaign."
Banning reporters isn't a good look for a politician, particularly one with as high a profile as Ocasio-Cortez. And if she wants to serve in Congress, she'd better get used to being hounded by the press.