Newspapers Team Up to Tell Trump They Aren't Colluding Against Him: Reason Roundup
Plus: Mormons versus medical marijuana, bureaucrats are bad at protecting data, and cops tase 87-year-old woman for cutting flowers.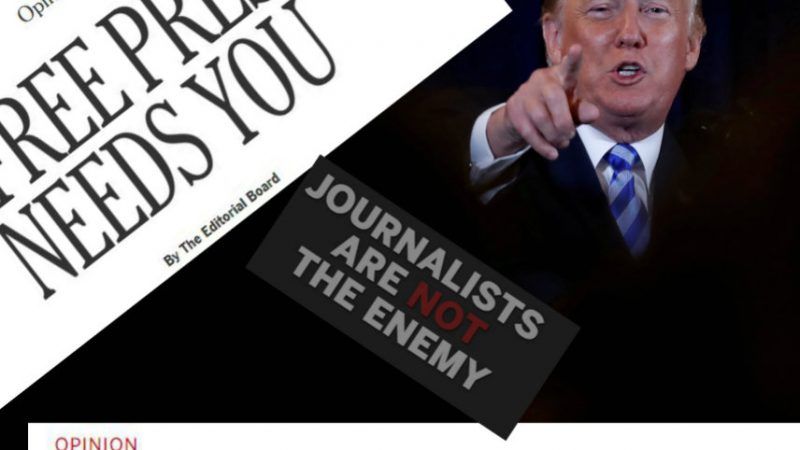 (editorial headlines over image from CARLOS BARRIA/REUTERS/Newscom)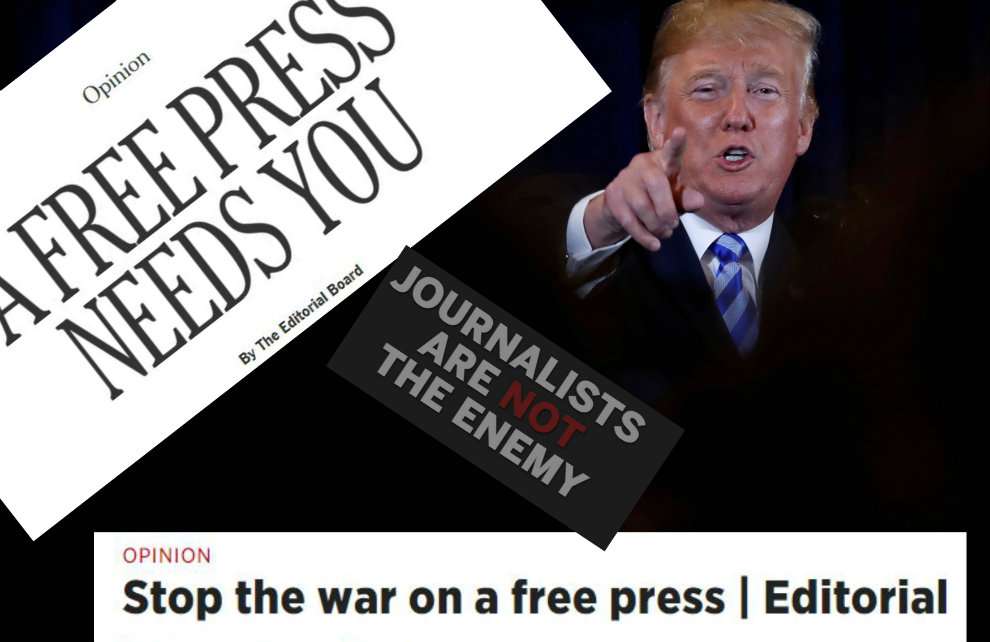 "Journalists are not the enemy." Hot off of calling for more social-media censorship and supporting destructive speech regulations like FOSTA, newspaper editors would like you to know that Donald Trump's dissing of the news media makes them sad. More than 300 U.S. newspapers ran Thursday editorials that "call for an end to President Trump's sustained assault" on the press.
"Our role is to serve as a check on government," the Chicago Tribune declares. "The president ought to get used to it."
"Our democracy is endangered when citizens are persuaded to reject or ignore the professionals who provide news and information," warns The Athens News in Ohio.
And so on.
The editorials were organized by The Boston Globe and, as HuffPost describes them, "have each been constructed with different words but bear a shared message: Mr. President, 'journalists are not the enemy.'"
As a journalist (as well as general enthusiast for classical liberal principles and a person capable of making basic historical analogies), I too find the president's description of journalists as enemies of the people unsettling. But whipping up contempt toward the press has been a staple of right-wing talking points in this country for at least two decades. The president's preening anti-media tirades are not so much stirring new hatred within his base as stoking a longstanding sentiment.
So far, however, Trump's anti-press antics have mostly stayed in the realm of rhetoric. Meanwhile, the good folks in Congress, state government, and federal agencies are doing things all the time that actually infringe on freedom of the press, freedom of speech, and an open internet, while the vast majority of news outlets remain silent at best. Then, in places where we could use real reporting, popular journalists fall all over themselves to create petty drama and praise John McCain for his contributions to warmongering and spending.
Twitter's online speech norms were created and shaped by lawyers who were deeply knowledgeable of existing First Amendment case law in the U.S. It feels like journalists now want platforms to intentionally deviate from that: https://t.co/e9XLJMCHxY https://t.co/kkdSBSqaHK

— Kim-Mai Cutler (@kimmaicutler) August 15, 2018
While the ideals espoused in these editorials may be righteous, they ring a little hollow…
…and a little self-serving. Too many in media seem to have confused their own diminishing role as gatekeepers of all info and narratives with an existential threat to democracy. Yes, let's fight back against Trump and anyone else in government who seeks to suppress dissent. But maybe people wouldn't hate us so much if we fought as hard for everyone's dignity and right to speak as we do for our own tribe's.
Jack Shafer shares some of these concerns. "It goes without saying that press bashing, Trump-style, is alarming," Shafer writes in Politico. "But this Globe-sponsored coordinated editorial response is sure to backfire: It will provide Trump with circumstantial evidence of the existence of a national press cabal that has been convened solely to oppose him….The Globe's anti-Trump project is also an exercise in redundancy, not to mention self-stroking. Most newspapers have already published a multitude of editorials and columns rebuking the president for his trash-talking of the press."
FREE MINDS
But on to journalists doing good things… The South Florida Sun Sentinel is under fire "for publishing confidential but legally obtained information about Parkland school shooter Nikolas Cruz." The Broward County Public Schools had requested that two reporters and the paper be held in contempt of court after publishing portions of a school district report that Circuit Judge Elizabeth Scherer had ordered redacted before the district made it public.
"At issue is a report released Aug. 3 based on Cruz's educational record, revealing what officials knew about him in the years leading up to his Feb. 14 attack on Marjory Stoneman Douglas High School, where he killed 17 people and wounded 17 more," the Sun Sentinel explains.
But here's the kicker: The school district blacked out sensitive portions of the report only before posting it online, leaving the underlying data intact—a "method [that] made it possible for anyone to read the blacked-out portions by copying and pasting them into another file." More about what the Sun Sentinel found in that "redacted" information here.
University of Southern California journalism professor Philip Seib told the paper, "It sounds to me like the people who were in contempt were those in the government agency who allowed it to be disseminated in a way that any school child could have decoded."
FREE MARKETS
Marijuana vote in Utah hits Mormon snag. In November, Utah voters will get to vote on whether the state should legalize medical marijuana. But only if a lawsuit filed yesterday by Mormon activists is successful. "In the complaint, opponents of Proposition 2—which would legalize marijuana for people with an array of health conditions—said the ballot initiative would tread on their freedom of religion," the Salt Lake Tribune explains. More:
The group says the measure would violate the religious beliefs of Walter J. Plumb, an attorney and active member of The Church of Jesus Christ of Latter-day Saints who is the primary financier of the opposition campaign.

The lawsuit takes issue with a provision of the ballot measure that would prevent landlords from not renting to a medical marijuana cardholder, saying that could create an issue of Mormon property owners being forced into renting to people who use cannabis. Plumb's "religious beliefs include a strict adherence to a code of health which precludes the consumption and possession of mind-altering drugs, substances and chemicals, which includes cannabis and its various derivatives," the complaint states.
QUICK HITS
I covered the case of Trudy Munoz, who was released from prison after being convicted with bad science but will now be deported. https://t.co/zq9ef47pHC

— Jessica Pishko (@JessPish) August 15, 2018
An FBI robbery investigation leads to "an unprecedented grab for Google location data."
The Masterpiece Cakeshop battle never ends.
The Federal Communications Commission has killed Alex Jones' "Radio Liberty" station, but the move is unrelated to recent social media drama. "According to documents in a lawsuit filed in U.S. District Court in Austin this week, Radio Liberty had been illegally broadcasting over a local FM station from 2013 until it ceased pirating the airwaves in December and switched to online streaming and a call-in 'listen line,'" The Week reports.
Who among us does not try to anonymously trash their spouse for a joint profile https://t.co/tTsrEH6GAL pic.twitter.com/Ufe2HXK1jb

— Benjy Sarlin (@BenjySarlin) August 15, 2018