A Pearl Jam Poster Sets Off a New Dead President Controversy
Republicans are comparing the band to Kathy Griffin.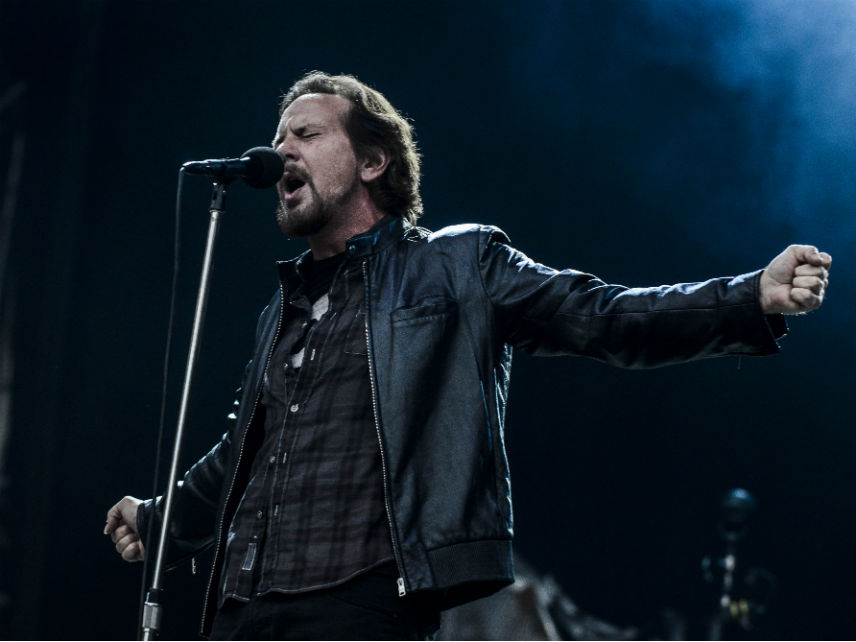 Pearl Jam is at the center of the latest provocation causing outrage among supporters of President Trump.
The Associated Press reports that the band performed in Missoula, Montana, on Monday night for a Rock2Vote concert in support of Sen. Jon Tester (D), who is running for re-election against Republican challenger Matt Rosendale. Bassist Jeff Ament, who is from Montana, collaborated with an artist named Bobby Brown to create a promotional poster for the event. The poster depicts a burning White House and an eagle picking at what many believe to be Trump's corpse.
Official artwork by Jeff Ament and Bobby Brown from last night's show in Missoula. #TheAwayShows #Rock2Vote pic.twitter.com/CQI4chGEjs

— Pearl Jam (@PearlJam) August 14, 2018
Rosendale and the National Republican Senate Committee (NRSC) compared the poster to comedian Kathy Griffin's 2017 video in which she held a bloodied head modeled after Trump's. Not only did Griffin lose several gigs, but Americans were subjected to weeks of commentary on what does and does not count as a threat against the president.
"In a state Trump won by 20 points, Senator Tester's silence…is quickly showing Montanans there's no stoop too low for him when it comes to attacking President Trump and his supporters," NRSC spokesperson Calvin Moore said in a statement.
"This poster from Pearl Jam is disgusting and reprehensible," Rosendale tweeted. "It depicts a dead President Trump and a burning White House. It's time for [Tester] to denounce this act of violence and blatant display of extremism!"