Judge Rules Chicago Can Keep Its Amazon HQ2 Bid Secret, Rejecting FOIA Lawsuit
Chicago becomes the latest major metropolis to hide the massive tax breaks it's offering to Amazon.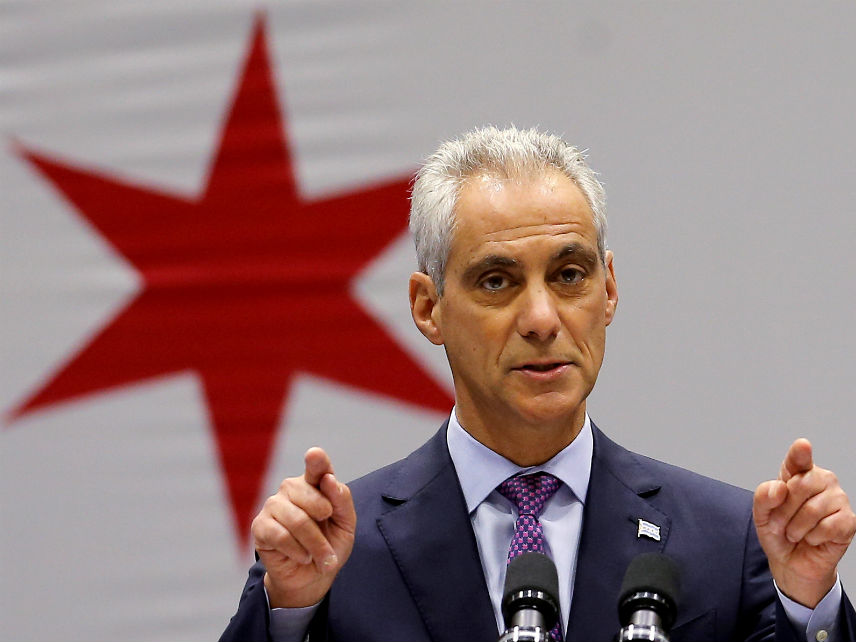 An Illinois judge ruled last Thursday that the city of Chicago does not have to reveal the details of its bid to become the site of Amazon's massive new headquarters, shielding the city's offer of huge tax breaks and other handouts from public view.
Lucy Parsons Lab, a digital rights and transparency advocacy group, filed a public records lawsuit against Chicago in February after the city refused to disclose its bid, citing a competitive advantage exemption. Since the corporate giant announced in 2017 that it was seeking a site to build a second headquarters, nicknamed HQ2, major cities across the U.S. have been vying for Amazon's favor, often dangling billions in tax breaks and other incentives to the company.
But the exact details of those offers have often been hidden from the public. Chicago is only one of 30 cities that has refused to disclose its HQ2 bid, according to a public records project by MuckRock.
Chicago reportedly offered Amazon $1.32 billion in "Economic Development for a Growing Economy" tax credits. Lucy Parsons Lab was seeking the city's bid as well as communications between Chicago Mayor Rahm Emanuel. However, a Cook County circuit judge rejected the group's effort to pry loose those records.
"The City of Chicago could suffer greatly by this very disappointing ruling," says Freddy Martinez, director of Lucy Parsons Lab. "We raised this lawsuit to bring transparency to a very critical issue in our city and are outraged that we lost. This raises the potential for a very serious loophole where the city can offer private companies massive tax breaks in secret with virtually no oversight. These tax breaks are being offered to Amazon, one of the richest corporations in the world, which pays no federal tax at all."
Chicago is "notorious for gaming tax payers and putting them on the hook for decades of awful economic policies," Martinez continued, pointing to the city's bizarre deal to lease out its parking meters to Abu Dhabi. "We don't even know the details of this bid but we expect that taxpayers could end picking up the tab for Jeff Bezos for decades."
As The New York Times reported last week, places like Newark, Austin, and Miami-Dade County have all refused to disclose their Amazon HQ2 bids—sometimes even city councils are kept in the dark—or released documents that are almost completely redacted:
A primary reason for the information blackout is that, in many cases, the bids were handled by local private Chamber of Commerce affiliates or economic development groups that aren't required to make their negotiations public. Many of the groups are also not covered by Freedom of Information Act or state open-records requests.

But another reason is gamesmanship. Some cities say they want their Amazon proposals to remain confidential to avoid showing their hand to rivals. And Amazon required the finalists to sign nondisclosure agreements that forbid the local groups to release proprietary information about the company […]

The few bids that have become public are breathtaking financial packages that indicate just how much states are willing to pony up to woo Amazon. Maryland put together an $8.5 billion tax incentive and infrastructure bid, and local and state officials in New Jersey got legislative approval to offer Amazon $7 billion in tax credits and incentives to pick Newark.
Whoever gets the final rose in this unseemly municipal edition of The Bachelor will likely see a big influx of jobs, construction, and housing demand (50,000 jobs and a $5 billion investment in construction, if you believe Amazon's numbers), but the public should have the opportunity to see exactly what their officials are putting them on the hook for in exchange for those potential jobs.
As Reason columnist Veronique de Rugy, a senior research fellow at the Mercatus Center, wrote in July, the sort of subsidies that cities are throwing at Amazon do little to enrich anyone besides the recipients of them. Take Maryland's absolute unit of a bid:
My Mercatus Center colleagues Michael Farren and Anne Philpot did the math: The bid, when added to $2 billion in infrastructure spending also being promised, amounts to 3 percent of Maryland's anticipated tax revenue over the next 10 years.

That should fill residents and businesses in the state with dread. While there's no doubt Amazon's HQ2 would add something to the economy, a broad body of economic research has shown that targeted state subsidies to private businesses—while often promoted as a "market-friendly" means to boost growth, jobs, and development—have little to no net positive effects. And as George Mason University's Christopher Coyne and Lotta Moberg wrote in a 2014 working paper, such subsidies are in fact often damaging, because they misallocate scarce public resources while encouraging rent seeking, regulatory capture, and cronyism.
Bonus: Watch ReasonTV's parody video of two desperate small-town mayors vying for Amazon's sweet, sweet jobs. "Alright, bullet train. You want a bullet train? Because I'll eminent domain this whole fucking town."