Body Camera Shows School Resource Officer Handcuffing an Autistic 10-Year-Old
Officer Eric Coulston repeatedly pinned Thomas to the ground and handcuffed him after he tried to hide in a cubby hole.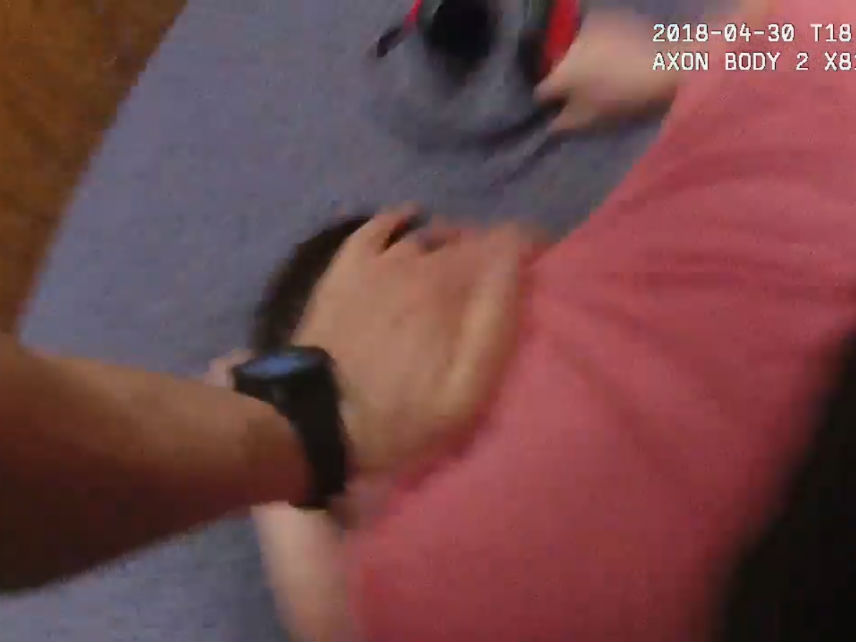 The parents of a young student with autism are exploring legal action after a school resource officer pinned their child to the ground and handcuffed him.
ABC News reports that a 10-year-old named Thomas at Lee Elementary School in Denton, Texas, tried to isolate himself in a cubby hole when he saw a teacher approaching him. Eric Coulston, a school resource officer with the Denton Police Department, was called in to respond to the situation. Footage from his body camera and reports to authorities explain that Coulston helped the teacher remove Thomas from the cubby hole. Coulston carried Thomas to an empty room where, as his body camera captured, he pinned him down on the ground. Thomas repeatedly screamed, cried, and kicked, asking Coulston to get off of him. Coulston replied by threatening him with handcuffs.
While placing the handcuffs on Thomas, Coulston was heard saying, "We're back to where we were the other day." A woman is seen assisting Coulston in at least one part of the ordeal.
According to ABC News, Thomas is handcuffed at least one more time during the incident after he tore up tissues and threw them towards his teacher. Thomas remained pinned down by his neck while handcuffed for long periods of time. He was only allowed to sit up without handcuffs in the moments when he was calm. At one point, reports say, Thomas was dragged across the room and held down by his arms when he attempted to get to the door.
The incident initially occurred in April. A two-hour video from Coulston's body camera is available here.
Thomas' mother, Emily Brown, told WFAA that the actions were "abuse." The actions on the video and discoveries of bruises on Thomas' body later that day have led his parents to look for lawyers in a possible suit. Thomas' parents said that they and the school had a de-escalation plan for such a situation. His father, Robert Brown, said, "There are a variety of de-escalation techniques they're supposed to be using." Handcuffs and the other events captured on video were not in that plan.
Mike Holum, a child advocate with Advocacy Behavior Consulting, similarly criticized the tactics used in the video as extreme. Holum wondered why the other adults in the school did not attempt to stop the officer. A spokesperson for the Denton city government said that Coulston "acted in a manner that best protected the student, other students, and the staff."
The Dentons are hoping to place Thomas in a charter school.
Bonus link: Reason's Robby Soave and Tyler Kotesky explore how relying on school resource officers for basic discipline does more harm than good.