Authorities Were Warned About the Suspected California Arsonist for 3 Years
"Why the hell didn't they respond? I reported this over and over again."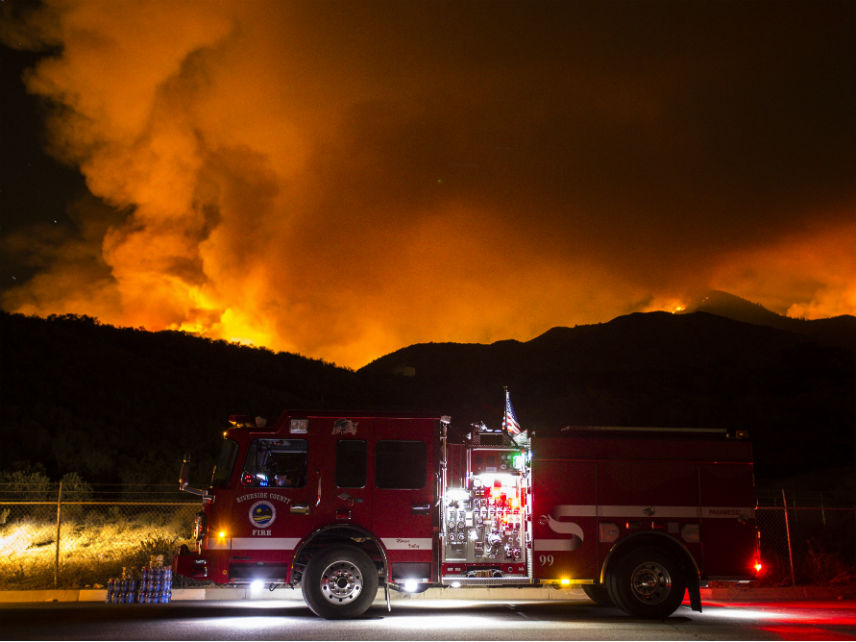 As California suffers one of the worst fire seasons in the state's history, officials have arrested a man they suspect of starting some of the blazes. Now one local firefighter says much of the destruction could have been avoided had law enforcement not ignored years of complaints.
The suspected arsonist is 51-year-old Forrest Gordon Clark, whose cabin in Holy Jim Canyon is the only structure in the area to remained untouched by the raging fires. Police believe he sent volunteer fire chief Mike Milligan an email a week before the fire began, threatening that "this place will burn." He faces charges for arson, felony threat to terrorize, and resisting arrest.
If Clark is guilty, a Washington Post interview with Milligan suggests that police could have prevented the arson. For the past three years, Milligan says, he has been warning the local sheriff's office and U.S. Forest Service about Clark, repeatedly telling them, "You have to do something or he's going to kill someone or burn this place down." Milligan reports that Clark sent him several texts promising that the area was "going to burn just like we planned." Milligan say that he attempted to alert the authorities but did not receive a response. He criticized, "Why the hell didn't they respond? I reported this over and over again."
Clark was involuntarily committed in 1996 for mental illness, the Post reports. In addition to the Holy Jim fire, he is accused of starting a fire in Trabuco Canyon. California firefighters are currently working to contain at least 18 fires in the state.
Clark's case has some similarities to that of the accused Parkland high school shooter, Nikolas Cruz. The Sun Sentinel has posted a timeline of the complaints about Cruz's behavior that different authorities—the Broward Sheriff's Office, the Florida Department of Children and Families, even the Federal Bureau of Investigation—received before the massacre. In one instance, a blogger in Mississippi warned the FBI that an account named "nikolas cruz" wrote on his YouTube page that he was going to be "a professional school shooter."