District Court Strikes Down Licenses for Tour Guides in Charleston
Prospective tour guides won't have to cough up nearly $100 and study for weeks to talk about their city anymore.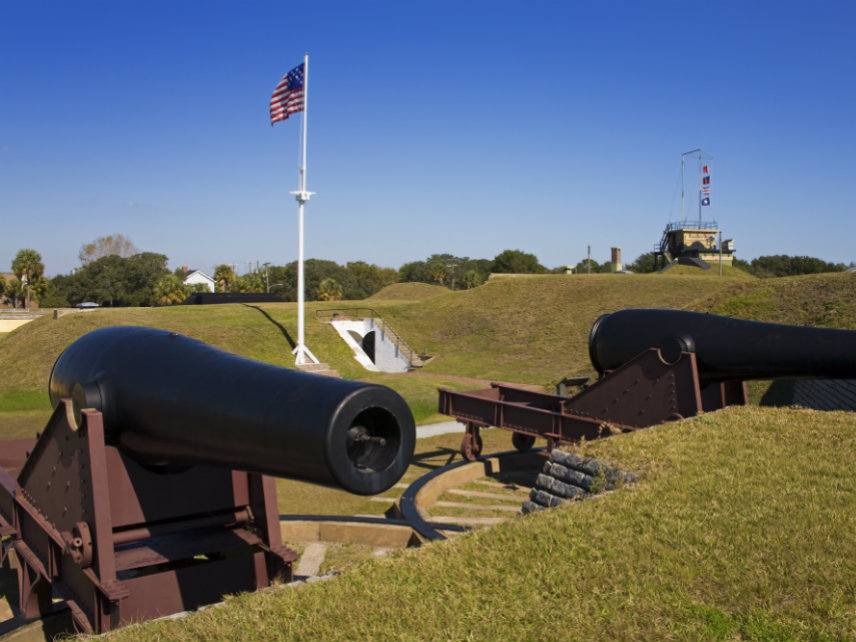 It's finally legal to talk about history in Charleston, South Carolina, without the government's permission. A U.S. District Court ruled on Friday that the city's tour guide licensing rules are unconstitutional.
Prior to Judge David Norton's decision, the City of Charleston mandated that tour guides take a 200-question written examination and an oral examination covering a range of topics about the city's history. The necessary material was covered in an almost-500-page manual published by the city. Getting tested costs $50; the manual is an additional $48.83.
For Kimberly Billups, Mike Warfield, and Michael Nolan, the test was an expensive hurdle full of irrelevant questions. In Billups' case, the regulation kept her from opening her own business, Charleston Belle Tours. So the Institute for Justice (IJ) sued the city in 2016 on their behalf, arguing that the requirement infringed on the petitioners' First Amendment rights. "The First Amendment protects your right to speak for a living, whether you're a journalist, a stand-up comedian or a tour guide," said Robert McNamara, a senior attorney at IJ, after the decision was released.
The law's defenders argue that tourism is an important industry in Charleston and that licensure laws are needed to ensure that visitors get accurate information. The judge didn't buy that: After four days in court and a little over three months of deliberation, he ruled that the law did in fact violate the Bill of Rights.
"The licensing law imposes real burdens on those hoping to be tour guides in Charleston," writes Norton. "The record demonstrates that the City never investigated or tried to use any less speech-restrictive alternatives."
Federal courts tend to have mixed feelings about such laws. While IJ has won similar lawsuits in Savannah, Philadelphia, and D.C., New Orleans' licensing requirements for tour guides were upheld by the 5th U.S. Circuit Court of Appeals.
A 2015 Brookings report found that almost 30 percent of America's workers need a license to do their jobs. Friday's ruling is a win not just for free speech, but for paring back the rules that lock people out of jobs and artificially limit competition.