'Bias Response Team' Not Necessarily a Threat to Student Speech Rights, Says Judge: Reason Roundup
Plus: NYC says no to $100 million from Uber and Lyft, and Amnesty International warns about WhatsApp-borne surveillance software.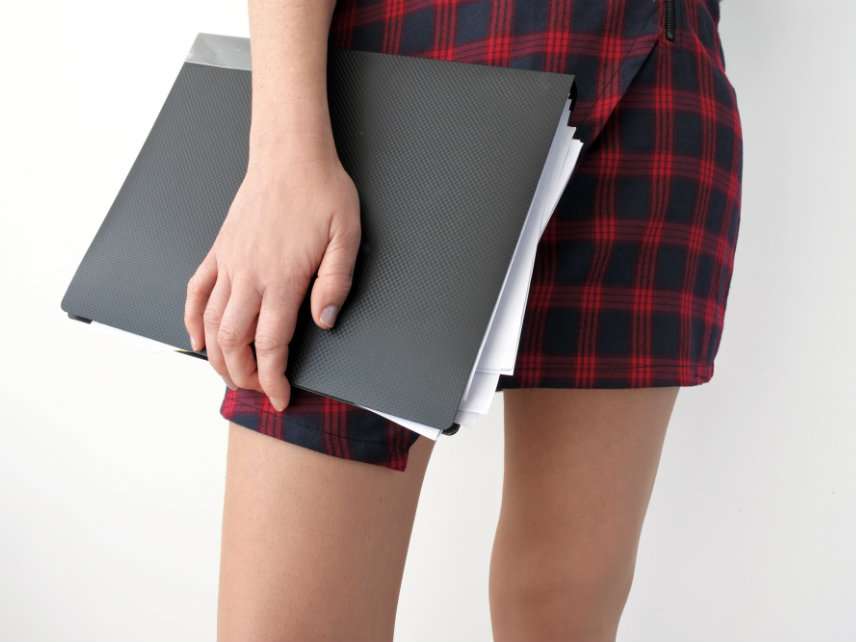 "Bias Response Team" doesn't implicilty violate student rights, federal judge says.* Although no ruling has been issued yet, U.S. District Court Judge Linda V. Parker said during a hearing this week that the University of Michigan's "Bias Response Team" (BRT) isn't "an implicit threat" to student free speech rights.
"There's not a lot of teeth here," she said of the lawsuit seeking to undermine the program, which relies on student reports of "biased" speech on campus and contacts the alleged speaker to offer guidance on speaking in a school-approved way. Students who are contacted are not required to respond.
The issue may seem relatively minor, but it was big enough for the U.S. Department of Justice to get involved in May, issuing a statement of interest that accused the University of Michigan of imposing "a system of arbitrary censorship of, and punishment for, constitutionally protected speech."
Under the school's bias response program, "a student who voices a controversial or unpopular opinion—or who seeks to use humor, parody, or satire when discussing sensitive topics—could face severe punishment," argued Speech First, a D.C.-based advocacy group that filed the lawsuit in May.
But the school countered that the team isn't a disciplinary body and student participation is dependent on their consent. So long as administrators at the state school are only offering helpful hints on how students can make their speech and opinions more "inclusive," no one's First Amendment Rights have been threatened the school argued—and Judge Parker seemed to agree, though she has yet to rule on the group's motion to a preliminary injunction against the BRT.
Last year, Liz Wolfe wrote here about college bias response teams and a self-congratulatory study from academics finding that they "created a safer, more welcoming campus community." Robby Soave has covered the topic many times, noting how these bodies fail to distinguish between speech that could actually be considered harassing and—at the University of Michigan, for instance—speech that is merely "bothersome to an individual."
In June, the University of Michigan did change its speech codes slightly, narrowing the definitions of bullying and harassing. This was already in the works and not in response to DOJ's intervention, the school told Michigan Radio.
"When the Speech First lawsuit called out some of the things we were already working on, we were well-prepared to update and simplify these definitions," said University President Mark Schlissel. But he also contended that the group's lawsuit had mischaracterized the school's Bias Response Team, offering as support the fact that similar situations were in place at "many schools."
FREE MINDS
Powerful Pegasus spy software targets Amnesty International. The human rights group Amnesty International said that spying software linked to the Israeli company NSO Group was sent to an Amnesty staffer and to a Saudi Arabian rights activist via WhatsApp in June.
"NSO Group is known to only sell its spyware to governments," said Joshua Franco, Amnesty International's head of technology and human rights, in a Wednesday statement.
The potent state hacking tools manufactured by NSO Group allow for an extraordinarily invasive form of surveillance. A smartphone infected with Pegasus is essentially controlled by the attacker – it can relay phone calls, photos, messages and more directly to the operator. This chilling attack on Amnesty International highlights the grave risk posed to activists around the world by this kind of surveillance technology. … Amnesty International is concerned that these could be used to bait and spy on activists in countries including Kenya, Democratic Republic of Congo and Hungary, in addition to the Gulf.
An Amnesty International investigation connected the link in the Pegasus-spreading message to hundreds of other "suspicious websites which had been previously connected to NSO Group," it said. In addition:
Last year Toronto-based research group Citizen Lab uncovered NSO Group's involvement in a similar spyware scheme in Mexico. Activists, journalists and opposition party leaders were targeted by false messages containing Pegasus software in an attempt to silence government opposition. Pegasus was also used to target the Emirati award-winning human rights defender Ahmed Mansoor, who has been in prison in the United Arab Emirates since March 2017.
FREE MARKETS
NYC says no thanks to $100 million from ride-sharing companies. Uber and Lyft offered to bail out struggling New York City taxi drivers in exchange for city regulators backing off plans to require a minimum wage for drivers and cap the number of new Uber and Lyft vehicles permitted in the city.
The $100 million "hardship fund" would "support individual taxi medallion owners," reports The Verge. But it was "summarily rejected" by Mayor Bill de Blasio and city leaders. "It's a little bit astonishing to us," Lyft's vice president of public policy Joe Okpaku told the publication.
Uber and Lyft claim a cap on vehicle licenses would send wait times soaring and driver earnings plummeting. They also say a cap would disproportionately affect outer borough residents, including low-income communities and people of color. "The cap bill would set things back to a time when service levels were horrible in the outer boroughs," Okpaku said.
QUICK HITS
BREAKING: Pope changes church teaching on death penalty, says it is always inadmissible because it "attacks" human dignity.

— The Associated Press (@AP) August 2, 2018
Ron Wyden: "I just want to be clear, as the author of section 230, the days when these [platforms] are considered neutral are over." cc: all of Silicon Valley

— David McCabe (@dmccabe) August 1, 2018
Charles Koch of Koch Brothers, who claims to be giving away millions of dollars to politicians even though I know very few who have seen this (?), now makes the ridiculous statement that what President Trump is doing is unfair to "foreign workers." He is correct, AMERICA FIRST!

— Donald J. Trump (@realDonaldTrump) August 2, 2018
They are literally arguing that dairy farmers are going to disappear if the Almond Milk scourge is allowed to spread. https://t.co/nFt4gcztlQ

— Conn Carroll (@conncarroll) August 1, 2018
Thank you to Chairman Kim Jong Un for keeping your word & starting the process of sending home the remains of our great and beloved missing fallen! I am not at all surprised that you took this kind action. Also, thank you for your nice letter—l look forward to seeing you soon!

— Donald J. Trump (@realDonaldTrump) August 2, 2018
* CORRECTION: This post initially stated that a federal judge ruled the Bias Response Team was not implicitly a violation of student speech rights, when the judge merely suggested that during a July 31 court hearing. This post has been updated to reflect that.