Illinois Lawmaker Resigns Following Revenge Porn Allegations
Interestingly enough, State Rep. Nick Sauer cosponsored an an ethics and sexual harassment bill during his short two years in office.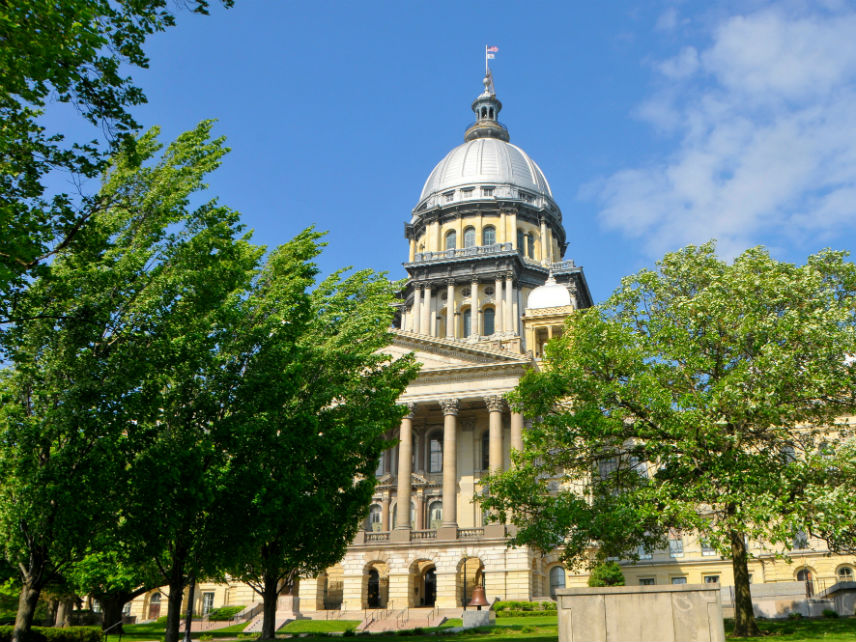 An Illinois lawmaker has resigned after his ex-girlfriend accused him of using her nude pictures in a revenge porn scheme.
State Rep. Nick Sauer (R) resigned on Wednesday after Politico reported on a complaint filed with the Illinois Office of the Legislative Inspector General by his former girlfriend, Kate Kelly. Kelly accused Sauer of creating a fake Instagram in her name and using nude pictures of her to trick random men on the internet into having "graphic" conversations. She also alleged that an investigation was pending after she contacted the Chicago Police Department.
"The men believed they were communicating with me and Nick shared private details of my life," read her complaint.
Kelly explained her relationship with Sauer in an interview with Politico. After meeting on Tinder, Kelly and Sauer began a long-distance relationship in 2016. In 2017, Kelly moved from California to Chicago to be closer to Sauer. Kelly said she broke things off a few months later when she reportedly found him dating other women.
In June, Kelly said Sauer sent her an apologetic email and three dozen roses "randomly." She responded by telling him that he needed to reimburse her for the travel expenses she accumulated when she traveled to see him during the relationship. Sauer then wired $2,000 to cover her previous flights and hotels.
Kelly received a message in July from a stranger who alleged that he had been in communication with an Instagram account pretending to be her for four months. The tip led her to discover not only that the Instagram account existed, but that it likely began around the time she and Sauer started to date. (She previously stated that the images were shared between them prior to her move to Chicago.)
"He came to my house & confessed to catfishing men with my photos for 2 years to at least 8 men. He was unable to provide the names and begged that I let it go," Kelly explained.
In his resignation letter to the Clerk of the House of Representatives, Sauer wrote, "As a result of the allegations by Kate Kelly, a former girlfriend, I have decided to resign." During his short two years in office, Sauer was a member of the House Sexual Harassment and Discrimination Task Force. He also cosponsored HB4134, an ethics and sexual harassment bill in the House. The bill was designed to strengthen sexual harassment training among the representatives.
While it is not immediately clear what legal repercussions, if any, Sauer will face if found guilty, his alleged actions are listed as a felony under Illinois state law. Former Gov. Pat Quinn (D) signed the harsher penalties into law in 2014.The Chicago Tribune reported that the new law made the "non-consensual dissemination of private sexual images" a Class 4 felony. If convicted, Sauer could face one to three years in prison and a fine of up to $25,000. Had Sauer received money or goods for the images, the law would also allow for the forfeiture of those assets. Opponents of the 2014 reportedly argued at the time that it was a violation of the First Amendment right to free speech.
As Reason's Elizabeth Nolan Brown has found, many states have struggled to write adequate laws for revenge porn offenses. In Arizona, for example, a proposed revenge porn law was so broad that the American Civil Liberties Union said it ran the risk of unintentionally criminalizing "a library lending a photo book about breast feeding to a new mother." Other revenge laws, like one shot down in Texas, have included language that would charge those who unknowingly share revenge porn.