N.Y. Fair Vendors Have Nearby 7-Year-Old's Porch Lemonade Stand Shut Down
When life hands you lemons, call the health department to complain.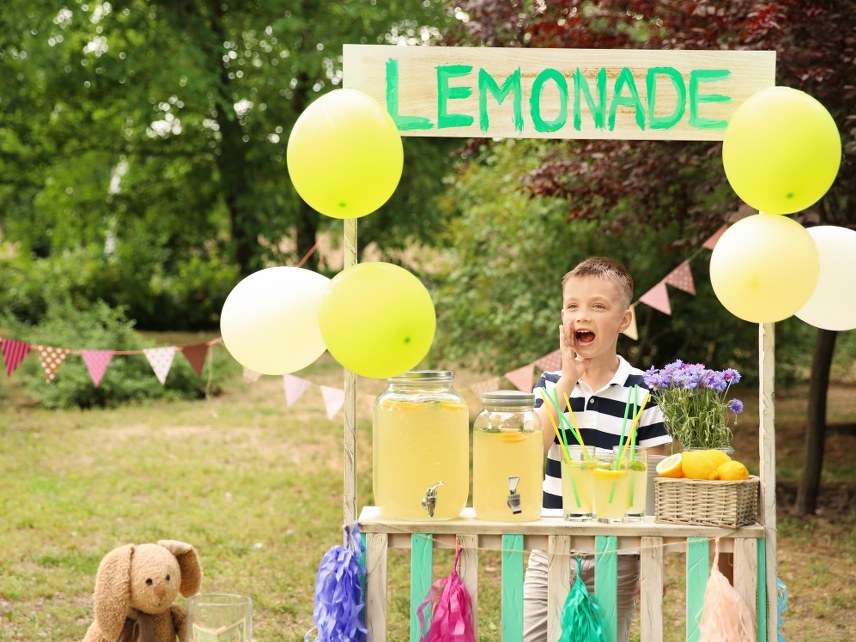 Kid sets up a lemonade stand outside his home, which happens to be next door to the Saratoga County Fair in Ballston Spa, New York. Vendors at the fair call state health officials to complain. State health officials show up, determine the kid doesn't have a permit, and shut him down.
In case anybody needs a reminder of why a lemonade brand actually produced a marketing campaign in which it funded kids so they could legally operate lemonade stands, there you go. It's also a helpful reminder that while we're told that permitting and licensing programs are all about public safety, they are frequently used as bludgeons to keep competitors out of the marketplace.
And what a stupid fight this was. The Albany Times Union has the details. Vendors were selling fresh lemonade inside the fair for $7 a cup. Brendan Mulvaney, 7, was selling premixed lemonade from his family's porch for 75 cents a cup. Four separate vendors called state health officials to complain and ask if Mulvaney had a permit. He did not. So a health inspector actually came to the family home over the weekend and shut the lemonade stand down.
According to Mulvaney's dad, officials initially apologized after they realized they were just shutting down some kid's stand, not somebody trying to undercut the vendors inside the fair. But on Monday, officials from the state's Health Department said the boy would have to get a $30 temporary food permit, which is good for a year and comes with all sorts of rules.
Politicians are now falling all over themselves to get publicity for supporting the boy. Republican state Senator James Tedisco showed up at the kid's stand after it made the news and complained, "These kids are trying to give people sweet lemonade and learn some important business skills but the overzealous state bureaucrats in the administration just keep giving taxpayers lemons." Democratic New York Gov. Andrew Cuomo (facing re-election in November) offered to pay the kid's permit fees.
Perhaps these politicians can direct some attention to the state's burdensome occupational licensing and training programs that do the same thing to adults that the health department did to a 7-year-old. The Institute for Justice notes that becoming a barber in New York State requires two and a half years of professional training. Becoming a child care worker requires a year of training, more than in any other state besides New Jersey.
Sadly, not enough people make the connection between these lemonade crackdowns and the broader ways licensing and permitting laws restrict people's ability to earn a living. They see stories like this as an outrageous abuse of authority, but they often don't question the authority itself. They really should.