Sex Offender Status Prevents Dad from Seeing His 14-Year-Old Son
Convicted of a sex crime with an 18-year-old female, he isn't allowed contact with any minors.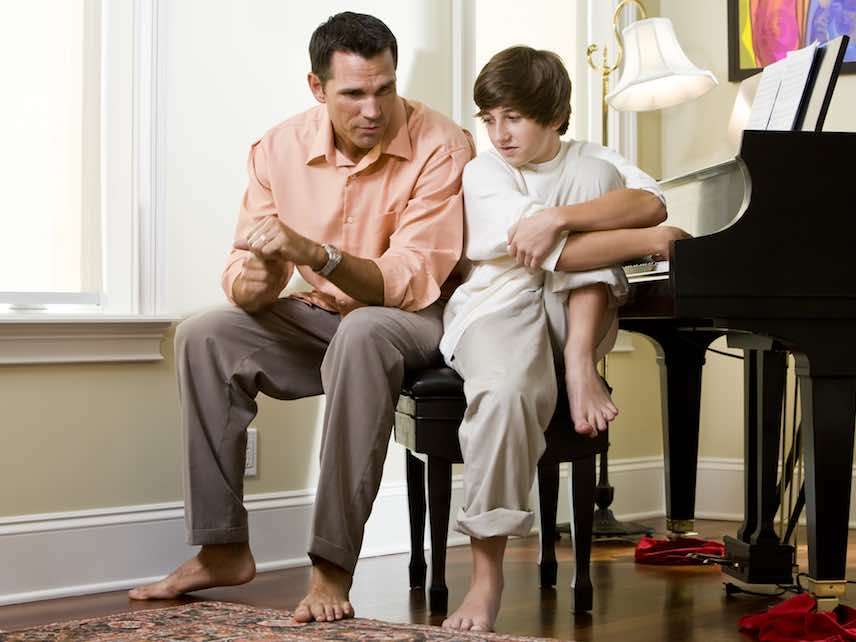 An Ohio dad who spent three years in jail for a sex crime with an 18-year-old female is not allowed to live with or write to his son, 14, because the boy is a minor. He is also not allowed to talk to him on the phone or even possess a photo of him.
Now the dad has filed a federal lawsuit claiming these parole conditions are unconstitutional. As his lawyer points out, his crime wasn't with a male or a minor. And yet, under Ohio's five year mandatory "post-release control," he cannot visit his son without being supervised by a parole officer, whom he must pay. Unemployed, the dad can't afford a visit. And the rules say that even during a supervised visit, he would not be allowed to hug his son.
The Ohio Justice and Policy Center filed the lawsuit on Wednesday on behalf of a 50-year-old former high school teacher who is listed as John Doe in court filings.

In 2014, Doe was convicted of two counts of gross sexual imposition involving an 18-year-old female student at the school where he taught. He has no other criminal history, according to the lawsuit.
"Gross sexual imposition" involves touching someone's erogenous zones accompanied by force or the threat of force. The 18-year-old was a student at the high school where Doe was employed a teacher.
For this, Doe served his three years. While in prison, his wife and son visited regularly. The family spoke almost daily. They sent letters. They sent emails. In general, they stuck it out. In any case:
Now that Doe is out of prison, he is forbidden from moving back to the family home or having any contact with his son. He could not send his son a card or call him on his 14th birthday.
That's right: not even a birthday card.
[The lawsuit says,] "Though his offense did not involve a minor, the conditions of Mr. Doe's PRC include a full prohibition on contact with any minors without the permission of his supervising officer."

Now Doe is asking U.S. District Judge Michael Barrett for a temporary restraining order that would stop parole officers from enforcing the law, and allow him to live with his wife and son in their Forest Park home.

"Mr. Doe has no history of abusing his son and poses no risk to him … his son will be eighteen — college-aged — by the time his father is allowed to speak with him on the phone, send him a letter, or give him a hug as he did while in prison," the lawsuit stated.
Yes, Doe committed a crime. He was punished for it, and now he's out of prison. It might make sense to prohibit him from teaching, but stopping him from going home and being part of his family does not serve anyone's best interests. It doesn't protect the son, because this kid was never under threat. It doesn't protect the mom, now deprived of her husband if she wishes to live with her son. And society is not well-served by a man unmoored from his family once he is out of prison.
The lawsuit was filed against Doe's parole office and supervisor, and a regional administrator in the Cincinnati parole office. It claims they have denied Doe due process, as well as his fundamental right to be a parent and a spouse.
These parole strictures may or may not be ruled unconstitutional. But it is obvious they serve no purpose other than to torment a man who was already punished for the mistakes he made.