Candidate and Daughter Build Trump's Border Wall in Cringeworthy Campaign Ad
The ad also shows Ron DeSantis reading to his son from The Art of the Deal and teaching his daughter to say "make America great again."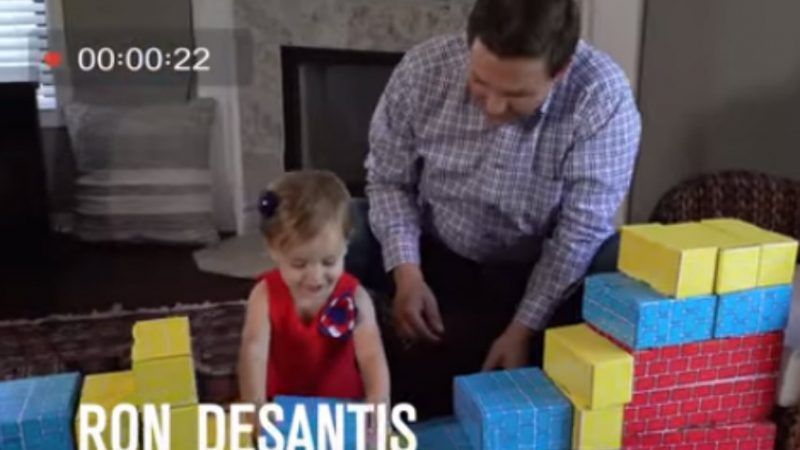 Florida's leading candidate for the GOP's gubernatorial nomination wants voters to know he's a big fan of Donald Trump. So he's airing an ad that shows him using toy blocks to teach his young daughter how to build Trump's border wall.
"Everyone knows my husband Ron DeSantis is endorsed by President Trump," DeSantis' wife Casey says at the start of the 30-second spot, which was released online today and will be televised statewide starting tomorrow. "But he's also an amazing dad. Ron loves playing with the kids." At that point, the commercial cuts to the candidate and his young daughter constructing a wall out of cardboard blocks. "Build the wall!" Ron says:
Rep. DeSantis also reads to his children—from Trump's book The Art of the Deal. "Then Mr. Trump said, 'You're fired,'" DeSantis tells his infant son. "He's teaching Madison to talk," Casey adds, before the camera reveals Ron showing his daughter how to say "make America great again."
It's meant to be lighthearted; instead it's cringeworthy. But from a political standpoint, it may be the right move: DeSantis currently has an 11-point lead in the RealClearPolitics polling average.
And it could be worse. If Trump ever does build his border wall, the project will cost taxpayers tens of billions of dollars to solve a problem that doesn't exist. So I guess I should give DeSantis some credit. His wall serves an actual purpose—getting elected—and it's cheap.