'Police Lied' About Stormy Daniels Sting, Says Whistleblower: Reason Roundup
Plus: Rod Rosenstein impeachment bid "embarrassing for everybody," says Napolitano, and more details about separation of migrant parents and kids by ICE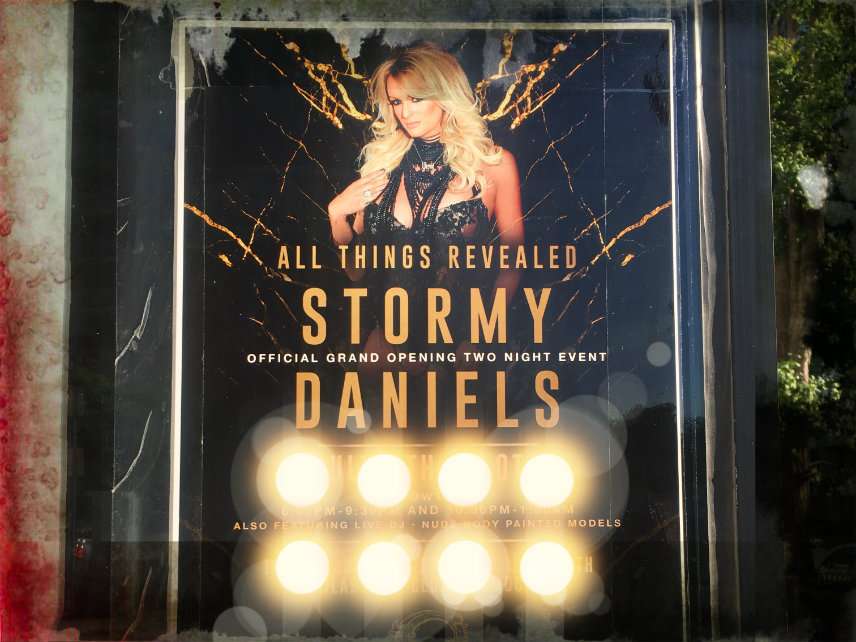 Stormy sting fallout continues. A whistleblower within the Columbus, Ohio, Police Department has leaked emails suggesting that contrary to official statements, the recent arrest of Stormy Daniels at Sirens strip club was planned months in advance.
After the arrest, Columbus police stated that they just happened to be at the club as part of an "ongoing investigation into human trafficking, prostitution, and other vice-related offenses" when Daniels thrust her breasts in an officer's face and they had no choice but to arrest her, owing to an Ohio law that bans nude or semi-nude workers from touching customers or themselves in certain areas.
But "a whistleblower from the City of Columbus contacted the [Fayette] Advocate with numerous emails between several high-ranking Columbus police detectives and VICE officers," the newspaper reports. And these emails suggest that police intentionally went to Sirens that night to arrest Daniels. From the Advocate:
Inside the emails are news clippings discussing Daniels' planned appearance in Columbus, pictures of Daniels with President Donald Trump, videos of her dancing, and even a map to the club where she would be performing, all sent days before she would pull into town on her tour bus.

The bulk of the emails that the whistleblower provided are from the email account of Detective Shana Keckley. Keckley was one of the lead-arresting officers the night that the "sting" operation went down.
The whistleblower told the Advocate that "It is clear that Keckley and her fellow officers were there because of Stormy and only because of Stormy," and that "the police lied about it being a prostitution and human trafficking mission."
The charges against Daniels were dismissed less than a day later, and charges against two other Sirens workers arrested that night—waiter Miranda Panda and dancer Brittany Walters—were dismissed the following week. Columbus Police Chief Kim Jacobs called the arrests a "mistake."
Columbus City Attorney Zach Klein said that "after reviewing the charges for each of these cases closely, I've determined that the facts of these cases do not meet the elements required to prosecute under this law."
"None of the three cases properly allege that the women made 'regular appearances' as required by law," notes the city in a statement. In addition, "the charges against Walters and Panda have other unique issues. Brittany Walters did not meet the requirement of 'touching a 'patron'," and Miranda Panda did not meet the requirements of appearing 'nude or semi-nude' while working as a server, and was working only her third shift ever at Sirens."
FREE MINDS
Impeachment articles for Rod Rosenstein are "wrong and baseless," says Andrew Napolitano. Eleven Republican lawmakers from the House of Representatives' "Freedom Caucus" filed the articles of impeachment against Rosenstein on Wednesday, accusing him of deliberately withholding from Congress documents related to the Justice Department's pre-election investigations into Donald Trump and Hillary Clinton.
A vote on the articles is not guaranteed. Still, the move is "embarrassing for everybody involved," said Judge Andrew Napolitano.
"Improperly signing off on a FISA warrant" and staying in a position despite a conflict of interest may be "ethical violations but not impeachable" offenses, Andrew Napolitano explained to a gaggle of grumbling Fox News anchors yesterday. He went on to call the move "wrong and baseless."
.@Judgenap: "The DOJ has a legitimate, lawful basis for keeping certain documents secret in a pending investigation….[The Mueller investigation] is still pending and you'd be interfering with it if you force the public revelation of some of those documents." pic.twitter.com/2W7AJYfJYq

— Fox News (@FoxNews) July 26, 2018
"I want this Mueller thing over as soon as possible," Napolitano continued, "but it is still pending and you'd be interfering with it if you force the public revelation of some of those documents."
FREE MARKETS
You keep using that word—I do not think it means what you think it means….
The most frustrating thing about this debate is that "Democratic Socialism" proponents never mention that Sweden and Denmark outrank the US on economic freedom. These countries have generous welfare states because of market economics, not #socialism. https://t.co/Bf0UcGPPYu https://t.co/vZz2uhErY7

— Matthew Feeney (@M_feeney) July 25, 2018
ACLU alleges yet more abhorrent behavior from ICE. Immigration officials tricked migrant parents into signing away reunification rights to their children, according to the American Civil Liberties Union (ACLU). "Some parents said they thought they were signing paperwork that would, in fact, allow them to reunite with their children," reports The Washington Post based on ACLU's court filings. "Others described being crowded into rooms with dozens of people, given only a few minutes to fill out forms that would determine whether they would reunite with their children or leave them behind in the United States. They signed the forms out of fear, or confusion, or a belief that they had no other choice, lawyers wrote in the court filing."
QUICK HITS