Jim Jordan Says He's Running for Speaker of the House
The Ohio Republican is running despite allegations that he ignored sexual abuse claims as an assistant coach at Ohio State.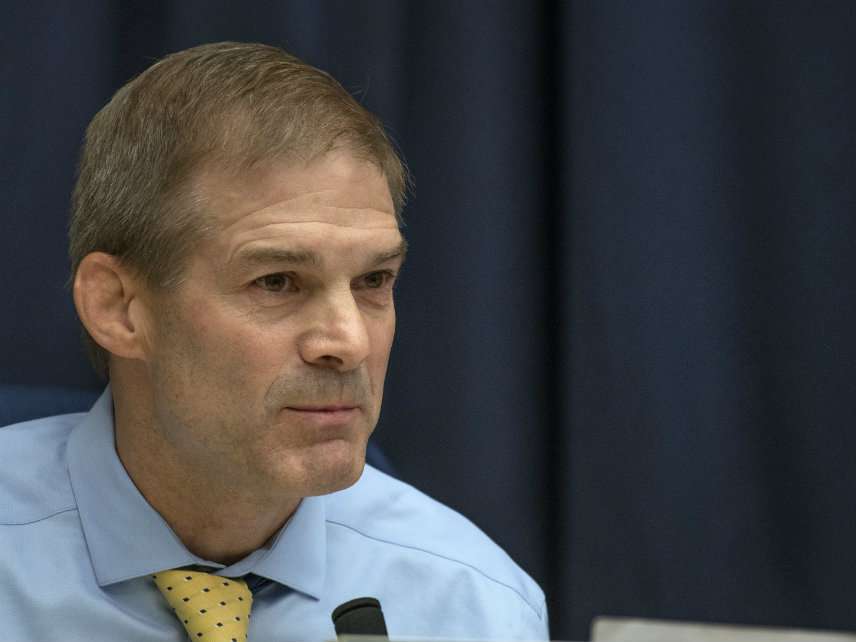 Rep. Jim Jordan (R–Ohio), co-founder of the conservative House Freedom Caucus, said today he intends to run for speaker of the House.
The Daily Caller was the first to report on Jordan's plans, and Jordan himself quickly confirmed the news. If Republicans maintain their House majority in the 2018 midterms, he will seek to replace current House Speaker Paul Ryan (R–Wis.), who is leaving Congress once his term is up at the end of the year.
The Ohio Republican's announcement could set up a battle between the establishment and conservative wings of the Republican Party. On the establishment side, House Majority Leader Kevin McCarthy (R–Calif.) said yesterday he wants the next speaker "to be me," although his aides later clarified that he was simply emphasizing the need for Republicans to keep control of the House.
Regardless, McCarthy is rumored to be interested in the job, and he has already received Ryan's support. There's also been speculation that House Majority Whip Steve Scalise (R–La.) wants to be speaker, although he too has endorsed McCarthy.
Jordan has received the backing of Fox News host Sean Hannity and conservative groups such as Tea Party Patriots and FreedomWorks. But his run for the speakership won't come without controversy, as he's been accused of ignoring allegations of sexual abuse made by Ohio State wrestlers back when he was an assistant coach at the school. Jordan has denied that he knew any sexual abuse was going on.
While Jordan's candidacy may seem like a win for freedom-loving libertarians, his association with the House Freedom Caucus might not be such a great thing after all. As Reason's Matt Welch notes, Jordan and many of the other so-called "constitutional conservatives" in the Freedom Caucus have lost interest in holding President Donald Trump accountable, particularly in matters related to Special Counsel Robert Mueller's Russia probe. Welch says:
By crying wolf over a never-ending series of Mueller-related scandals and document reveals that fizzled on the launching pad—most notably, the long-awaited February memo from House Intelligence Committee Chairman Devin Nunes (R–Calif.) showing the investigative origins of the Russia probe—Trump's apologists are training Americans to tune out even those critiques that have some merit, such as evidence of dishonest leakage from the likes of former Director of National Intelligence James Clapper.

By looking more like partisan hacks than constitutional stalwarts, Republicans give a disgruntled populace even less reason to vote for them, potentially jeopardizing their majorities in both the House and the Senate, where any future impeachment trial would take place.
Jordan and his Freedom Caucus colleagues claim to be all about government accountability, but in this case they're failing badly. And if Jordan becomes speaker, things might get worse.