Former Attorney General Eric Holder Confirms He's Looking Toward the White House
"I'm thinking about it."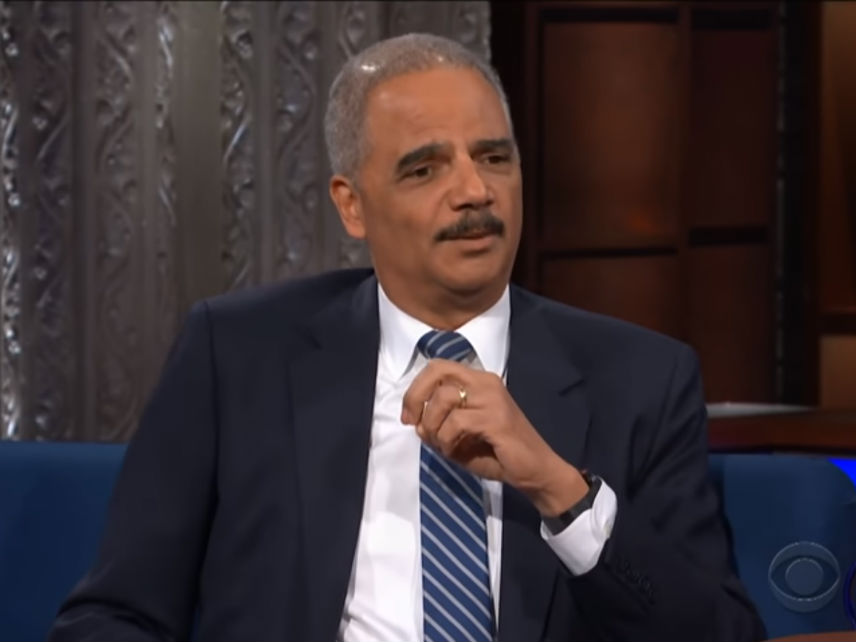 It is quite possible that former Attorney General Eric Holder will throw his hat in the ring in the 2020 presidential election.
April Ryan of the American Urban Radio Networks tweeted last week that Holder was seriously exploring a run for president. Yesterday, The Late Show host Stephen Colbert asked Holder about the validity of Ryan's tweet.
"I'm thinking about it," he told Colbert. Holder informed Colbert that he would "make a determination" early next year.
Holder's legacy was greatly intertwined with former President Obama's largest scandals. In 2012, for example, the House of Representatives voted to hold Holder in criminal contempt over "Fast and Furious," a gunwalking operation that ended in the death of a Border Patrol agent. Holder was also sometimes guilty of "lean[ing] on news reports of issues he should be better versed in," such as an NYPD spying program that targeted American Muslim neighborhoods. Though Holder's Justice Department received complaints about the program for months, it did not take action until an Associated Press investigation received attention.
On a more positive note, Holder's less punitive views on criminal justice issues such as sentencing reform and the rescheduling of marijuana became more prominent in the closing years of the Obama administration.
Bonus link: Matt Welch previously observed how a Holder presidency would benefit Democrats, though perhaps not America.