Georgia Sheriff Buys $70K Dodge Charger Hellcat With Forfeiture Funds
Now the Justice Department wants the money back, calling the purchase "extravagant."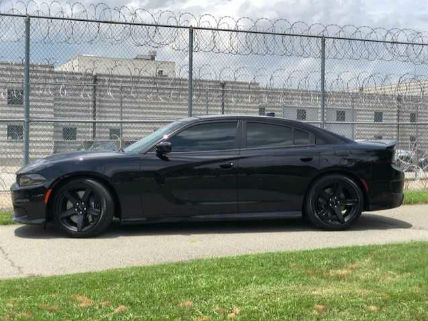 Gwinnett County Sheriff Butch Conway thinks his department's $70,000, 707-horsepower Dodge Charger Hellcat (black with tinted windows, natch) is a perfectly normal policing tool to buy with federal asset forfeiture funds.
The U.S. Department of Justice disagrees.
The Justice Department sent a letter last week demanding that the Georgia county reimburse it for the "extravagant" muscle car, which was purchased with funds from the Equitable Sharing Program—a federal program that funnels hundreds of millions of dollars a year in asset forfeiture revenues to local and state police departments.
The Atlanta Journal-Constitution reports:
Guidelines prohibit "the use of equitably shared funds for extravagant expenditures," the [Justice Department]'s letter, dated July 10, said. "The vehicle in question is a high-performance vehicle not typically purchased as part of a traditional fleet of law enforcement vehicles."

The feds also took issue with part of the request that stated Conway would also use the car for undercover and covert operations.

The sheriff's office defended the claim. It said that, in addition to driving the car to and from work, Conway uses it "when he participates in field operations, covert and otherwise, with our deputies."
Under the equitable sharing program, federal authorities may "adopt" state and local forfeiture cases and prosecute them at the federal level. Those local police departments get to keep up to 80 percent of the forfeiture revenue, while the rest goes into the equitable sharing pool and is distributed among partner departments around the country.
Civil liberties groups have long argued that the program allows local and state police to bypass state-level restrictions on asset forfeiture. In response to growing criticism, former Attorney General Eric Holder introduced new rules limiting so-called adoptions in 2015.
Attorney General Jeff Sessions rescinded those rules last summer. "President Trump has directed this Department of Justice to reduce crime in this country, and we will use every lawful tool that we have to do that," Sessions said. "We will continue to encourage civil asset forfeiture whenever appropriate in order to hit organized crime in the wallet."
The Gwinnett County Sheriff's Office is far from the first department to get in hot water for misusing forfeiture funds, or even the first in Georgia. For example, there was the $90,000 Dodge Viper that the Camden County sheriff purchased with forfeiture funds for the department's DARE program.
Then there was the Illinois police department that spent more than $20,000 in equitable sharing funds on accessories for two lightly used motorcycles, including after-market exhaust pipes, decorative chrome, and heated handgrips.
Between 2014 and 2016, the Tennessee Department of Homeland Security spent $112,614 in asset forfeiture funds on catering, luncheons, retail food, and banquet tickets, all of which are not allowable expenses under the Justice Department's guidelines for the equitable sharing program.