Angela Merkel Supports Proposed Trump/Putin Summit in Washington
Merkel believes "it must once again become normal for Russian and American presidents to meet."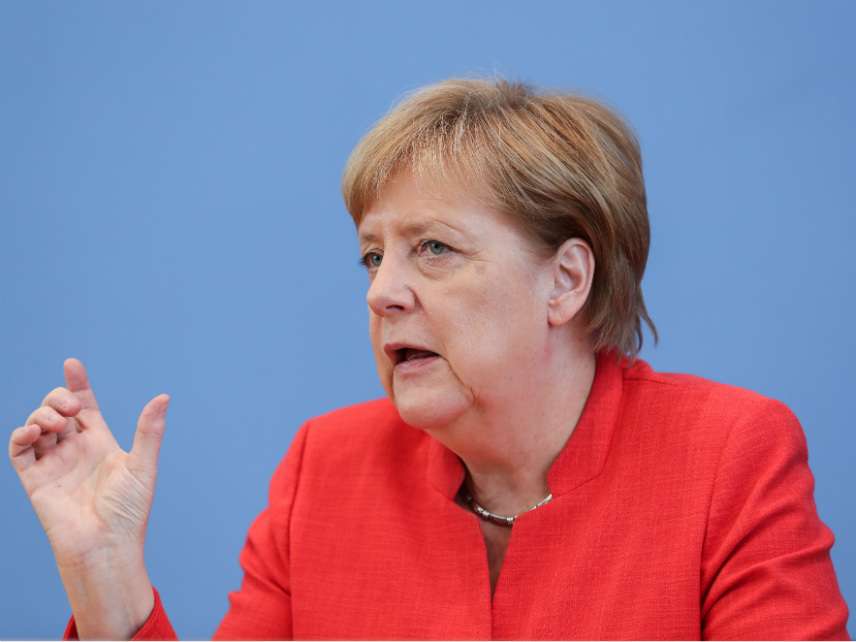 German Chancellor Angela Merkel thinks it's a good idea for U.S. President Donald Trump and Russian President Vladimir Putin to meet again this year in Washington, D.C.
"I think it must once again become normal for Russian and American presidents to meet," Merkel told reporters at a press conference today. She also believes that "in principle it's always good for everyone when there are talks, particularly when there are talks between these two countries."
Merkel's remarks came a day after the Trump administration said it had invited Putin to visit Washington this fall. Though the German chancellor defended the idea, some lawmakers are less enthusiastic. Sen. Shelley Moore Capito (R–W.Va.) thinks Trump and Putin should "let the dust settle" from this week's summit before planning a second one. Senate Majority Whip John Cornyn (R–Tex.) wants to wait, too. "Maybe in a year or two," he tells The Hill.
Controversy over Trump's approach to U.S./Russia relations has abounded since Trump's Monday meeting with Putin. At a joint press conference with Putin after the summit, Trump told the world that he accepted Putin's claim that the Russian government did not interfere in America's 2016 presidential election. After that provoked criticism from across the political spectrum, Trump claimed that he misspoke and believes Russia did interfere in the election.
Russian Ambassador to the U.S. Anatoly Antonov said Thursday he had not yet personally seen Trump's invitation to Putin, but he added that "Russia was always open to such proposals. We are ready for discussions on this subject," according to the Associated Press. Putin has not visited Washington since 2005.