Starbucks Bans Plastic Straws, Winds Up Using More Plastic
A Reason investigation reveals that the coffee giant's new cold drink lids use more plastic than the old straw/lid combo.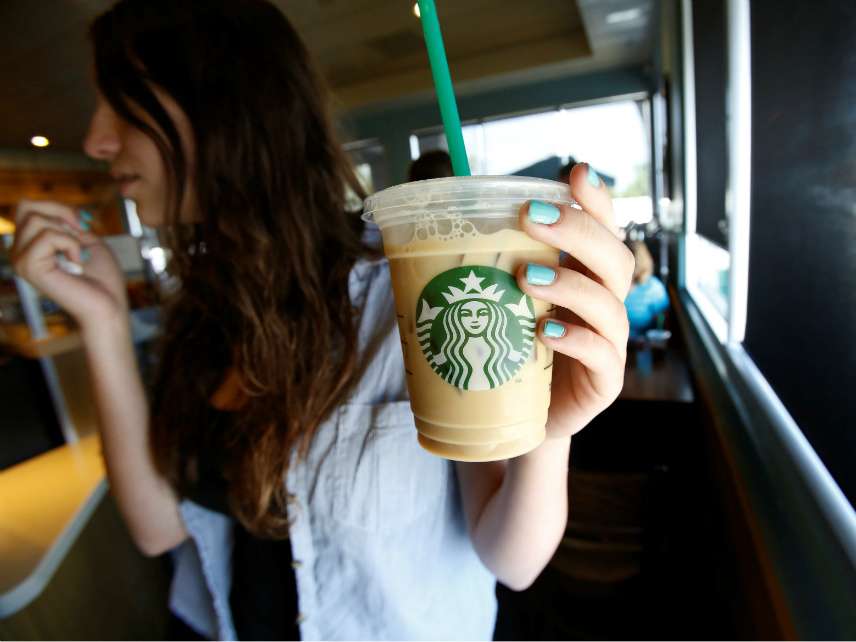 2018 will forever be remembered as the year that hating plastic straws went mainstream. Once the lonely cause of environmental cranks, now everyone wants to eliminate these suckers from daily life.
In July, Seattle imposed America's first ban on plastic straws. Vancouver, British Columbia, passed a similar ban a few months earlier. There are active attempts to prohibit straws in New York City, Washington, D.C., Portland, Oregon, and San Francisco. A-list celebrities from Calvin Harris to Tom Brady have lectured us on giving up straws. Both National Geographic and The Atlantic have run long profiles on the history and environmental effects of the straw. Vice is now treating their consumption as a dirty, hedonistic excess.
Not to be outdone by busybody legislators, Starbucks, the nation's largest food and drink retailer, announced on Monday that it would be going strawless.
"This is a significant milestone to achieve our global aspiration of sustainable coffee, served to our customers in more sustainable ways," said Starbucks Kevin Johnson CEO in a press release announcing the move.
The coffee giant says that by 2020 it hopes to have eliminated all single-use plastic straws at its 28,000 stores worldwide. It will now top all its cold drinks with fancy new strawless lids that the company currently serves with its cold brew nitro coffees. (Frappuccinos will still be served with a compostable or paper straw.)
As is to be expected, Starbucks' decision was greeted with universal adulation.
The World Wildlife Fund and Ocean Conservancy both provided ebullient quotes for Starbucks' press releases. Liberal magazine The New Republic praised the move as an "environmental milestone." Slate hailed the Starbucks straw ban as evidence of a victory for a bona fide anti-straw movement, one that would hopefully lead to bans of more things plastic in years to come.
Yet missing from this fanfare was the inconvenient fact that by ditching plastic straws, Starbucks will actually be increasing its plastic use. As it turns out, the new nitro lids that Starbucks is leaning on to replace straws are made up of more plastic than the company's current lid/straw combination.
Right now, Starbucks patrons are topping most of their cold drinks with either 3.23 grams or 3.55 grams of plastic product, depending on whether they pair their lid with a small or large straw. The new nitro lids meanwhile weigh either 3.55 or 4.11 grams, depending again on lid size.
(I got these results by measuring Starbucks' plastic straws and lids on two separate scales, both of which gave me the same results.)
This means customers are at best breaking even under Starbucks' strawless scheme, or they are adding between .32 and .88 grams to their plastic consumption per drink. Given that customers are going to use a mix of the larger and smaller nitro lids, Starbucks' plastic consumption is bound to increase, although it's anybody's guess as to how much.
In response to questions about whether their strawless move will increase the company's plastic consumption, a Starbucks spokesperson told Reason "the introduction of our strawless lid as the standard for non-blended beverages by 2020 allows us to significantly reduce the number of straws and non-recyclable plastic" as the new lids are recyclable, while the plastic straws the company currently uses are not.
This is cold comfort given the fact that even most of the stuff that is put in recycling bins still winds up at the dump. The company did not address, nor did it dispute, that its transition to strawless lids would increase its overall plastic consumption.
The weight of plastic—not the raw number of plastic objects used, or whether those objects are recyclable—is what should really concern environmentalists.
Pictures of turtles with straws up their noses are certainly jarring. However most plastic, whatever form it enters the ocean as, will eventually be broken up into much smaller pieces known as micro-plastics. It is these micro-plastics that form those giant ocean garbage patches, pile up on the ocean floor, and leech into the stomachs and flesh of sea creatures.
Reducing the amount of micro-plastics in the ocean thus requires cutting down on the aggregate weight of plastics entering the ocean each year. It cannot be stressed enough that straws, by weight, are a tiny portion of this plastic.
At most, straws account for about 2,000 tons of the 9 million tons of plastic that are estimated to enter the ocean each year, according to the Associated Press—.02 percent of all plastic waste. The pollution problem posed by straws looks even smaller when considering that the United States is responsible for about one percent of plastic waste entering the oceans, with straws being a smaller percentage still.
As countless experts have stressed, truly addressing the problem of marine plastic pollution will require going after the source of this pollution, namely all the uncollected litter from poorer coastal countries that lack developed waste management systems.
Straw banners have proven stubbornly resistant to this logic. Instead, they have chosen to rely on either debunked statistics (such as the claim that Americans use 500 million straws a day, which was the product of a 9-year-old's research) or totally unproven notions (like the theory that straws are a "gateway plastic") in order to justify petty prohibitions on innocuous straws. And they have been helped along by an uncritical media. Coverage of Starbucks' strawless move saw The New York Times, The Wall Street Journal, and National Geographic all cite the 500-million-straws-a-day figure.
By adopting a myopic focus on banning straws, environmentalists, city councils, and conscious capitalists are, at best, having no significant impact on the overall problem of marine plastic waste. At worst, they are pushing expensive prohibitions on consumer choice that are counter-productive—at least in the case of Starbucks' ban—and come with all sorts of unintended consequences.
For instance, straw bans will likely hurt disabled people who lack the motor skills necessary to pull off a flawless cup-to-lip motion. While reusable straws exist, they are hard to clean and not always handy when one needs them. "What if you decide on the spur of the moment to go have a drink with friends after work but forgot your reusable straw that day? [That] doesn't leave a lot of room for spontaneity—something nondisabled folks get to largely take for granted," Lawrence Carter-Long of the national Disability Rights Education & Defense Fund told NPR. Senior citizens and parents with young children will likely be affected for the same reasons.
Why not use more eco-friendly disposable straws? Because they are terrible. Paper straws are known to collapse halfway through a drink. Compostable straws cost six to seven times more than their plastic alternatives, don't keep for long, and fall apart when exposed to high heat.
Straws, although not essential for most people most of the time, are still a wonderful convenience that help people enjoy a drink on the go, preserve their carefully-applied lipstick, or save their teeth from the corrosive effects of some beverage. Just yesterday, we as a nation celebrated 7-Eleven's "Free Slurpie Day," a holiday that can't hope to survive in a strawless world.
Giving up on free slurpies and dignity for disabled people in the pursuit of totally illusionary environmental benefits seems like a poor trade-off, yet that is the trade-off straw prohibitionists are forcing the rest of us to accept.