Still Fearing Antifa Supersoldiers, Republicans in Congress Declare War on Masks: Reason Roundup
Plus: "acting" is now hate speech (at least if your genitals don't define your roles), Trump thinks Germany is Russia's puppet.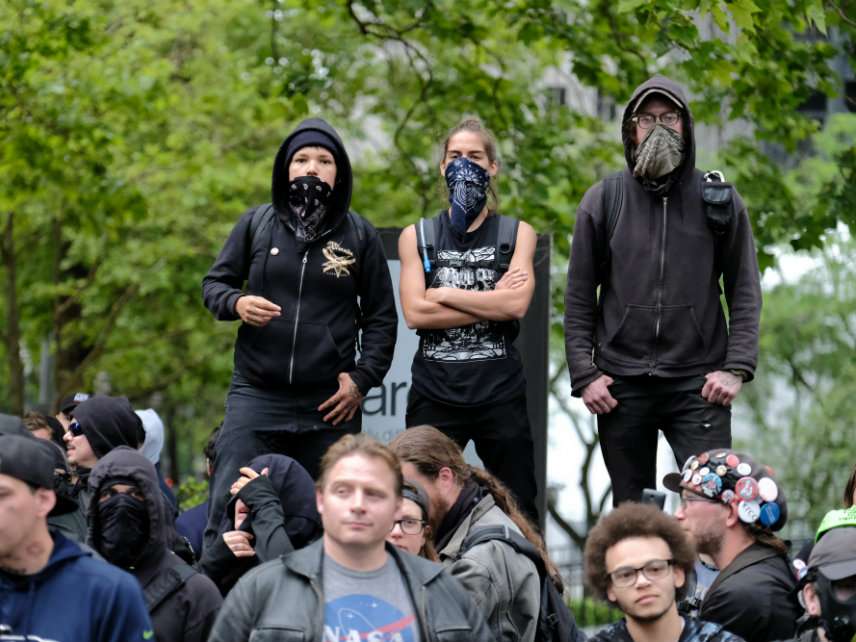 Unmasking GOP hypocrisy and hysteria. Legislation introduced by three Republican representatives would make it a federal crime to engage in political protest while wearing a mask. Just in case there was any confusion that this is a bill explicitly targeting their political opponents while trashing the Constitution, it's called the Unmasking Antifa Act of 2018.
Technically, the bill makes it a crime—punishable by up to 15 years in prison, plus a fine—to "injure, oppress, threat[en], or intimidate any person" while "in disguise, including while wearing a mask," even if the conduct in question would be legal when undertaken by a non-masked person. The bill specifically notes that it applies "whether or not [a masked person is] acting under color of law," and it does not define "oppress" or "intimidate."
So under the Unmasking Antifa Act, all sorts of acts of legal protest could be considered criminal if someone—be they with Antifa, the NRA, the KKK, or the saving kittens drive—throws on a tutu, tiara, fake mustache, mask, bandanna, or any other sort of costume element.
The bill also creates a statutory enhancement (and a mandatory minimum) for certain acts of vandalism committed while wearing a mask. Anyone found guilty of "destroying property within special maritime and territorial jurisdiction" will automatically be sentenced to two years in prison, in addition to any sentence otherwise imposed, if their act took place while wearing "a disguise, including a mask."
The whole business reeks, of course—things should be criminalized based on the activity in question, not the attire one wears while accomplishing said activity. Republicans rightfully tend to stand against "hate speech" laws and other similar statutes that impose heavier criminal penalties based on subjective states of mind or elements ancillary to the crime. They also frown—or at least once upon a time did—at unnecessary federalization.
But hypocrisy is currency in Washington, so here we are: mandatory minimums for mask wearers, to be monitored by federal agents. Nothing dystopian in that, nosiree…
The bill is being pushed by Reps. Daniel Donovan (R-NY), Reps. Peter King (R-N.Y.), Ted Budd (R-N.C.), and Paul Gosar (R-Ariz.).*
FREE MARKETS
The NATO summit started today in Brussels, and President Trump has wasted no time before insulting U.S. allies and spouting crazy conspiracy theories. America's allies are "delinquent" in covering defense costs, Trump told NATO secretary general Jens Stoltenberg, and Germany is "captive to Russia."
Meanwhile, back home, the Trump administration is threatening to levy another $200 billion in tariffs on China.
FREE MINDS
Should a non-transgender actor take a role as a transgender character? Business Insider columnist Daniella Greenbaum doesn't see why not, and made her case in a recent column titled "Scarlett Johansson is being unfairly criticized for doing her job after being cast as a transgender man." Despite being labeled a "conservative" argument, Greenbaum's piece merely suggested that "the job of an actor is to represent someone else" and therefore their actual gender identities off-screen are "irrelevant" to the roles they play onscreen.
But the article caused an uproar, and Business Insider simply removed it from the publication's website. The page now says that the article has been removed for not meeting the site's "editorial standards"—standards that apparently don't include standing by work they publish if it pisses off certain orthodoxies.
If you are a journalist, this should worry you unless Business Insider can explain a bit more clearly exactly what happened here. Doesn't matter whether or not you agree with the column. Retracting a piece entirely should be an absolute last resort.https://t.co/L7szGzcSYv

— Jesse Singal (@jessesingal) July 10, 2018
"Editors should make sure we are not publishing shallow, 'hot takes,' but instead, fully thought-out arguments that reflect and respect the opposing view," global editor-in-chief Nich Carlson told staff in an internal email obtained by The Daily Beast. "There should be no partisan name-calling, e.g. 'social justice warriors,' 'libtards,' or 'rednecks.' Opinion and arguments should feel reported and researched, and not like quick reactions."
FREE MOVEMENT

Judges gives ICE more—and less—time to reunite families.
One federal judge extends the deadline for the Trump admin to reunite separated migrant families while another rebukes their attempt to indefinitely detain them.

What does this mean for families not yet reunited?@Peter_Wehner @BretStephensNYT @MattWelchhttps://t.co/ib4fKSE88z

— Stephanie Ruhle (@SRuhle) July 10, 2018
QUICK HITS
Amazing work by @CityLab & @Tanvim mapping all the contracts that local governments have with ICE. It's typically elected local officials who decide these, & "there are several diverse, Dem-leaning counties signed up to jail large numbers of immigrants". https://t.co/Z4QaRzPnEB

— Taniel (@Taniel) July 10, 2018
BREAKING: @realDonaldTrump @WhiteHouse releases Executive Order to end competitive selection process for Administrative Law Judges, making them political appointees who can be fired at will.

— Andrew Feinberg (@AndrewFeinberg) July 10, 2018
Indianapolis cop says SESTA/FOSTA closure of Backpage has 'blinded' investigators making it impossible to find victims it was suppose to help. Meanwhile, those who are being victimized are pushed further into the shadows & are not calling police. https://t.co/Cxlhr5TFsz #sexwork

— PACE Society (@PaceSociety) July 10, 2018