Libertarian Party Rebuffs Mises Uprising
Incumbent National Chair Nick Sarwark, after picking a fight with Tom Woods, routs a Mises-backed challenger at the party's national convention. Controversial vice chair Arvin Vohra also booted out of office.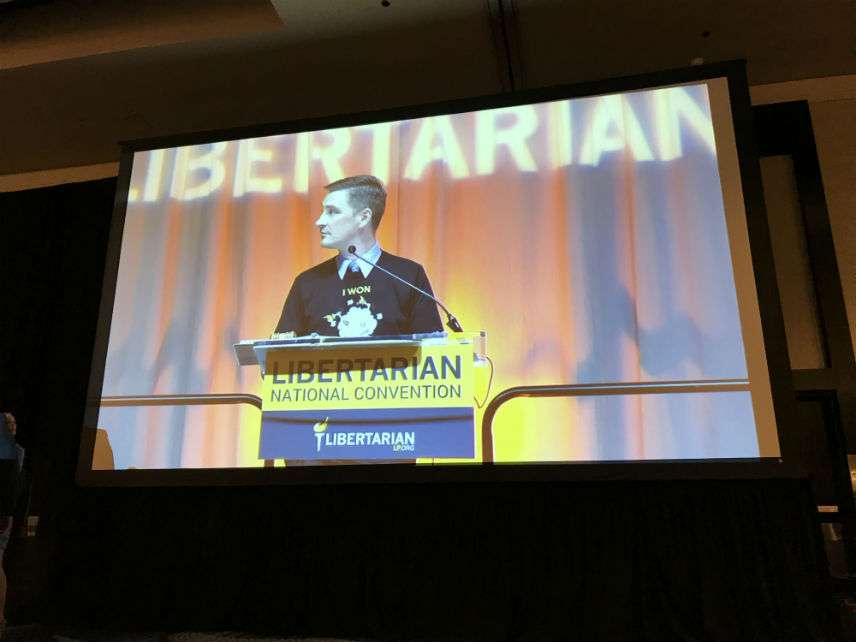 The Libertarian Party on Monday afternoon re-elected in a surprising first-ballot landslide incumbent Chair Nicholas Sarwark to an unprecedented third consecutive two-year term. In doing so, the nation's third-largest political party swatted down what was supposed to be the most contentious challenge at its biennial national convention—to a leadership that was considered by various critics to be too operationally incremental, too ideologically tepid, and too (in the words of Ludwig von Mises Institute Senior Fellow and popular podcaster Tom Woods at a nearby New Orleans rally Saturday) "SJW-friendly."
Instead, Sarwark's main opponent, the Mises Caucus-endorsed Joshua Smith, stumbled badly in a defensive debate performance at the New Orleans Hyatt Regency Sunday night, and ended up Monday on the business end of a 65 percent-22 percent rout. In the vice chair race, two-term incumbent Arvin Vohra, who has become a lightning rod over the past year-plus for intentionally provocative public comments such as "Bad Idea: School Shootings. Good Idea: School Board Shootings," was resoundingly drummed out of office, never receiving more than 11 percent of the vote in three rounds of balloting that ended Tuesday with a positivity-exuding 33-year-old finance/tech/consulting guy named Alex Merced squeaking past the 50 percent finish line.
"What I think the race shows is that if you want to change the direction of the Libertarian Party, if you have new ideas about how we can grow and reach new members, the election of Merced to vice chair shows that the delegates want that kind of change," Sarwark told me Tuesday afternoon. "If your campaign is seen, or has themes of trying to kick people out, of trying to attack people like Gov. Weld, or… basically anyone—if your campaign was seen as trying to drive people out of the party, the delegates soundly rejected that. And I think that that is the biggest takeaway from the convention."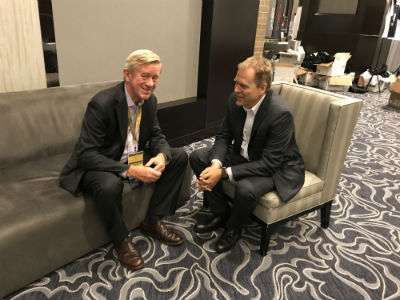 Weld, the controversial-within-the-party 2016 vice presidential nominee and former moderate Republican Massachusetts governor who is laying the groundwork for a possible 2020 presidential run (and was everywhere to be seen at the convention, amiably taking on all skeptical comers), played a pivotal role in the decisive debate. Candidates had the opportunity to ask their opponents one question, and when it was Smith's turn, a delegate in the audience shouted out, "What do you think about Bill Weld?!" (Weld-heckling was a sporadic feature throughout the three-day event.) Smith decided to make that his question.
"What I think about Bill Weld," Sarwark started slowly, building into a feisty crescendo, "is that he is still in the Libertarian Party, while many of his opponents are not. [He's been] raising money for and endorsing Libertarian candidates. He is fundraising for us. And the exposure of Bill Weld to the Libertarian Party has not made the Libertarian Party more like an establishment Republican, but has made Bill Weld a lot more like a Libertarian….He knows something about winning public office, and [we need to] learn how to do that from anybody who will help us, anybody who will join us. And we should not PUSH PEOPLE OUT who are willing to help!"
As New York gubernatorial candidate and popular party organizer Larry Sharpe, who had backed Smith, commented later, after that exchange it was "game over."
Smith, an energetic and rough-hewn Washington-based activist and co-founder of the libertarian news site Think Liberty, was both magnanimous and defiant after his defeat at the hands of man he had criticized during the campaign for prioritizing "virtue signaling, identity politics, and battles for infamy."
"Look, no one knew who I was eight months ago," Smith told me. "We came in here and took 22 percent of the vote…from the most popular chair that we've ever had in 46 years. I'm not mad!"
Smith won the consolation prize of an at-large national committee berth Tuesday evening. "I like Nick, I've always liked Nick," he said. But as a party, "we're not going up. We're just not, you know. He sits up there and talks a big game….We [have] a small budget, small membership base, and we've got to grow that. So I hope that me being an at-large will help us accomplish those goals, and, you know, if he wants to take credit for that, that's fine."
Sarwark's resounding victory—he received more votes than he did in a far smoother race in 2016—was hailed by the L.P.'s more prominent elected officials, whose approach toward voter outreach tends to dovetail more with the Libertarian Pragmatist Caucus than, say, the Misesites or the in-your-face Audacious Caucus.
"This gives us a chance as a party to have some consistency and get to the next level," said Calimesa, California, Mayor Jeff Hewitt, an L.P. star and successful policy reformer who is neck-and-neck in a two-man race to get on the Riverside County Board of Supervisors in November. "We've got the right guy in as chair, and it's really going to make us grow."
The contest between Sarwark, a careful and smooth-talking 38-year-old lawyer/car dealer who is also running for mayor of Phoenix, and the 35-year-old Navy veteran Smith was so nasty and upsetting for some delegates that vendors were hawking "I survived the Libertarian National Chair campaign 2018" T-shirts. But to the extent that it was a proxy war between the party's new influx of elbow-throwing Tom Woods listeners and its older cohort of more patient coalition-builders, the pragmatists won in a rout.
As longtime L.P. hand and 2016 Gary Johnson right-hand man Tom Mahon sang to me right after the vote:
The Mises came over the mountain
The Mises came over the mountain
The Mises came over the mountain
and the Praggies kicked their ass
The Praggies kicked their ass
The Praggies kicked their ass
The Mises came over the moun-tain…..
and the Praggies kicked their ass
The respective leaderships of the Libertarian National Committee and the Ludwig von Mises Institute (LvMI) have been hurling insults at each other since the Unite the Right rally and subsequent riots in Charlottesville, Virginia last Aug. 11-12. Two days after protester Heather Heyer was rammed and dragged to death by an automobile driven by reported neo-Nazi James Alex Fields, Jr., Sarwark dinged Mises Institute President Jeff Deist for blaming the conflict on politicization without uttering the name "Donald Trump." Then Sarwark took a swing at Woods for defending Murray Rothbard's controversial "paleolibertarian" push toward the reactionary right in the late-1980s and early '90s.
TFW all you learned from Murray Rothbard was his worst political strategy ever.https://t.co/5qm0sNFCvP https://t.co/i01xYrjR7d

— Nicholas Sarwark (@nsarwark) August 14, 2017
Woods responded by calling Sarwark a "pansy" with "a very low IQ"; Sarwark accused the LvMI of being "the preferred choice of actual Nazis," and then Vohra issued a stinging denunciation of a pro-nationalism speech Deist had given two weeks before Charlottesville that had concluded with the line, "blood and soil and God and nation still matter to people. Libertarians ignore this at the risk of irrelevance." Retorted Vohra: "'Blood and soil' is a central Nazi and nationalist idea….[A]t the current time, Mises Institute has been turned into a sales funnel for the White Nationalist branch of the Alt Right."
Libertarian Party Executive Director Wes Benedict made the distancing exercise complete with an August 15 press release stating, "There is no room for racists and bigots in the Libertarian Party. If there are white nationalists who—inappropriately—are members of the Libertarian Party, I ask them to submit their resignations today. We don't want them to associate with the Libertarian Party, and we don't want their money. I'm not expecting many resignations, because our membership already knows this well."
Then something interesting happened: People didn't leave. In fact, they kept coming in. The Mises Caucus has continued to be one of the fastest-growing blocs within the party, even as the war of words between the L.P. and the LvMI (and Mises allies, such as the libertarian comic Dave Smith) raged on. Joshua Smith announced his candidacy for chair in September, winning an early endorsement from the caucus, and included in his critique of Sarwark "the fights with Tom Woods" and "telling people that maybe you're not the kind of people we want in the Libertarian Party," statements Smith characterized as "a huge ball-drop."
Woods, not previously noted for his party-related activities, organized* (see correction below) the day before the convention a raucous Take Human Action Bash a few blocks away, featuring a lively mix of speakers such as anti-war author Scott Horton and a piped-in Ron Paul. Unusually for both Woods and Paul, their speeches each made first-person plural references to capital-L Libertarians, and were basically pleas to make the party more like, well, Ron Paul.
"Most people change or adopt ideologies, not because they're gently led by some stuffed shirt, but because they're jolted by an articulate true believer," said Woods, who spent a good deal of time eviscerating the philosophical and policy errors of Bill Weld, to an audience that occasionally broke out in "Tom Woods for president!" chants. "I mean, is the idea that we should be trying to trick people into voting Libertarian?"
Paul, too, urged the 200 or so people in the room—who he called "the libertarian wing of the Libertarian Party"—to focus on the basics of property rights, volunteerism, and being anti-war and anti-Federal Reserve. "Congratulations for being in the Mises Caucus, keep up the good work, and keep everybody honest," he concluded.
Woods, a gifted and funny speaker with a loyal flock, painted a picture of a modern L.P. too far adrift from the non-aggression principle, too wracked by "fear of seeming unfashionable in elite circles."
"When it comes to pot smoking and gay marriage, everybody has accepted those by now. What is the point? That horse is dead," he said at one point. At another: "Now, I've heard it said that the Libertarian Party ought to avoid certain issues, because it will make it more difficult to make the party appeal to the LGBT community, [that] the party should be pro-LGBT. But, my answer to that is that Libertarians are not pro-LGBT. Libertarianism and the Libertarian Party are pro-humanity, period."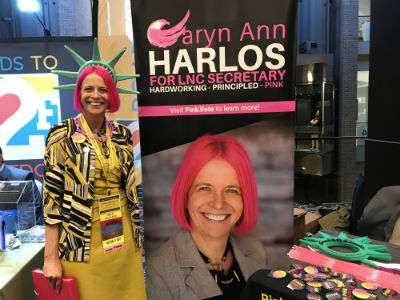 Meanwhile, at the convention over the subsequent days, the party adopted new platform language defending sex workers, and removed old platform language that had supporting "control over the entry into our country of foreign nationals who pose a credible threat to security, health or property" (a change that Sarwark in particular finds significant in the current political climate). The party retained its usual support for "free market banking" and condemnation of the "use of force."
Heading into the convention, there were two main chunks of dissatisfaction with Sarwark that translated into a widespread belief that Smith had at least a puncher's chance to knock him out: The Mises/Charlottesville fracas, and an impatience about growing the party faster. But by the time Sarwark filleted Smith on the debate stage—and not incidentally, wielded an expert gavel during the cat-herding that passes for parliamentary procedure debates among Libertarians—the Mises Caucus just didn't have enough bodies.
"The people who were mad about the Charlottesville and near-Charlottesville comments, that was the core of the support that on the ballot ended up voting for my competitor," the chair said. "The people who wanted more growth, I believe that after the debate performance, and after hearing the actual numbers about how we've been doing, realized that we're actually on that good trajectory for growth, and decided to stick with Nick."
What does that trajectory look like? The 2018 L.P. convention was by far the largest of any of the party's midterm gatherings, doubling the size of 2014. Fundraising at the convention gala possibly eclipsed even 2016—"I think we might have raised over $100,000 last night at a whack, which is amazing," Sarwark said. There has been a post-2016 downturn in active dues-paying membership at the national level, but the party has been winning more and more local elections, getting a record number of state legislators to switch parties, and is already attracting national interest in its presidential deliberations for 2020. Most of the long-term metrics look good.
"There aren't really words to describe how well we are doing," Sarwark said. "The excitement we've had in the midterms with the number of candidates we have running and the number of Libertarians who are elected to office who are running for re-election, it has generated an energy and a buzz that I've never seen."
Factionalism and bitter fights are just as prevalent in the Libertarian Party as they are in the broader lower-case-l libertarian movement, if a tad more colorfully dressed. But unlike the latter grouping, the former has a single banner under which they all manage to cooperate, with a charming and idiosyncratic affection for their occasionally vast differences. For now, the direction seems to be people coming in the tent to fight for their beliefs, rather than taking their balls and going home.
"I'm not going to leave these values, I love these values," Hewitt said. "And no matter what person come in, I love even the crazy people in there. That won't even become a problem once we get some wins. They'll be whimsical then, or whatever else. People come to see that we'll be winning, and we are that sexy party, we are that fun party. We've just got to start having confidence in ourselves, and taking a bit more of a patient approach to get a load of global offices."
* Tom Woods tweets that he did not organize the event, but that the Mises Caucus organized. My apologies to both parties.