Charlottesville White Nationalist Sues 'To Bring Civility Back,' Wins $5 in Damages From Woman Who Cursed Him Out
A woman screamed "fuck you" and "fuck you, asshole," at the white nationalist, in addition to calling him a "murderer" and a "crybaby."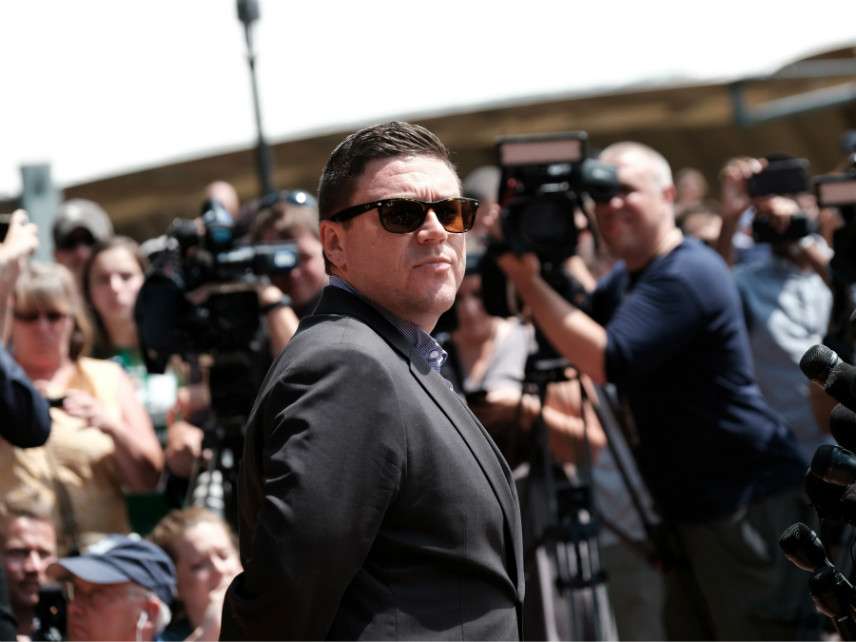 A white nationalist who helped organize last August's infamous Unite the Right rally in Charlottesville, Virginia, has won his lawsuit against a woman who cursed him out in public. He sued for $500, but a Charlottesville judge awarded him only $5 in damages.
Jason Kessler claimed that by shouting things like "fuck you" and "fuck you, asshole," and by calling him a "murderer" and a "crybaby," Donna Gasapo was inciting violence.
Gasapo allegedly said those things on March 16 outside Charlottesville General District Court, where DeAndre Harris was being tried for assault. Harris, who is African American, was beaten during the August rally, but he was on trial for (and later acquitted of) assaulting a white nationalist.
Kessler had been under fire since one of his protest's participants, James Alex Fields Jr., killed counterprotester Heather Heyer by hitting her with his car. (Fields now faces federal hate crime charges.) Kessler attended Harris' trial to cover it for a website, and Gasapo was enraged he would show his face. "Someone in our community was murdered," she later explained, according to the Charlottesville Daily Progress. "White supremacists stormed into our city. It doesn't sit well with me." She essentially admitted to yelling and cursing at him, and indeed, Kessler had video of her remarks, which he posted online.
Gasapo's attorney, Pam Starsia, argued her client's speech was protected by the First Amendment, but Kessler, who represented himself, claimed her words could have provoked violence—though not from a bystander. Instead, Kessler argued that Gasapo's words could have caused him to become violent. "There was a chance that I could respond violently and I don't want that to happen," he said in court. Kessler also claimed that by calling him a murderer in public, Gasapo damaged his character.
Kessler, who has not been shy regarding his white nationalist views, claimed in his lawsuit that he was suing Gasapo in order "to bring civility back to our community."
The Supreme Court ruled in 1943 that that the First Amendment does not protect "fighting words." And in this case, Judge Robert H. Downer Jr. ruled in favor of Kessler on Friday, saying Gasapo's words could have incited a violent response from Kessler.
At the same time, he only awarded Kessler $5 in damages. His logic was that not only is Kessler a public figure, but that by posting a video of Gasapo's remarks online, Kessler showed he wasn't particularly fearful of his character being damaged.
Kessler's victory was mainly symbolic, but Starsia finds it disturbing the judge ruled in his favor at all. "I think we should all be very concerned about what this ruling means in terms of opening up other frivolous harassment suits against members of our community who are expressing their opinions and their very real feelings of frustration, which we believe are protected by the First Amendment," she said after Friday's hearing, according to the Daily Progress. Gasapo may yet decide to appeal.