This UNC Rape Victim Became a Title IX Activist Leader. But Does Her Own Story Hold Up?
Andrea Pino's gruesome campus rape report jump-started national reforms, but even other activists are asking questions.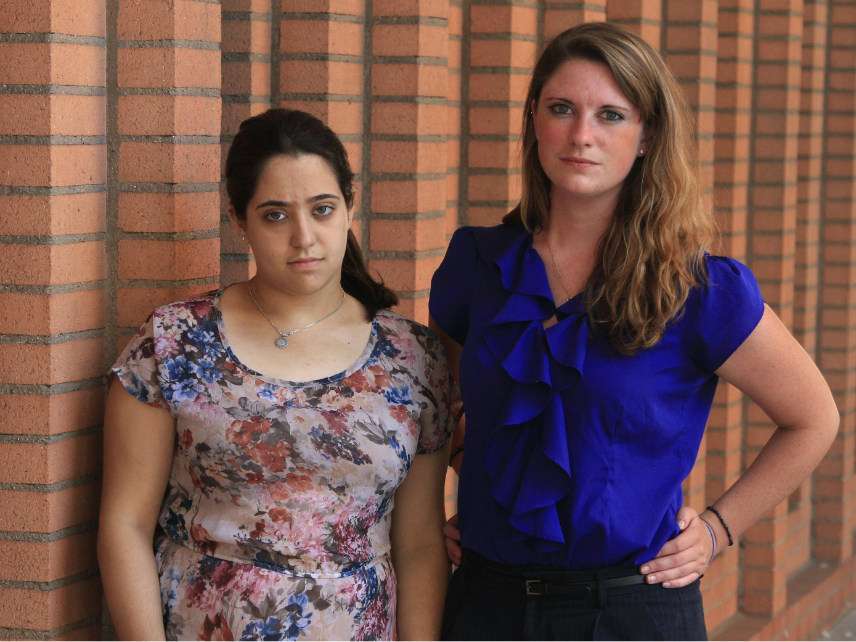 A case that helped jump-start a wave of campus sexual assault activism across America has ended in a big win for the complainants. Last week the Office of Civil Rights of the Department of Education released its findings on the federal complaint four students and an administrator filed against the University of North Carolina at Chapel Hill (UNC) in January 2013. The office concluded that the school had failed to establish "grievance procedures that provide for the prompt and equitable resolution of student, employee, and third-party complaints" of sex discrimination, including sexual misconduct. While the university has not admitted wrongdoing, it has agreed to review its procedures and to submit to federal monitoring.
Among those celebrating this outcome was former UNC student Andrea Pino, the co-founder of the national organization End Rape on Campus and the best-known of the five women behind the complaint. "I was 20 years old taking on a 200-year-old university and today I can say that I won," Pino told ABC11.
But that victory comes with an asterisk. While Pino's role in the UNC complaint propelled the 26-year-old Florida native to national visibility—she has met with politicians, was showcased in the 2015 campus rape documentary The Hunting Ground, has co-authored a book of survivor narratives, and speaks frequently on college campuses—there are also serious questions, unanswered and largely unasked, about the credibility of her own story of sexual assault.
The Campus Rape Frenzy, a 2017 book by the Brooklyn College historian K.C. Johnson and the National Journal writer Stuart Taylor, critically examines claims of a neglected epidemic of sexual violence on campus. It describes Pino's complaint against UNC as "the highest-profile questionable Title IX claim." (Title IX is the statute that requires colleges to investigate sexual harassment and assault.) Johnson and Taylor point out a number of implausibilities and inconsistencies in Pino's accounts both of her rape and of her alleged mistreatment by the university. While they stop short of calling Pino's story a hoax, they note that it has some startling parallels to that of Jackie, the faux victim in Rolling Stone's retracted story of a brutal fraternity rape at the University of Virginia.
My own skepticism of Pino's claims goes back to the controversy over The Hunting Ground, when I decided to look up some information on the women who appeared in the film. Some things in a 2014 Vogue feature on Pino and her comrade-in-arms Annie Clark, and in Pino's own blog posts at The Huffington Post, leaped out at me as decidedly odd. I did some background research for a possible article questioning about Pino's credibility. Then I put it on hold for several reasons, from a lack of leads to qualms about suggesting that someone who claimed to be the victim of a brutal crime was lying. (Pino never named a suspect, so this was not a question of a possible false accusation against an innocent person.)
Last year, The Campus Rape Frenzy revived my interest in pursuing the Pino story. Even with no accused, the issue of Pino's truthfulness is important given her status as a central figure in the narrative of a pervasive "rape culture" on American campuses—a narrative that has created a damaging climate of fear and presumption of guilt. It is also relevant to related problem: The media's tendency to suspend normal journalistic skepticism when it comes to allegations of sexual violence.
My story on Pino was published in May 2017 in Heat Street; several months later, that website folded and all its archives were taken down. With Pino and the UNC case back in the news, this story deserves to be brought back—particularly since, after the publication of the Heat Street article, I was contacted by a person deeply involved in campus sexual assault activism who not only shared my skepticism but gave me some striking new details. This article incorporates both material from the Heat Street story and new information. Pino did not respond to my requests for an interview or a comment, either in 2015 or last year.
* * *
Unlike many disputed accounts of campus sexual assault, Pino's story does not involve a murky situation of excessive alcohol consumption and fuzzy memories, or blurred lines between seduction and coercion. She says that in her sophomore year at UNC, in March 2012, she was the victim of a terrifying, extremely violent attack at an off-campus party she attended with a friend.
The assault began, Pino says, when a young man with whom she was dancing ("he was really attractive and a really, really great dancer," she says in The Hunting Ground) suddenly pulled her toward the bathroom and dragged her inside. In a 2013 Huffington Post blog post, Pino gives a dramatic description of what happened next:
My head was slammed hard against shiny white tile….The white shone with his bright eyes, and the drops of my blood that dripped to a puddle. He held my wrist against the walls as his hands slipped with scarlet sweat, and his eyes followed my buttons as he ripped them off my jeans. My mouth couldn't say "no," my eyes were blinded by the tiny red dots on my contact lenses. His fingers slipped through my hair, and I felt his fingernails digging into my head, pulling me in closer to his unzipped black Levis.
At some point, Pino has said, she "blacked out," then regained consciousness and returned to the party to try to find her friends; failing to do so, she returned to her dorm on her own, still in a state of shock. The next morning, she writes, she "woke up in a pool of blood," her body covered with "marks and blisters"; as the horrific memories came back, she realized that she had been raped. She considered reporting it, but hesitated because she had no name for her attacker and no witnesses: "Would the police make me take a lie-detector test? Would they think that I hurt myself?"
Pino writes that when she tried reaching out to friends to talk about the assault, "I quickly learned that it was 'my fault.'" The friend who had invited her to the party, she told Vogue, reacted by asking, "Maybe you just had a bad hookup?" And so, according to Pino, she suffered in silence for months while depression and anxiety took their toll on her coursework and university staffers treated her as a slacker.
This harrowing tale has many elements that are uncannily similar to Jackie's story in Rolling Stone: a Prince Charming who abruptly morphs into a monster; a brutal rape during a party; a victim who flees the house dazed and bleeding but never goes to the police or to the hospital; insensitive, victim-blaming friends and indifferent authority figures who shrug off the assault.
None of that, of course, proves that Pino is another Jackie. But while Pino's story does not have a smoking gun like Jackie's catfishing scheme to impersonate the nonexistent rapist "Haven Monahan," it still has plenty of red flags. For instance:
* Even assuming that one can occupy the bathroom during a crowded party for an extended period of time without attracting attention, did no one notice the blood on the tiles after the rape or the blood on Pino when she returned to the party? (In her Huffington Post piece, she says she left bloody tracks on the path when running back to the dorm.)
* Pino claims she bled so profusely that her light-blue bedsheets turned "burgundy" and blood dripped from the bed onto the wooden floor. Such heavy bleeding would have left her extremely weak, especially since she also claims she sustained a concussion. How plausible is it that no one at the dorm or the school would have noticed her condition, or that she recovered without medical help?
* How plausible is it that students at a liberal university in 2012 would tell a woman who was dragged into a bathroom, viciously battered, and raped that it was her fault, or dismiss this as "a bad hookup"?
* In the 2013 Huffington Post essay, Pino says that when she told an academic advisor she wanted to drop a course due to "difficult personal trauma," the advisor called her lazy and suggested she couldn't cut it at UNC. Yet in an interview two years later, she attributes these comments to a professor who she implies had been informed of her rape ("I explained…what was happening and how it was affecting my grades").
* During a question-and-answer session after a screening of The Hunting Ground in Los Angeles in March 2015, Pino introduced a dramatic new detail into her narrative: While making the point that women cannot prevent rape by taking precautions and citing her own example as a woman who was raped even though she "did everything right," she claimed that she "had a taser" (and was presumably carrying it on the night of the attack).
* In her Huffington Post piece, Pino says she didn't go to the police because she had no name and no witnesses. (In fact, her description of the assailant—dark-haired, blue-eyed, wearing black denim pants and a black shirt—should have made it easy to find him). Elsewhere, however, she has offered a very different reason: that she did not immediately recognize what happened as a sexual assault. Thus, a 2017 account of Pino's and Clark's appearance at Penn State in the student newspaper, The Daily Collegian, quotes Pino as saying, "I didn't know what to do….That's because my assault didn't look like what I thought sexual assault looked like it was (sic) in Law and Order SVU or what it was in movies….I didn't consider myself a victim, much less a survivor." This assertion not only contradicts Pino's earlier claims but is quite far-fetched, since what she describes—a violent attack by a stranger that leaves the victim badly injured—closely resembles the classic stereotype of "real rape." Pino seems to be channeling a standard trope of campus rape narratives: The victim who doesn't realize she has been raped. But that trope generally applies to far more ambiguous situations involving minimal physical coercion.
* Pino's claim that she initially did not recognize her experience as sexual assault is especially odd considering that—as the Collegian article notes—she was active in a bystander intervention program that focused on prevention of sexual assault and partner violence. (Most media accounts omit this detail.) According to Pino's LinkedIn résumé, from August 2011 onward she was a "peer educator" for One Act Carolina & Helping to Advocate for Violence Ending Now (HAVEN). Her involvement in this program also makes it all the more difficult to believe that she could find no one to talk to, or that no one encouraged her to seek help.
There is another startling part of Pino's story that has been almost completely overlooked. In the 2013 Huffington Post piece, Pino asserts that the rape in March 2012 was the second assault she suffered on campus. The only other reference I could find to this claim (unmentioned in The Hunting Ground) was in an obscure October 2014 blog post about a talk she gave at a conference, which says that "Pino was sexually assaulted twice" while at UNC.
The first incident, according to Pino, happened "a few weeks" into her first year on campus:
I found myself in a fraternity brother's room, pinned to a door, and given a drink that didn't taste right. Within minutes, my eyes shut, and the morning after, I woke up on my dorm floor, scratched and bruised, and with a note from a stranger that said "We found you by the road."
Pino writes that the experience left her "terrified" and so shaken that she had trouble passing her classes, but she eventually managed to move on. Later in the post, she notes that her memories of this assault "resurfaced" after she went public as a rape survivor and began to hear other students' stories. It's unclear whether she is claiming that she repressed the memory of her first assault or simply pushed it out of her mind.
If Pino's account of her rape and its aftermath has some improbable details, the first assault is even less plausible. Why did the mysterious strangers decide to take her home instead of calling the police? How did they get inside her residence hall, which requires an electronic key fob called a flex pass? Even if they had found Pino's flex pass and room key on her, how would they know where to take her? (Rick Bradley, the associate director of housing at UNC-Chapel Hill who has worked at the university since 2002, told me in an email last year that "none of our keys or flex passes show the building name or room number.") An alternative scenario is that Pino was brought to her room by her assailant and that he left the note as a diversion. But a sexual predator who tries to cover up his crime by dragging an unconscious woman around a university campus—and remains undetected—is even more improbable than good Samaritans who find an unconscious woman by the side of the road and somehow manage to drop her off inside her dorm room.
Additional questions about Pino's credibility are raised by her claims about being targeted for harassment in retaliation for the Title IX complaint. Her account of an incident that she has described as particularly threatening has major discrepancies with coverage in the local media.
An April 2013 Huffington Post story for which Pino was a principal source criticized UNC's inadequate response to "vandalism directed at [a] victim"; it said that Pino's door was defaced with offensive graffiti that and "a fake bloody knife was left at the scene." The 2014 Vogue feature makes this episode sound like even more like a direct threat: "Somebody broke into Pino's dorm on campus, leaving behind a fake bloody knife just outside her room."
But the same incident of dorm vandalism was reported quite differently in the UNC student newspaper, The Daily Tar Heel. Someone who probably got inside the dorm by "tailgating" a student with a flex pass spray-painted graffiti on the building's first floor. The door of Pino's room was indeed spray-painted, but so were several hallway mirrors and other surfaces. Pino, who was the dorm's resident adviser, insisted that the vandalism was directed at her personally because of her anti-rape activism; at least one other student agreed. However, reports by the Tar Heel and the local news station WRAL say that graffiti vandals had also struck at other campus locations in the preceding weeks.
As for the knife: Yes, there was a (small) knife on the scene. But it was found on the stove in the dorm's communal kitchen, not by Pino's door—and there was no fake blood on it. A photo used in a report on WRAL shows a streak of red or hot pink spray paint on the stovetop that also runs across the blade of the small knife. (It's unclear whether the knife had already been there or was placed there by the intruder.)
This vandalism may or may not have been connected to Pino's activism, but it seems fair to say that her account portraying it as a personal, terrifying message of intimidation was considerably embellished.
* * *
Two days after my Heat Street article appeared, I received an unexpected email from a name I immediately recognized as someone who works closely with Title IX activists advocating for campus sexual assault survivors. This woman, who asked to remain anonymous—I'll call her Danielle—wrote that while she disagreed with me on some issues related to campus rape, she wanted to thank me for the article on Pino: "There have been some of us who have been frustrated for years by her web of lies." After an email exchange, Danielle volunteered to speak to me on the record, albeit anonymously (her current position precludes her from going public) if I ever revisited the subject. Shortly after the DOE decision on the UNC case, she answered a few questions by email.
Danielle, who has interacted personally with Pino on a number of occasions, told me that she began to suspect her of being untruthful shortly after the Title IX complaint was filed. "I noticed that her 'story' became more and more graphic each time she told it to the press," Danielle wrote. "She also loved being 'in the limelight' so much more than other survivors. And then other students began to tell me discrepancies in her story, such as the fact that the date she says it happened was when the dorms were closed for a break, so she could not have returned to her dorm room. Several students shared that her story was a 'mash-up' of three other students' stories."
While there was no single "gotcha" moment, and while Danielle knows that 100 percent certainty is impossible, over time she came to believe that Pino's story is most likely fake—something she found particularly troubling given Pino's role as one of the most visible spokeswomen for the movement against campus sexual assault. (It should be noted that, for various reasons, Danielle herself is not in contention for such a role, so her criticism of Pino cannot be dismissed as stemming from rivalry or resentment.)
Danielle believes there is a "conspiracy of silence" that shields Pino's credibility problems. "Many people in the movement are aware," she wrote, "as well as some in the press whom I've spoken with." She says that "there are powerful pressures to keep silent about potential hoaxers, and this hurts the movement in the long run."
* * *
Ultimately, no one knows what, if anything, actually happened to Pino in March 2012. If she was in fact raped at a party near the UNC campus, surely the real lesson of her story is that rape should be reported—not only for the victim's sake, but for the safety of other women who could be at risk from a violent sexual predator. Yet the only action Pino took was to drop an anonymous report in a box, a largely useless option created at a number of schools at activists' behest. (While there may have been problems with the handling of Title IX sexual assault complaints at UNC, it is hard to see how the school let down Pino since she never brought such a complaint.)
The Pino story is also a textbook example of shoddy journalism. Even after the collapse of the Rolling Stone story, the media are still failing at the most basic fact-checking when covering claims of sexual assault—even when those claims clearly call for critical scrutiny. Instead, the operating principle seems to be the title of Pino's co-authored book on sexual assault survivors: We Believe You.
One could argue that there is no harm in allowing a lie to go unchallenged in a case like this, while exposing it would make people less disposed to believe real victims. But no good cause can be advanced by a culture of dishonesty. "The ends don't justify the means," Danielle told me in our email conversation. "Ethics and truthfulness are important in all movements."