Capital Gazette Shooter Not Motivated by Milo or Maxine Waters, Had 'Long-Standing Grudge Against the Paper': Reason Roundup
Plus: conservatives feel more censored on social media, nearly 600 arrested at immigration sit-in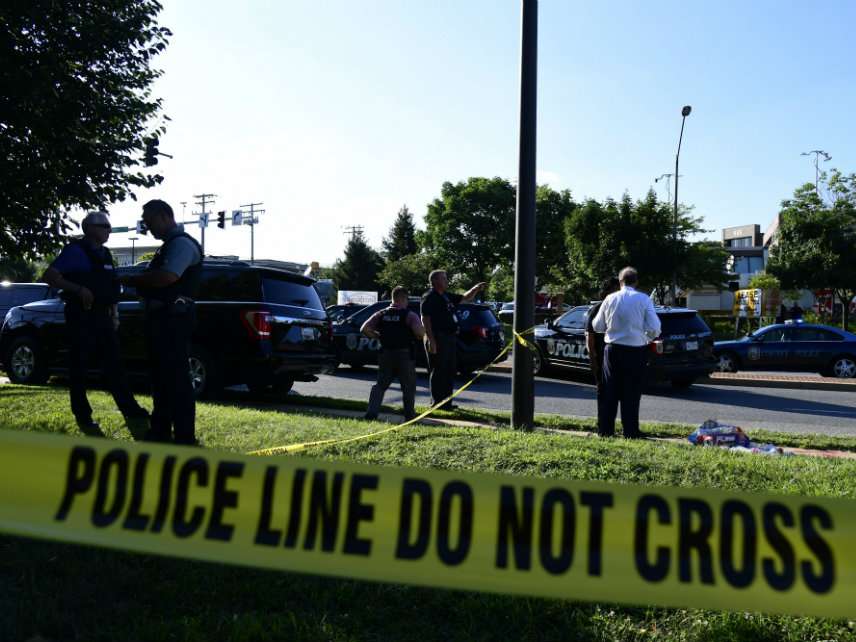 Yesterday's "targeted attack" on the Capital Gazette newspaper in Annapolis, Md., left five people dead and two others injured. The shooter was arrested and charged with five counts of first-degree murder. He was identified via facial recognition software as 38-year-old Jarrod W. Ramos.
His motive doesn't seem related to any of the political agendas offered up in the immediate aftermath by hacks and provocateurs. The Gazette describes Ramos, of Laurel, Md., as a man "with a long-standing grudge against the paper." He had sued the paper in 2012 for defamation for its coverage of a criminal harassment case against him, and a Twitter page in his name featured the columnist who had written about him as Ramos' avatar. The account's bio:
Dear reader: I created this page to defend myself. Now I'm suing the s— out of half of AA County and making corpses of corrupt careers and corporate entities.
From the earliest reports of the shooting on Thursday afternoon, people were quick to assign blame to their pet peeves du jour. Sean Hannity seemed to blame Maxine Waters' recent calls to confront Trump officials. Many media and Twitter types credited Milo Yiannopoulos with inspiring the attack, after he said last week that he couldn't "wait for the vigilante squads to start gunning journalists down on sight."
On his radio show yesterday, Hannity commented: "I've been saying now for days that something horrible was going to happen because of the rhetoric. Really Maxine? You want people to create—Call your friends, get in their faces,' and Obama said that, too. 'Get in their faces, call them out, call your friends, get protesters, follow them into restaurants and shopping malls,' and wherever else she said."
Hannity later denied that these comments were meant to link Waters' rhetoric to the shooting.
Baltimore Sun media critic David Zurawik condemned "the hypocrisy, the dishonesty, the willingness by Hannity to try and score partisan political points on the bodies of five dead journalists."
"I would give anything for time to truly process my feelings before writing about the shooting that left five dead Thursday at The Sun's sister publication, the Capital Gazette," wrote Zurawik at the Sun yesterday. "But Sean Hannity made that impossible with another one of his partisan culture-war, bomb-tossing comments."
Yiannopolous responded with comparably more humanity than Hannity, although after noting that "like any normal person I am saddened to hear of needless death," the bulk of his response was devoted to decrying the blame he was assigned in the first place:
You're about to see a raft of news stories claiming that I am responsible for inspiring the deaths of journalists. The bodies are barely cold and left-wing journalists are already exploiting these deaths to score political points against me. It's disgusting. … I made a private, offhand troll to two hostile reporters, who breathlessly publicized it and like vermin their fellow journalists swarmed to remind the world how much they hate Milo.
In the midst of all this, Gazette reporters have been trying to keep the focus on their experience and their fallen colleagues:
FREE MINDS
Conservatives perceive more social media censorship. A new poll from the Pew Research Center found 70 percent of Americans think popular social media platforms are actively censoring certain political views. Republicans and conservatives are more likely than liberal-leaning counterparts to believe they're being censored.
"Eighty-five percent of Republicans and those who labeled themselves conservative independents said it's likely that social media platforms censor political speech," notes Bloomberg. "And 64 percent of Republicans think technology companies support the views of liberals over conservatives."
Overall, 43 percent of Pew survey respondents said tech companies "support the views of liberals over conservatives." Around a third of those surveyed said tech firms "support the views of men over women."
QUICK HITS
In the most inoffensive possible way, US Steel confirms to @GlennKesslerWP that Trump is wrong about the company opening "six" (or, last night, "seven") plants. Trump keeps saying the company CEO called to tell him about these fictional openings. https://t.co/45NJA2j3qE pic.twitter.com/5aEDjCvlYr

— Daniel Dale (@ddale8) June 28, 2018