Environmental Protection Agency
Scott Pruitt's Newest Scandal Involves a Salty Practice Called 'Ratfucking'
The EPA administrator's perks now include a $43,000 phone booth, a Chick-fil-A franchise for his wife, and ratfucking.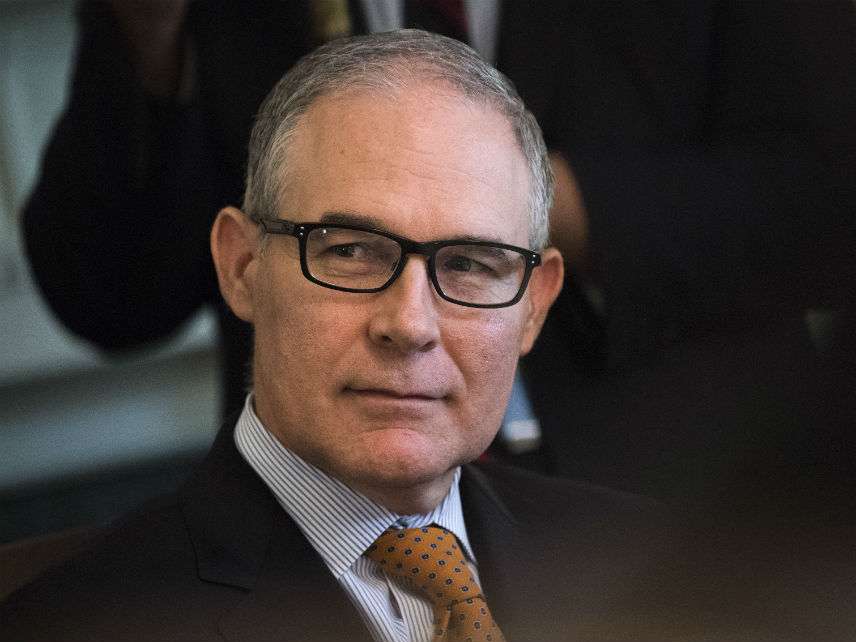 While being scrutinized for exorbitant spending habits, Environmental Protection Agency (EPA) Administrator Scott Pruitt faces new controversy as a report from The Daily Beast alleges that Pruitt was personally involved in the "ratfucking" of a former aide.
"Ratfucking," as described by former EPA officials, is a retaliatory campaign that involves calling potential employers to tarnish a former employee's reputation. The practice is generally used after said employee falls out of favor with an influential boss. In the case of former EPA Scheduling Director Millan Hupp, this moment may have occurred after she testified before Congress that Pruitt had her perform odd personal tasks such as a buying a used mattress from the Trump International Hotel.
The fallout from the testimony nearly cost Hupp her reputation:
According to three sources familiar with the conversations, Pruitt was livid over Hupp's testimony, which he felt had been particularly humiliating. And he personally reached out to allies in the conservative movement, including some at the influential legal group the Federalist Society, to insist that she had lied about, or at least misunderstood, the request for a used Trump mattress. He also stressed that Hupp could not be trusted—the implication being that she should not be hired at their perspective institutions.
The report goes on to claim that Hupp is not the only aide to receive such treatment. Kevin Chmielewski, Pruitt's former deputy chief of staff, accused Pruitt of retaliation following accusations that he leaked information on Pruitt's egregious spending. The Daily Beast's source claimed that Pruitt tasked current employees with leaking information about Chmielewski's own work habits.
The allegation of retaliation joins growing list of Pruitt scandals, which include the commissioning of a $43,000 phone booth and the use of his position to try to obtain a Chick-fil-A franchise for his wife. Pruitt is also accused of excluding certain journalists, namely those perceived to be 'unfriendly,' from covering a National Leadership Summit.
Reason's Ronald Bailey observed in May that Pruitt's tactics have quickly undermined his reputation as a deregulatory reformer in the EPA.