At Least 5 Dead in 'Targeted Attack' on Annapolis Newsroom
A suspect has been taken into custody, police said.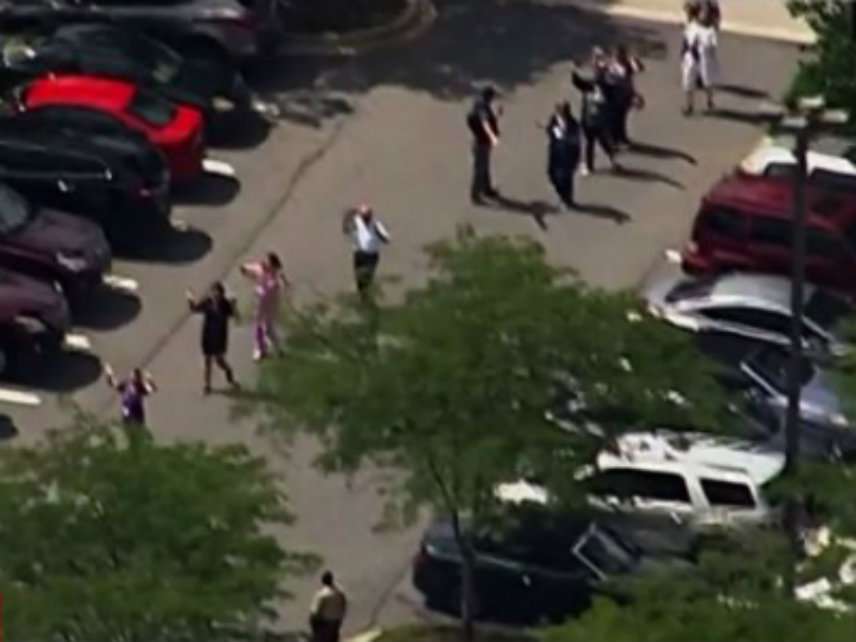 Authorities responded Thursday afternoon to reports of a shooting at the Capital Gazette newspaper in Annapolis, Maryland.
At least five people were killed in the shooting, and several others were injured, officials said.
A suspect was eventually taken into custody by police, authorities said, according to USA Today. Three senior law enforcement officials told NBC News that the alleged gunman, a white man, is believed to have used a shotgun.
William Krampf, acting chief of the Anne Arundel County Police Department, said the shooting was a "targeted attack" the newspaper.
"This was a targeted attack on the Capital Gazette," Krampf said. "This person was prepared to shoot people. His intent was to cause harm."
"Gunman shot through the glass door to the office and opened fire on multiple employees," Capital Gazette reporter Phil Davis tweeted. "Can't say much more and don't want to declare anyone dead, but it's bad."
Police were also searching the building for more suspects. According to The Washington Post, people could be seen walking out of their offices with their hands above their heads "as police cleared buildings in the area."
"We're doing the best we can to minimize causalities," Lt. Ryan Frashure of the Anne Arundel Police told ABC News.
"Absolutely devastated to learn of this tragedy in Annapolis," Maryland Gov. Larry Hogan wrote on Twitter. "Please, heed all warnings and stay away from the area. Praying for those at the scene and for our community."
According to White House deputy press secretary Lindsay Walters, President Donald Trump has been briefed on the situation.
Though details were sparse in the immediate aftermath of the shooting, it didn't take long for some people to jump to conclusions.
Shooting spree at Maryland newspaper comes days after former conservative commentator Milo Yiannopoulos encouraged "vigilante squads" to start "gunning down journalists" https://t.co/YmG5vS5DhM

— Matthew Keys (@MatthewKeysLive) June 28, 2018
1. Trump calls the media "the enemy" and the "greatest threat to the country."

2. 48 hours ago Milo says a vigilante should begin shooting & killing journalists.

3. Today that very thing happened. https://t.co/wV1UxqKFJe

— Shaun King (@ShaunKing) June 28, 2018
This post has been updated.