Trump Era Has Been Great News for New York Times Company's Shareholders
The media empire's flagship paper has seen subscription rates boom with Trump in office. But can the good times last?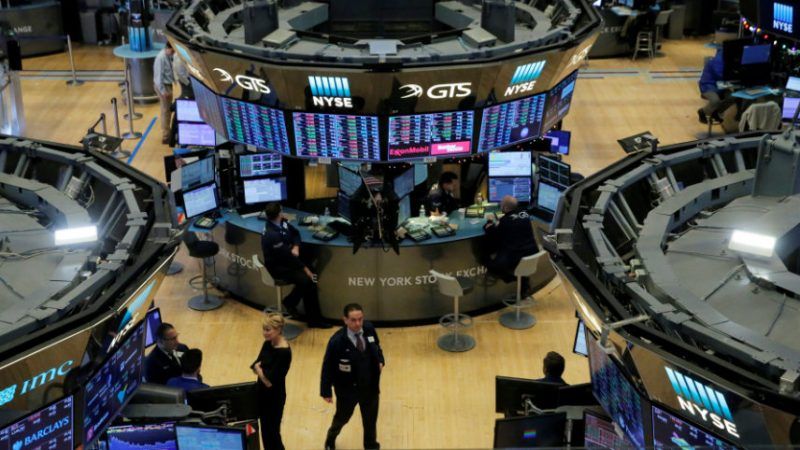 (ANDREW KELLY/REUTERS/Newscom)
The Trump era sure has been good for shareholders in what the president likes to call the "failing New York Times."
The New York Times Company stock has soared 141 percent since Election Day 2016. You'd have made more money if you'd bought Times stock on Election Day than if you had invested in a fund that tracks the Standard and Poor's 500 Index (up about 29 percent since Election Day). You even would have made more money with New York Times Co. stock than you would have if you had invested in high-tech stocks such as Facebook (up 62 percent), Amazon (up 118 percent), Apple (up 71percent), or Google parent company Alphabet (up 46percent).
No wonder President Clinton has reportedly been going around talking about how the Times struck a deal with Trump to get him elected because it would be good for the the paper's business. Trump has been good for the paper's business. Wall Street analysts and cable business news channel CNBC describe the post-election surge in Times digital subscription revenue as a "Trump Bump."
The New York Times Company stock went to $26.60 last week from $11.05 on Election Day 2016, according to Yahoo Finance's data, which adjusts for reinvested dividends. That's an increase of $15.55 a share. The stock hit a 52-week high last week.
The single biggest winner on that climb appears to be the Mexican billionaire Carlos Slim Helu. According to The New York Times Company's 2018 proxy statement, Slim controlled 27,191,500 shares of The New York Times Company Class A Common Stock as of February 15, 2018. Do the math, and Slim would have a paper profit of $422,827,825 on his investment since Election Day, though he has sold some shares between February and today. The Ochs-Sulzberger family descendants who control the Times Company also made some money on paper, though less than Slim, since the Ochs-Sulzberger family owns about a 9 percent economic interest in the Times Company, compared to Slim's 16.7 percent, according to the proxy statement.
The "Trump Bump" has been good for Carlos Slim and the Ochs-Sulzberger family's stock price. Whether it is good for Times journalism, and whether it's a sustainable long-term growth strategy for the Times Company, are different questions, however.
Media watchdogs have long praised subscription revenue for being aligned with, rather than conflicting with, a newspaper's journalistic mission. Academics worried that, say, ExxonMobil advertising would prevent the Times from aggressively covering climate change or that luxury fashion advertising would prevent the Times from aggressively covering poverty. They had few such worries about paying subscribers.
The reality may be more complicated, especially if what the hordes of new Times subscribers really want isn't exactly old-fashioned journalism but something more like opposition research.
At least two recent flaps suggest that some substantial portion of those new Times subscribers seem to regard the New York Times charge on their credit card bill less as a news expenditure than like something akin to a recurring contribution to the Democratic National Committee.
When an assistant managing editor of The New York Times, Carolyn Ryan, tweeted out a Times profile of Juanita Powell-Brunson, the paper's deputy director of newsroom operations, it generated a series of responses from people upset that the Times had declined to publish audio it had recorded of an interview with Trump White House official Stephen Miller. A comment on the Times website said the Times had "made the wrong decision": "A newspaper's capitulating to the 'White House' for any reason at this point in history is unforgivable." That comment got "recommend" upvotes from 146 Times readers.
Also generating ire on the left was a front-page Times article by Peter Baker and Katie Rogers reporting that "Trump's coarse discourse increasingly seems to inspire opponents to respond with vituperative words of their own." One NBC reporter tweeted, "A truly awful piece that I hope is taught in journalism schools in perpetuity. A person in power created actual baby internment camps, and somehow a NYT writer attempted to Both Sides it with words from protesters. A genuine disgrace."
Another Twitter user responded, "I canceled my subscription specifically because of this article. It was the final straw." Another wrote, "I canceled my subscription over this." Even Times opinion columnist Paul Krugman cast shade at the article by his Times colleagues, writing, "the real crisis is an upsurge in hatred—unreasoning hatred that bears no relationship to anything the victims have done. And anyone making excuses for that hatred—who tries, for example, to turn it into a 'both sides' story—is, in effect, an apologist for crimes against humanity."
The cover of the 2018 Times Company proxy statement features a Times promotional advertisement asserting, in part, "The truth doesn't take sides. The truth isn't red or blue." That may be true about "the truth," but it may not be true about all those new Times digital subscribers. Many of them are partisan anti-Trumpers.
Whether those customers will stick around to pay for aggressive New York Times coverage of, say, an Elizabeth Warren administration or a Bernie Sanders administration is an open question. If they don't, Times shares may eventually plunge back to their Obama administration price levels. Carlos Slim may find his newly created hundreds of million of dollars in value eliminated by a Democratic president just as quickly as President Trump created it.
Slim may understand this. Securities and Exchange Commission records indicate that between February 12 and June 21 of 2018, the number of Times shares he controls declined to 16,897,175 from 27,191,500, and his ownership stake declined to 10.3 percent from 16.8 percent. The Ochs-Sulzberger clan ownership stake has also declined, to 9 percent in 2018 from 11 percent in 2017, according to the proxy statements.
A conservative president who attacks the press turns out to be the best thing in years for a liberal newspaper's stock price. The newspaper's single largest owner, however, seems to have his doubts about how long it will last.
Ira Stoll is editor of FutureOfCapitalism.com and author of JFK, Conservative.