Pennsylvania's Libertarian Senate Candidate: 'Abolish ICE'
"There's no constitutional authority for [ICE]," says Dale Kerns. "There's really no need for them, either."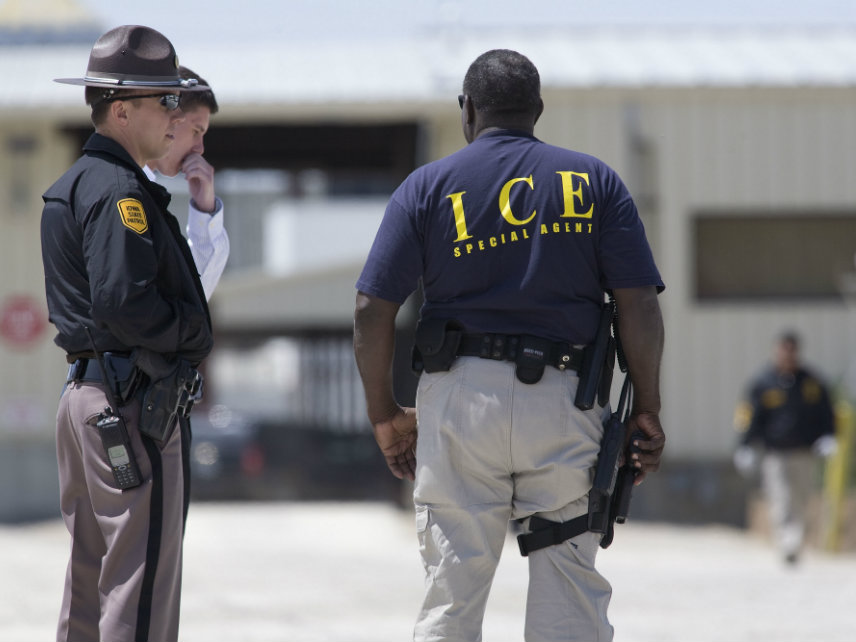 Immigration and Customs Enforcement (ICE), the government agency responsible for carrying out the Trump administration's policy of separating asylum-seeking adults from their children when they cross the southern border, should be dissolved, says the Libertarian Party candidate for Senate in Pennsylvania.
"There's no constitutional authority for [ICE]. There's really no need for them, either," Dale Kerns, a Delaware County electrical contractor who is aiming to be on the ballot in November alongside the two major parties, told Reason. "ICE isn't really serving a practical purpose. We existed for hundreds of years without ICE, and I think it's time for us to go back to the model that we had before."
Kerns says he's been disgusted and appalled by the scenes he's witnessed on the news this week. While the images and sounds of children separated from their parents at the border—along with the Trump administration's confused and often contradictory response to the crisis—has captured the media's attention, Kerns says that's only part of the reason why ICE should go.
The agency is "a threat to both natives and immigrants," he says, pointing to the fact that ICE has established residency checkpoints within 100 miles of all American borders. Yesterday, for example, ICE shut down part of Interstate 95 in New Hampshire to demand proof of residency from passing motorists.
Abolishing ICE should not be seen as a radical idea. After all, the agency has existed for less than two decades.
"Immigration and Customs Enforcement (ICE) was created in the panicked days after 9/11 to enhance national security," Reason's Shikha Dalmia writes in the current issue of Reason. "But its primary purpose has become hunting down and ejecting people whose main 'crime' often is that they can't obtain a piece of paper from the government authorizing them to live and work in the United States."
Of course, that doesn't mean that America suddenly criminalized illegal immigration after 9/11. Prior to that, enforcement of immigration laws was the responsibility of the Immigration and Naturalization Service within the Department of Justice, and the U.S. Customs Service within the Treasury Department. Both agencies were piled into the newly created Department of Homeland Security and renamed as the U.S. Citizenship and Immigration Services and U.S. Customs and Border Protection. But a third immigration service, ICE, was added to the mix to take on enforcement responsibilities from the other two.
But shifting immigration into DHS changed the federal mentality. Illegal immigrants are now seen as potential terrorists or criminals, writes Dalmia.
In what's sure to be a closely watched Senate race in Pennsylvania, Kerns appears to be trying to draw a distinction between himself and the Republican candidate, Rep. Lou Barletta (R-Hazleton). Both men are trying to unseat two-term Sen. Bob Casey (D-Penn.).
Barletta is one of dozens of Republicans to have been named "Trump before Trump," but the label is an accurate one. He's a brash politician in favor of strong enforcement of immigration laws. He first made headlines in 2006, when he was mayor of Hazleton, for passing an ordinance that made English the city's official language and allowed city officials to penalize businesses and landlords who employed or provided housing to illegal immigrants. The ordinance drew a lawsuit from the ALCU and was later ruled unconstitutional—because only the federal government can enforce immigration laws—but Barletta rode that reputation for being tough on immigrants to a seat in Congress in 2010.
He won a surprise victory against a mainstream GOP candidate last month for the right to face Casey in November.
Kerns, a former Republican, sees Barletta as a weak Republican candidate whose stance on immigration will turn off many Republican voters. But he says Casey's response to the border crisis—the senator issued a statement this week calling on the Trump administration to put an end to the "cruel and inhumane policy of ripping migrant children from their parents"—has also been insufficient.
Both are big government policies that are failing Americans of all backgrounds, he says.
Is the Libertarian Party (L.P.) ready to make a splash in a Senate race this year? Nationally syndicated columnist George Will, who, like Kerns, has left the Republican Party behind in the era of Trump, wrote this week that the L.P. might represent the best chance to "restore conservatism." Specifically, Will was talking about likely 2020 Libertarian presidential candidate Bill Weld, but the same logic could apply to high profile Senate races like the one in Pennsylvania.
It's almost never a mistake to underestimate the chances of a third party candidate in American politics, but Kerns figures to make the most of his chance by staking out aggressive, and much needed, policy positions like the one he's floating this week.
"From an immigration standpoint, a civil liberties standpoint, and a fiscally conservative standpoint," Kerns told Reason, "we want to draw a line in the sand and say 'This is where the two old parties are and we are different.'"