Tattoos Shouldn't Be Cause for Deportation
ICE claimed tattoos are evidence of gang activity, grounds for deportation.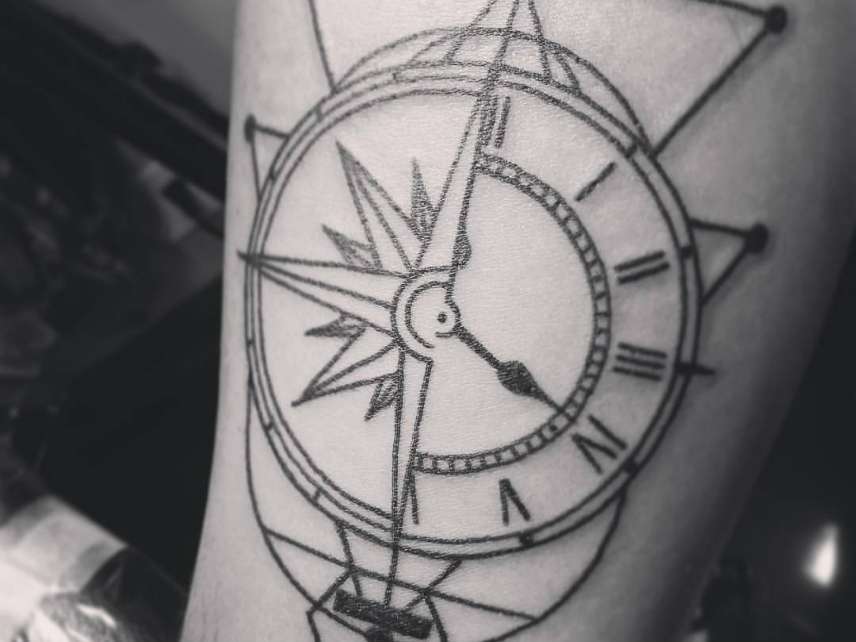 On May 15, Judge Ricardo Martinez of the U.S. District Court for the Western District of Washington at Seattle ruled in favor of Daniel Ramirez Medina, a Deferred Action for Child Arrivals (DACA) recipient who had been detained by Immigrations and Customs Enforcement (ICE) due to a tattoo that ICE claimed showed Ramirez's gang affiliations.
As a DACA recipient, Ramirez was in the country legally. But that didn't stop ICE from detaining him—apparently his paperwork, which he repeatedly showed them, was unacceptable to them because he wasn't "born in this country"—and putting him in a Tacoma, Washington, detention facility in February 2017 while he awaited deportation proceedings. Generally speaking, when the government wants to rescind DACA status, the individual affected is given an opportunity to appeal and contest the decision. ICE claimed that Ramirez presented an "egregious public safety concern" due to gang affiliations. The only issue: The evidence of Ramirez's supposed "gang affiliation" looks like it was doctored.
According to the suit Ramirez filed, ICE agents repeatedly questioned him, asking if he was in a gang (Ramirez said no). Then, "agents also asked Mr. Ramirez about the tattoo on his forearm (which consisted of the words 'La Paz-BCS' and a nautical star)…La Paz is Mr. Ramirez's birthplace, and 'BCS' stands for Baja California Sur, the region in which La Paz is located." The agents insisted the tattoo was evidence of a gang affiliation, to which Ramirez consistently objected.
As Ramirez was about to be placed in a detention center, ICE agents asked if there were any gangs they should avoid placing Ramirez with, for his safety. Ramirez initially said no, and then "indicated that if he had to be placed with any group, he would prefer 'the Paisas.'" According to his lawyers, Ramirez was using the colloquial term Paisas to mean other Mexicans like himself.
When he got to the detention facility, Ramirez was placed in a gang unit, so he petitioned to be moved to a different area, saying, "I came in and the officers said I have gang affiliation with gangs so I wear an orange uniform. I do not have a criminal history and I'm not affiliated with any gangs." The statement returned to Ramirez, by ICE, had the first seven words erased, wholly distorting the message.
After months of Ramirez's suit percolating through the courts, Judge Martinez ruled in favor of Ramirez and penned a scathing indictment of ICE's "arbitrary and capricious" actions, saying the government had no evidence that Ramirez was gang-affiliated and that they wrongfully deprived him of due process when detaining and attempting to deport him.
Too often, unproven, flimsy gang allegations are used by law enforcement as a sort of catch-all justification for arresting, detaining, or deporting people they find suspicious. Earlier this year, The New Yorker reported that "ICE identifies someone as a gangster if he meets at least two criteria from a long list that includes 'having gang tattoos,' 'frequenting an area notorious for gangs,' and 'wearing gang apparel.' Such nebulous indicators are a recipe for racial profiling, according to immigrant-rights advocates."
A late May report by the Immigrant Legal Resource Center says gang-related classifications are on the rise and that "even the 'mere perception of criminality' can impact immigration status because so many decisions turn on credibility determinations." If an immigrant is held in a detention facility, an alleged gang affiliation can affect the security level at which they're placed, and who they're around. If an immigrant is trying to seek asylum, an alleged gang affiliation could certainly hurt their chances. Plus, law enforcement accusing an immigrant of having gang affiliation could mean the individual ends up in one of the country's notoriously unreliable gang databases, which certainly doesn't do them any favors when it comes to becoming a citizen or permanent legal resident.
As Ramirez's story shows, all kinds of physical characteristics can be broadly construed as gang-affiliated by cops and ICE if they're intent on locking someone up. In this case, a federal judge was able to step in and ensure a decent outcome—but what happens in the many other cases in which the person accused of a gang affiliation has less ability to fight back?