Defiant Homeland Security Secretary Kirstjen Nielsen Defends Separation of Immigrant Families: Reason Roundup
Plus: Space force!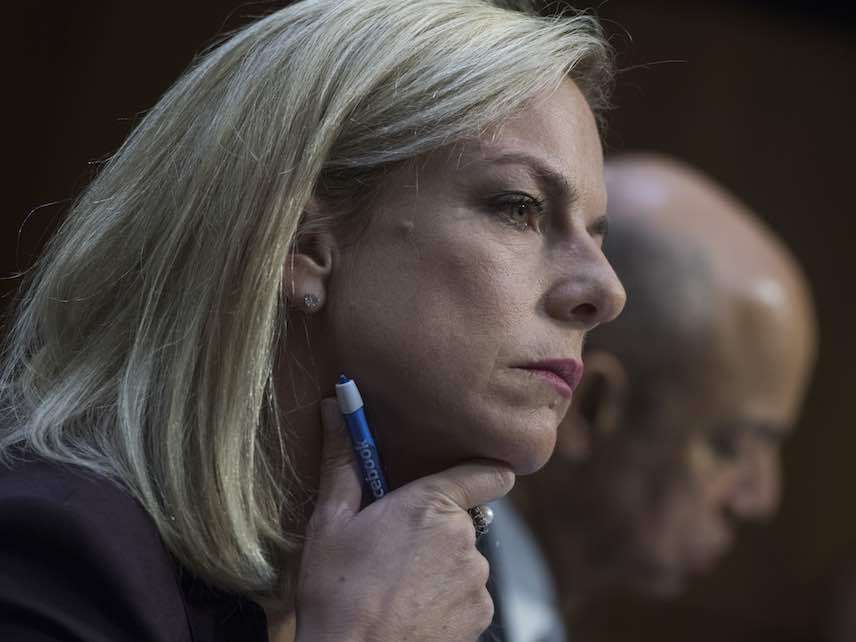 At a White House press briefing on Monday afternoon, Homeland Security Secretary Kirstjen Nielsen offered an unqualified defense of the Trump administration's policy of separating immigrant families who enter the country illegally. At the same time, she denied that the separations amount to official policy. Instead, the Trump administration is merely pursuing a zero-tolerance approach to enforcing existing immigration law.
"We no longer exempt entire classes of people who break the law," she said.
If Congress wants the federal government to follow a different course, it needs to pass new laws, said Nielsen.
Journalists were shocked that Nielsen didn't sound more contrite about what is happening to these children and families. But there's solid evidence that Trump's base supports the policy. According to a Quinnipiac poll, Republicans are in favor of separations, though they are alone in this opinion.
US Voter opinion on separating children from parents after illegal border crossing https://t.co/g7Kb5r8bDh #FamilySeparation GRAPH by partyid pic.twitter.com/Ciw6xTfuSE

— Quinnipiac Poll (@QuinnipiacPoll) June 18, 2018
During an interview on MSNBC, Sen. Amy Klobuchar (D–Minn.) accused the Trump administration of holding the children hostage in order to force Democrats to come to the table and back the border wall as part of a compromise immigration bill.
Meanwhile, Pro Publica released haunting audio footage of an immigration detention center featuring a six-year-old girl from El Salvador trying to convince agents to let her call her aunt. The sobs of children pleading for their parents can be heard in the background.
#BREAKING #Texas Senator @tedcruz is introducing emergency leg this week to keep families together after illegally crossing border. "All Americans are rightly horrified by the images we are seeing on the news, children in tears pulled away from their mothers & fathers." @CBSDFW pic.twitter.com/blDW9kXPcg

— Jack Fink (@cbs11jack) June 18, 2018
Sen. Ted Cruz (R–Texas) plans to introduce legislation that would increase the number of federal immigration judges, mandate that families be kept together except in extreme circumstances, and expedite the asylum review process.
FREE MINDS
In the July/August issue of The Atlantic, journalist Jesse Singal writes about teenagers and gender dysphoria. There are no easy answers, he writes, because while many kids benefit from transitioning, some who would like to transition later have second thoughts and become happy and comfortable as their birth gender:
Meanwhile, fundamental questions about gender dysphoria remain unanswered. Researchers still don't know what causes it—gender identity is generally viewed as a complicated weave of biological, psychological, and sociocultural factors. In some cases, gender dysphoria may interact with mental-health conditions such as depression and anxiety, but there's little agreement about how or why. Trauma, particularly sexual trauma, can contribute to or exacerbate dysphoria in some patients, but again, no one yet knows exactly why.

To reiterate: For many of the young people in the early studies, transitioning—socially for children, physically for adolescents and young adults—appears to have greatly alleviated their dysphoria. But it's not the answer for everyone. Some kids are dysphoric from a very young age, but in time become comfortable with their body. Some develop dysphoria around the same time they enter puberty, but their suffering is temporary. Others end up identifying as nonbinary—that is, neither male nor female.

Ignoring the diversity of these experiences and focusing only on those who were effectively "born in the wrong body" could cause harm. That is the argument of a small but vocal group of men and women who have transitioned, only to return to their assigned sex. Many of these so-called detransitioners argue that their dysphoria was caused not by a deep-seated mismatch between their gender identity and their body but rather by mental-health problems, trauma, societal misogyny, or some combination of these and other factors. They say they were nudged toward the physical interventions of hormones or surgery by peer pressure or by clinicians who overlooked other potential explanations for their distress.
FREE MARKETS
President Trump has nominated Kathy Kraninger to head the Consumer Financial Protection Bureau, and neither the left nor the right seems particularly impressed with the unknown bureaucrat. This could be a Harriet Miers situation:
"Kraninger… has neither experience as a regulator nor expertise in consumer financial issues," said Bartlett Naylor, a financial policy advocate at Public Citizen, a consumer advocacy group. "The nation's leading consumer financial regulator is not an entry-level job."

House Minority Leader Nancy Pelosi (D-San Francisco) and others in her party have questioned Kraninger's qualifications. There also has been some criticism from the right.

"She has no record on the issues and no experience with this policy area," said J.W. Verret, an assistant professor at George Mason University's Antonin Scalia Law School and an expert on financial regulation.

"I'm shocked that at the last minute they pulled out this unqualified candidate," said Verret, who is organizing opposition to the nomination by circulating a letter opposing it to conservative and consumer credit legal scholars.
QUICK HITS
Trump wants "space force" to be the sixth brach of the military. "I'm hereby directing the Department of Defense and Pentagon to immediately begin the process necessary to establish a space force as the sixth branch of the armed forces," said Trump. "That's a big statement. We are going to have the Air Force and we are going to have the Space Force, separate but equal."
Why pro-lifers must oppose the separation of immigrant families.
No state has more sociopaths than Washington, D.C.
Read this whole Twitter thread:
A long time ago when I was in college I was lucky enough to play in a great D&D campaign called (by the players, anyway) Catholic World. Eric was a superb GM. It was a low magic, high morals world. I don't think any of us ever scored a +1 weapon, but we knew right from wrong. 1/

— Bryant Durrell (@BryantD) June 18, 2018