I.G. Report Says Comey Was Insubordinate, Alleged FBI Efforts to Help Clinton Might Have Backfired: Reason Roundup
Plus: Steve Bannon believes in Bitcoin.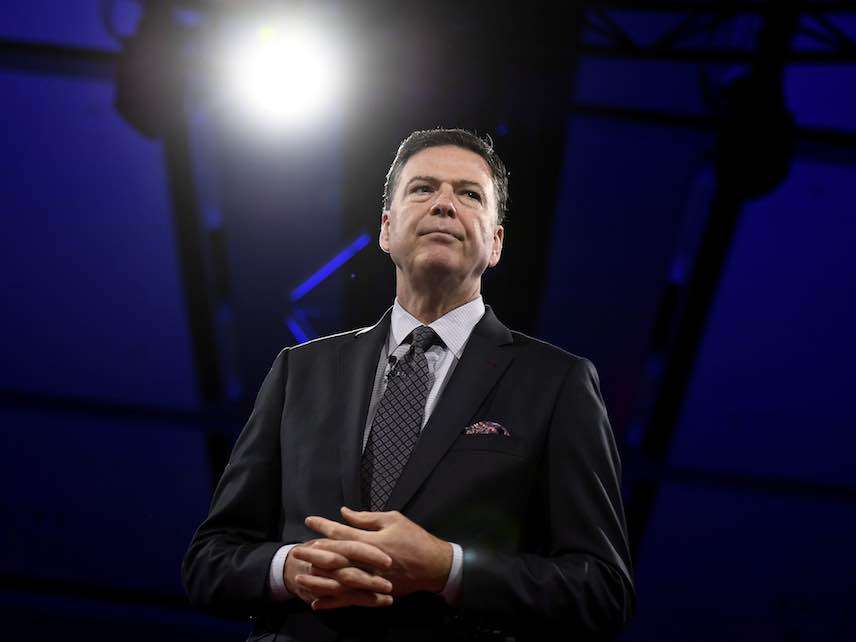 The Justice Department's inspector general, Michael Horowitz, released his report yesterday on the actions taken by former FBI chief James Comey and his team during their investigation of candidate Hillary Clinton during the 2016 campaign. The report described Comey as "insubordinate" but did not find any evidence of bias.
The report was particularly critical of Comey's decision to hold a press conference announcing that Clinton wouldn't face charges for using a private email server. "We found none of his reasons to be a persuasive basis for deviating from well-established department policies in a way intentionally designed to avoid supervision by department leadership."
The report also criticized FBI officials Peter Strzok and Lisa Page. Strzok and Page, who were involved in the investigation, frequently texted each other about their manifest dislike of Donald Trump. Strzok even asserted that they "will stop" Trump from becoming president. This raises the possibility that Strzok improperly prioritized the Russia aspect of the investigation in hopes of turning up information that would damage the Trump campaign, but the inspector general didn't find hard evidence to support this theory. Still, "we did not have confidence that Strzok's decision to prioritize the Russia investigation over following up on the Midyear-related investigative lead discovered on the Weiner laptop was free from bias," the report said.
If Strzok wanted to keep Trump out of the White House, his strategy backfired badly. By failing to act swifty on the Weiner lead, he merely delayed matters, which meant that Comey's eventual decision to publicly announce the discovery ended up happening just days before the election. It's not actually clear whether this was what swung the election, though Clinton certainly believes it is. From her perspective, then, she should be pretty angry at a faction within the FBI that was possibly trying to help her.
15/ In other words, IG suspects Strzok was biased against Trump, and that may have influenced the decision to sit on the Weiner laptop for a month. Which might have ultimately set a course of events in motion that cost Clinton, his preferred candidate, the presidency.

— Jake Tapper (@jaketapper) June 14, 2018
Reacting to the news that Comey himself used a private email server, Clinton tweeted:
But my emails. https://t.co/G7TIWDEG0p

— Hillary Clinton (@HillaryClinton) June 14, 2018
Comey says he respects the inspector general but believes he did nothing wrong.
FREE MINDS
A New York Times story highlights how Republican politicians in Arizona, Wisconsin, Georgia, and North Carolina have created new laws that force universities to punish students for heckling speakers. Ostensibly intended to protect free speech on campus, these laws create free speech problems of their own: They establish mandatory minimums for students who shut down speakers, and they prohibit university administrations from taking positions on controversial issues. But the line between heckling, which should be impermissible, and civil disagreement, which should be permissible, is not always clear, and universities don't always do a good job of extending due process protections to students accused of violating university policy. It's possible these laws will prompt universities to take actions against students who were themselves engaged in free speech, and this could have a chilling effect.
The Times notes that not everyone on the right favors such policies:
The model is not without disagreement on the right, however. Its mandatory punishment provisions drew a rebuke from the Charles Koch Institute, one of whose directors said conservatives were "giving in to the same fragility of which they so freely accuse their liberal counterparts."
FREE MARKETS
Steve Bannon is a fan of Bitcoin. The former Trump advisor described it as "disruptive populism" in a recent interview. According to The Wrap,
Bannon has been talking to investors and hedge fund managers about launching new coins. He threw out the idea for a "deplorables coin"—playing off the dig Hillary Clinton took at half of Trump supporters in 2016—recently at Harvard University.

Bitcoin's true believers look at the banking system with a wary eye, blaming it for financial crises like the 2008 collapse of the housing markets. Digital currencies have also attracted libertarians and others dubious of regulatory oversight of the monetary system—something that Bannon seems to side with.

"It was pretty obvious to me that unless you got somehow control over your currency, all these political movements were going to be beholden to who controlled the currency," Bannon told the NYT.
QUICK HITS
Rob Rogers, a longtime cartoonist for the Pittsburgh Post-Gazette, was fired after an editor rejected several of his anti-Trump cartoons.
Karl Rove discusses his mother's suicide in an op-ed for The Wall Street Journal.
A roller coaster at Daytona Beach Boardwalk broke down, seriously injuring six people.
A prominent feminist and literary theorist has been accused of violating Title IX—the reason is unknown—and celebrated feminists such as Judith Butler are rushing to her defense. The College Fix thinks there's some hypocrisy there.
Reason's Elizabeth Nolan Brown is getting married today, and the many, many D.C. journalists in attendance at the wedding have been instructed to avoid checking Twitter every five seconds. If you're a Trump official mired in scandal and hoping to avoid bad press when everything comes crashing down, now is the time.