I.G. Report Won't Settle Any Arguments About Hillary Clinton's Emails
The DOJ's inspector general concludes that James Comey acted wrongly but not politically and that an FBI agent said "we'll stop" Trump from winning but didn't act on it.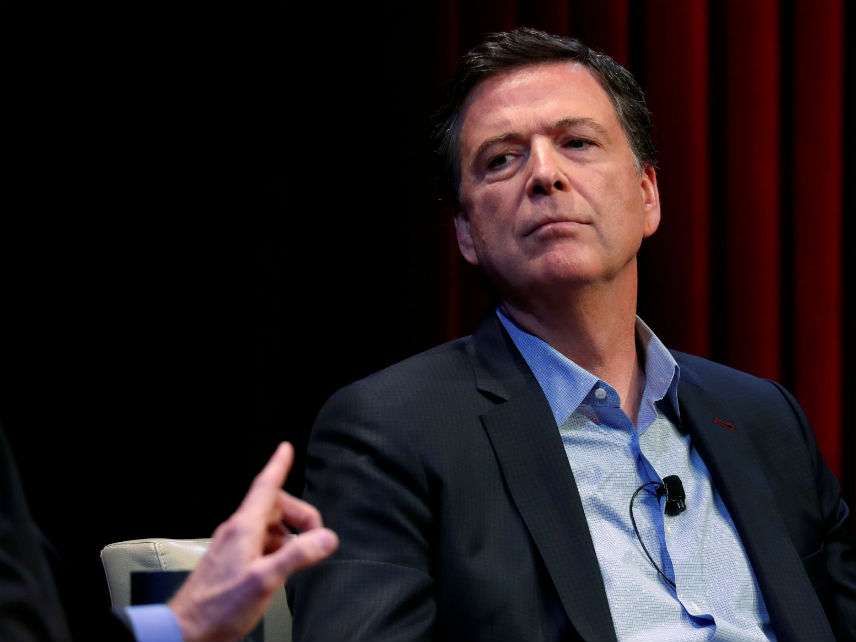 In August 2016, Peter Strzok, then the FBI's counterespionage chief, told his FBI lawyer galpal Lisa Page that Donald Trump would never become president. "No. No he won't," Strzok texted to Page, according to a highly anticipated report released today by Justice Department Inspector General Michael Horowitz. "We'll stop it." Yet the I.G. report ultimately concludes that Strzok, who was bounced by Special Counsel Robert Mueller from the Trump/Russia probe last summer when a cache of his inappropriate and political texts with Page were discovered, did not measurably act on his desire to prevent Trump's victory.
"We found that Strzok was not the sole decisionmaker for any of the specific Midyear investigative decisions we examined," the executive summary says, referring to the FBI investigation of Hillary Clinton's email practices as secretary of state. "We did not find documentary or testimonial evidence that improper considerations, including political bias, directly affected the specific investigative decisions we reviewed….These messages cast a cloud over the FBI's handling of the Midyear investigation and the investigation's credibility. But our review did not find evidence to connect the political views expressed in these messages to the specific investigative decisions that we reviewed; rather, consistent with the analytic approach described above, we found that these specific decisions were the result of discretionary judgments made during the course of an investigation by the Midyear agents and prosecutors and that these judgment calls were not unreasonable."
Thus arrives the latest evidentiary Rorschach test in a Trump/Hillary/FBI/Russia investigative and political dispute that shows no signs of abating. There is ample material in Horowitz's report for both sides to see what they want to see and hear what they want to hear, particularly in regard to embattled former FBI Director James Comey.
Comey, the report found, deviated "clearly and dramatically from FBI and department norms" in his unusually public and self-directed handling of the Clinton investigation during the 2016 campaign, which "negatively impacted the perception of the FBI and the department as fair administrators of justice." In particular, Comey made a "serious error of judgment" in sending an October 28 letter to Congress saying he was reopening the investigation based on the discovery of Clinton emails on Anthony Weiner's laptop, especially since the laptop had been discovered a full month before.
"Comey's description of his choice as being between 'two doors,' one labeled 'speak' and one labeled 'conceal,' was a false dichotomy," the report charges. "The two doors were actually labeled 'follow policy/practice' and 'depart from policy/practice.'" Still, "we did not find that these decisions were the result of political bias on Comey's part."
Comey reacted with his usual stoic pomposity:
I respect the DOJ IG office, which is why I urged them to do this review. The conclusions are reasonable, even though I disagree with some. People of good faith can see an unprecedented situation differently. I pray no Director faces it again. Thanks to IG's people for hard work.

— James Comey (@Comey) June 14, 2018
The former FBI director found time to author a whole New York Times op-ed piece in response. "The report also resoundingly demonstrates that there was no prosecutable case against Mrs. Clinton, as we had concluded," he wrote.
Democrats, meanwhile, are once again howling for Comey's blood. "The stark conclusion we draw after reviewing this report," Reps. Jerrold Nadler (D-N.Y.) and Elijah Cummings (D-Maryland) said in a joint statement, "is that the FBI's actions helped Donald Trump become president."
Republicans, too, feel vindicated. "I am alarmed, angered, and deeply disappointed by the Inspector General's finding of numerous failures by DOJ and FBI," Rep. Trey Gowdy (R-S.C.) said in statement. "This is not the way normal investigations are run. The investigation was mishandled. The investigatory conclusions were reached before the end of the witness interviews…. The report also conclusively shows an alarming and destructive level of animus displayed by top officials at the FBI. Peter Strzok's manifest bias trending toward animus casts a pall on this investigation. Bias is so pernicious and malignant as to both taint the process, the result, and the ability to have confidence in either."
Inspector General Horowitz is widely respected in law enforcement and on both sides of the political aisle, so it will be interesting to see if those disappointed that the report didn't provide the final nail in whatever coffin they're hammering on start criticizing his professionalism. More likely, the details across its 568 pages will provide more fodder for a years-long debate and concurrent investigations that seem destined to linger for a long time.