Pensions, Administrative Bloat, and the Success of Charter Schools Are Driving the Los Angeles Public School System Towards Insolvency
The school district points fingers at charter schools instead of trying to slim down and compete, a new report says.
The Los Angeles Unifed School District has lost more than 245,000 students in the past 15 years—so many that, if you gathered them all together, they would be one of the 10 largest school districts in the United States.
Where are they all going? Many to the city's charter schools, which have exploded in both popularity and effectiveness. But the migration to better alternatives has left taxpayers paying ever higher amounts to an education system that is educating fewer and fewer students. On the current tragectory, the school district will face a $422 million shortfall by 2020, driven in large part by its $15 billion in unfunded health care benefit liabilities for current workers and retirees.
The district has been happy to blame the charter school exodus for its ongoing financial problems, but a report released Wednesday by the Reason Foundation (the nonprofit that publishes this blog) examines the district's structural deficit, which is "forged from hiring surges, burgeoning and unaddressed pension and benefit obligations, unadressed low attendance, overextended facilities, and antiquated management and financial structures."
No wonder more parents and students are leaving for charter schools and other alternatives. Charter school enrollment in Los Angeles has more than doubled since 2010, and another 41,000 students are on charter school waiting lists.
But while student enrollment has declined by about 10 percent, the LAUSD has seen a 16 percent increase in non-teaching administrators.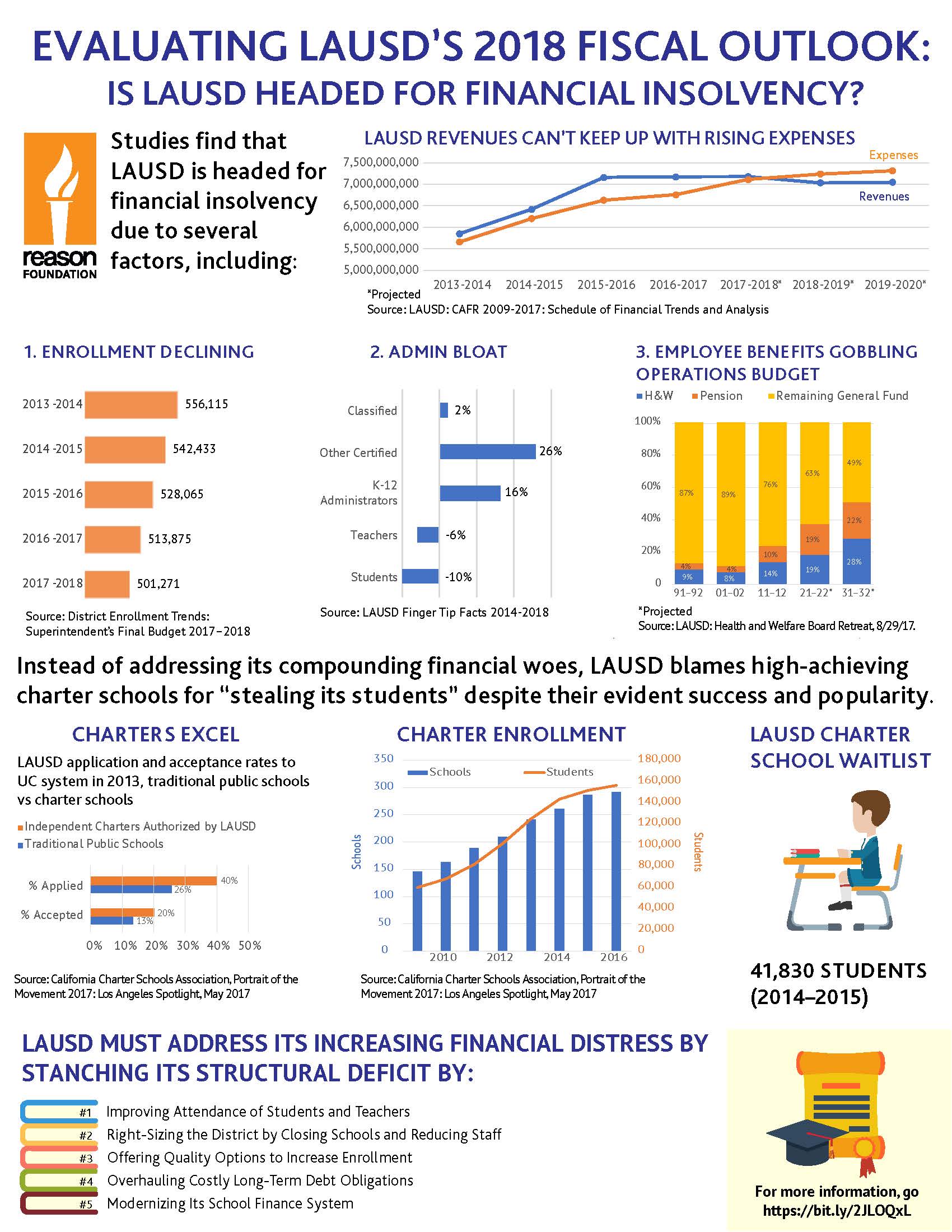 Rather than blaming charter schools—or, worse, taking steps to limit students' ability to leave—the school district should right-size its operations to better serve the students left behind. To do that, the study suggests an overhaul of the district's long-term debt obligations, a reduction of staff, strategic school closures to minimize overhead costs, and giving principals of individual schools more authority over their budgets.
None of this should come as news. Many of these problems and some of these solutions were outlined in a 2015 report by the district's Independent Financial Review Panel. For example, if employees and retirees had to cover just 10 percent of their health insurance premiums, the district could save $54 million annually.
Three years later, the problems have only gotten worse—and the Independent Financial Review Panel's suggestions have only gathered dust.
"The days of district monopoly and residential assignment have given way to parent choice, forcing public schools to compete for students—a real win for families," write the authors of the Reason Foundation report. "Rather than casting blame, the LAUSD needs to recognize that the structural deficit demands immediate attention."