Tom Brady Is the Latest Celebrity to Hop On the Anti-Straw Bandwagon
Celebrity environmental activism against straws only lends moral support to prohibitionist politicians.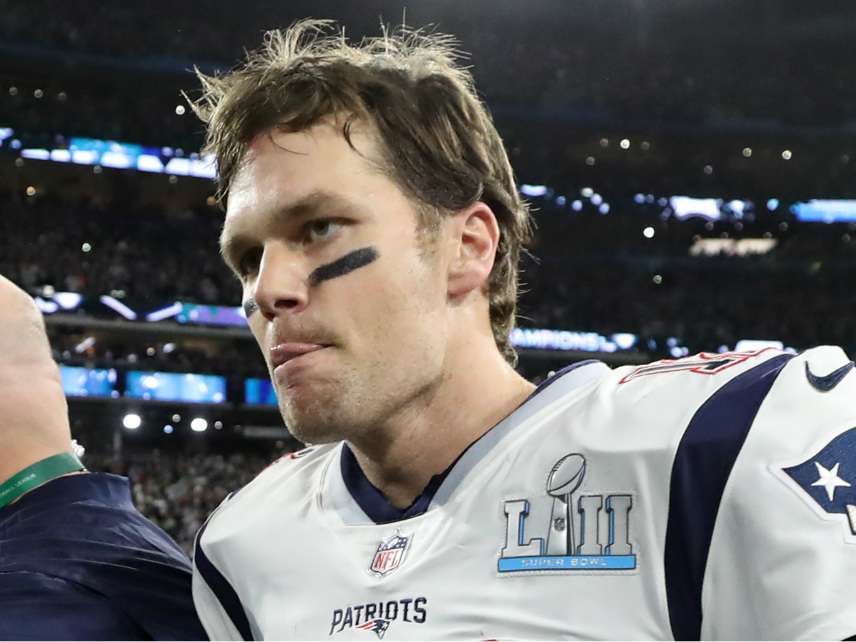 To get your bogus environmental campaign off the ground you need three things: cute animals, cute kids, and star power. The movement to ban plastic straws has risen rapidly in prominence thanks to this holy trinity.
The outcry against straws started with a viral 2015 video of an admittedly adorable sea turtle with one stuck up its nose. The cause got a boost from 9-year-old Milo Cress, whose Be Straw Free campaign captured the public's imagination with the now-debunked claim that Americans use 500 million straws a day. Cress has been joined by youths like 10-year-old Molly Steer, who fronts the Australian group Straw No More.
The roster of celebrities telling you to suck less is also growing. For a couple of years, Entourage actor Adrian Grenier and his Lonely Whale foundation have been pushing straw bans in places such as Seattle and New York City. Yesterday he was now joined by New England Patriots quarterback and five-time Superbowl champion Tom Brady. In an Instagram video made for World Environment Day, Brady brandished two plastic straws, declaring that "the effect of these little guys is posing a huge health risk to our planet."
Fortunately, he tells us, there is an easy fix. "Next time you see a plastic straw like this, say, 'No, I'm not falling for your ruse, straw.'" In an accompanying post Brady urges British wildlife photographer David Yarrow and tennis star Serena Williams to join him in sucking less.
So far neither has publicly taken Brady up on his offer. That's a good thing.
These celebrity attacks on straws are at best a distraction from the real causes of the oceans' plastic problem. At worst they give cover to politicians looking to impose senseless liberty-crushing bans on the rest of us.
It cannot be stressed enough that plastic straws are a small part of American's plastic waste and that Americans themselves account for a tiny portion of the plastic in the oceans. Judging from coastal cleanups in Canada, California, and the U.K., plastic straws make up 2 percent to 4 percent of beach litter by item. They account for an even smaller portion of this waste when measured by weight.
Even if plastic straws were 100 percent of our plastic waste, banning them here, or in most any rich country, would do almost nothing to help the environment. That's because, as best we can tell, the vast majority of plastic waste entering the ocean comes from the poorer nations of the world, particularly in East Asia.
China alone accounts for about 28 percent of plastic pollution. Indonesia contributes another 10 percent. For the Philippines and Vietnam, it's about 6 percent each. The United States, by comparison, is responsible for less than 1 percent of global plastic marine waste. Roughly 2 percent comes from the European Union (including the U.K.).
Experts are split on whether rich countries should pursue plastic straw bans, but they agree that such laws will do almost nothing to solve the problem of plastic marine waste. The major sources of plastic pollution are rich enough to use a lot of plastics but lag behind in their waste collection capacity, leaving more litter to wind up in the oceans. If celebrities really wanted to have an impact on this problem, they would focus their attention on those countries.
Telling brown people to pick up their trash, of course, does not look as good as hectoring white people in rich countries to give up something that a good portion of the population views as frivolous. That's why environmentally woke celebrities are focusing their fire on plastic straws, dragging ban-happy lawmakers, from California and New York to Vancouver and Europe, along with them.