Perfect Size for 1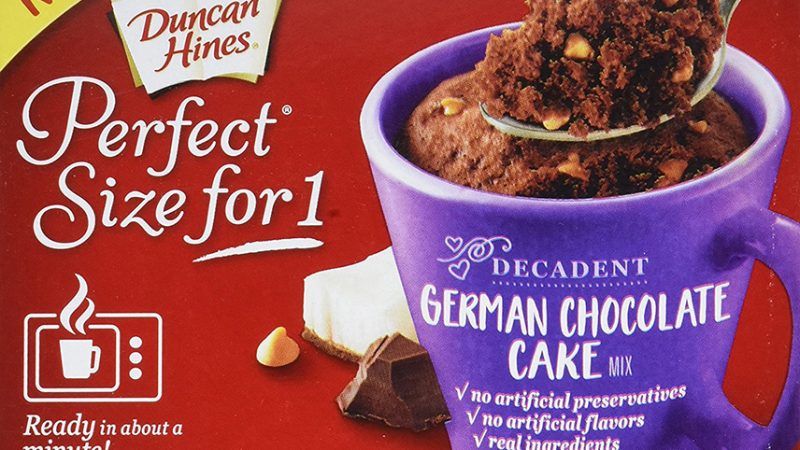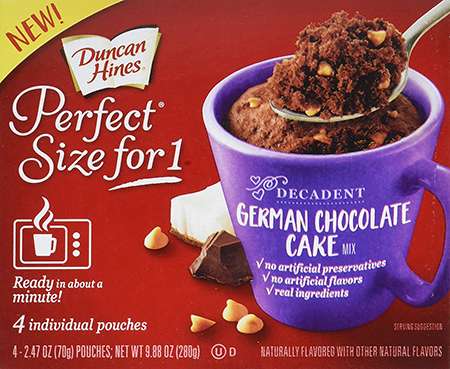 A box of Duncan Hines Perfect Size for 1 contains four small packets of microwavable brownie mix. Empty one into a coffee cup, add two tablespoons of water, and zap for 55 seconds. Congrats! You now have exactly 340 calories of cakey, chocolatey individualism.
The mug brownie craze began as a do-it-yourself phenomenon on sites such as Pinterest and BuzzFeed. Since more than a quarter of American households now consist of a single person, innovations in the solitary dessert space are to be expected—being alone with a full pan of brownies is a risk few are willing to take.
Thanks to the glories of consumerist capitalism, Duncan Hines swooped in with an easy version of a nukeable brownie designed to save singletons the trouble of stocking ingredients. Better still, lab testing rigor and corporate standardization minimize snackers' risk of having to clean batter off their microwave's walls.
Flavors including caramel, banana bread, German chocolate, and s'mores allow for the customization we have come to expect in nearly every aspect of our lives, all for about 63 cents per brownie.
This article originally appeared in print under the headline "Perfect Size for 1".