Steam Pulls Video Game Active Shooter—and Permanently Bans the Developer
The virtual school simulator would have allowed players to play as either "the good guy or the bad guy."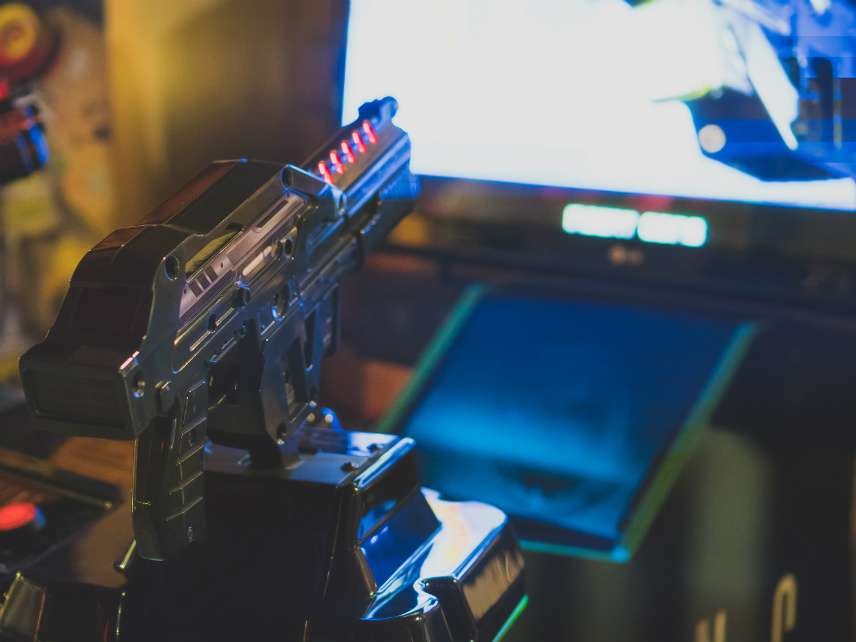 Say farewell to Active Shooter. The video game, which was to be released on June 6, was going to offer players a chance to shoot up a (virtual) school. But last night the online game store Steam pulled it from its platform and permenantly banned the game's publisher, the Russian company Acid, following intense anger and disgust from pretty much every corner of the internet.
Acid's cheery promotion of its controversial title was bound to ruffle more than a few feathers. "Be the good guy or the bad guy. The choice is yours!" read the game's description, which stressed that gamers could play either the shooter or a police officer in this "dynamic SWAT simulator." Typical stuff for Acid, which has had a number of poorly reviewed, trollishly titled games on Steam, all of which have now been removed. (Sample title: Tyde Pod Challenge.)
Neither Acid's obscurity nor its request that people "not take any of this seriously" endeared people to Active Shooter.
"I have seen and heard many horrific things over the past few months since my daughter was the victim of a school shooting and is now dead in real life. This game may be one of the worst," tweeted Fred Guttenberg, whose daughter died in the Parkland massacre. "Everyone that cares about school & public safety should be OUTRAGED," tweeted Parkland survivor Jaclyn Corin, who launched a Change.org petition demanding that Valve—who owns Steam—shelve the game.
Elected officials on both sides of the aisle were quick to weigh in. Texas Lt. Governor Dan Patrick, whose state experienced its own mass shooting earlier this month, sent a letter to Valve asking that the game be pulled. Sen. Bill Nelson (D-Fl.) called the game "inexcusable."
Games of this type are hardly unprecedented. Indeed, trollish releases mocking obscenely violent or horrific historical events are almost as old as the video game industry itself.
Take the 1982 release Custer's Revenge. Later renamed Westward Ho, the primitive side-scroller puts the player in the shoes of a naked, visibly aroused General Custer who must dodge arrows in an attempt to get to the other side of the screen where awaits a ready and unwilling Native American woman. Charming.
Then there's the 2004 game JFK Reloaded, a "historical simulation" that lets you relive the Kennedy assassination from the perspective of Lee Harvey Oswald.
Indeed, Active shooter is not even the first school shooting simulator. That honor, as far as I can tell, goes to 2005's Super Columbine Massacre RPG, where you play one of two perpetrators of the Columbine massacre.
Even some mainstream games give players the chance to commit acts of terroristic violence. The second installment of Call of Duty: Modern Warfare has a playable (albeit skippable) level where players massacre unarmed civilians in a Russian airport. The Grand Theft Auto franchise gives you any number of opportunities to run over, mow down, stab, beat, burn, or blow up a whole city just going about its day.
So tasteless video game violence isn't new, and it is not even obviously getting worse. If anything, games have maintained a steady amount of obscenity while society as a whole has gotten safer.