NCAA Bans Football Player Because He Uses CBD Oil to Control Seizures
As medical and recreational marijuana become more widely accepted and legalized, it's not only government agencies that have to deescalate the drug war.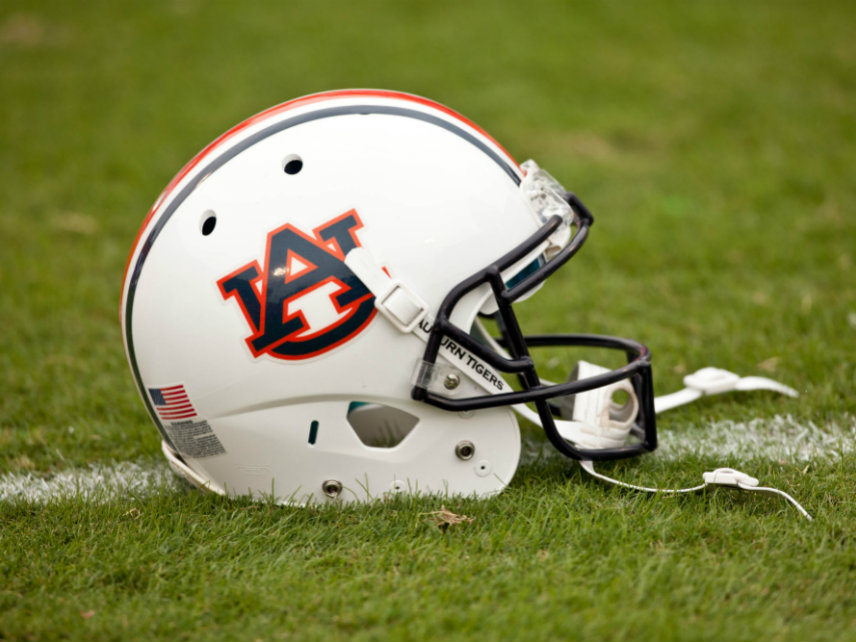 C.J. Harris helped his Georgia high school football team reach the state championship game last year and had been offered a spot on the roster at Auburn University as a walk-on—that is, a non-scholarship player—to play defensive back for the Tigers, one of the top college football programs in the country.
But Harris suffers periodically from epileptic seizures and uses cannabidiol (CBD) oil, derived from marijuana, to manage his symptoms. That makes him ineligible to play college football, the National Collegiate Athletic Association (NCAA) ruled last week in a decision that has been widely panned.
After reviewing Harris' medical records, Auburn's coaches told Harris' family that C.J. would not be able to compete in NCAA sports while taking CBD oil, WGXA reported last week. "When I read the text that one of the coaches sent me, I just, I broke down," Harris told the Macon, Georgia, TV station. "Because this is my dream, and I saw everything lining up perfectly for me."
The NCAA has a strict zero tolerance drug policy for athletes, and players caught with even trace amounts of tetrahydrocannabinol (THC), the psychoactive component of cannabis, are banned. Even though CBD oil is made from the stalks of the cannabis plant—as opposed to coming from the flowers, or "buds," of the plant, like marijuana—and does not create the same effect of feeling "high" that comes from smoking or eating cannabis products with higher concentrations of THC, it can still contain trace amounts of THC, enough to violate the NCAA's hardline anti-drug policy.
"We urge the NCAA to review their existing guidelines on THC and explore possible exceptions to allow players under medical treatment, like C.J., the ability to fulfill their dreams of playing college football," said Phil Gattone, president and CEO of the Epilepsy Foundation, in a statement. "We hope the NCAA would reconsider their decision and assess C.J. on his character and talent as a football player."
Even some college football coaches are speaking out against the NCAA's rules. "A kid should not be punished for his seizures being brought under control," Jerry Kill, the former University of Minnesota football coach who was named Big 10 Coach of the Year in 2014 and had to retire from coaching because of epileptic seizures, told a CNN reporter. "It's not fair to the kid."
More than 3 million Americans suffer from epilepsy, and about one-third of them have a form of the disease that does not respond well to pharmaceutical treatments. For many of them, including Harris, CBD oil has offered a potential solution. Since 2013, 17 states have legalized low-THC cannabis oil for limited medical purposes. Republican governors have signed 14 of those bills, including governors of deep red states like Alabama, Mississippi, South Carolina, and Utah. While special interests continue to fight CBD legalization in some places, the momentum is clearly on the side of legalization and ending the drug war.
Harris started suffering seizures in the 8th grade, but says he has not had a seizure in more than a year since starting to use CBD oil as a treatment. CBD is legal in both Georgia, where he lives, and in Alabama, where Auburn University is located.
As CBD oil, medical marijuana, and recreational marijuana become more widely accepted and legalized, it's not only police and other government agencies that have to deescalate the drug war. The NCAA is a private institution and can make it's own rules, of course, but those rules should reflect the changing attitudes and policies surrounding the use of marijuana, particularly when student-athletes' health is part of the equation.
At the professional level, the National Football League is researching how CBD oil and other forms of medical marijuana might be able to help football players deal with the long-term consequences of playing the violent, dangerous sport—with current and former players advocating for the league to change its policy.
But the NCAA remains rooted to an outdated anti-drug mentality that leaves players with fewer treatment options and might end Harris' college football career before it starts.