Trump's Twitter Demands for Justice Department Prompt 'Constitutional Crisis' Chorus: Reason Roundup
Plus: What to watch in Southern state primaries, and the most popular streaming service is...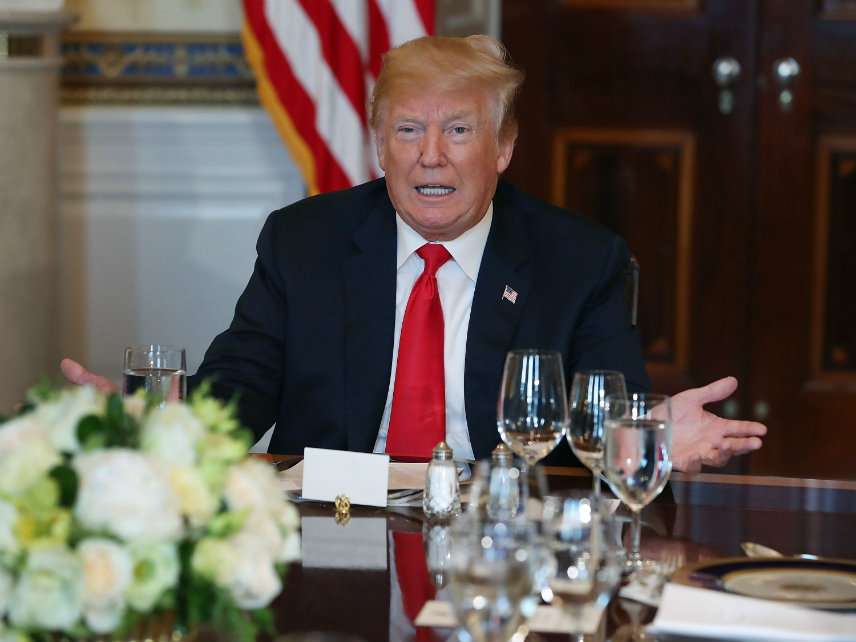 Constitutional crisis or politics as usual? President Trump's Monday morning tweetstorm about the U.S. Department of Justice (DOJ) has struck some critical observers as beyond the man's usual bluster. Trump has long posited as fact an Obama-era FBI conspiracy to eavesdrop on his campaign. This week he demanded that DOJ look into the alleged operation.
"Stop waiting for the constitutional crisis that President Trump is sure to provoke," writes Eugene Robinson at Real Clear Politics today. "It's here."
Robinson sees Trump's demands for a DOJ investigation as "transparently political" and a "gross misuse of his presidential authority," designed to cast doubt on special counsel Robert S. Mueller's probe into possible Russian interference in the 2016 election. "Rather than push back and defend the rule of law," laments Robinson, "Justice tried to mollify the president by at least appearing to give him what he wants," while "Republican leadership in Congress has been silent as a mouse. This is how uncrossable lines are crossed."
Indeed, this "may be the first Department of Justice criminal investigation ordered via Twitter feed," as Paul Callan writes at CNN.
And yet we've seen Trump behave like this quite a few times before, making grand proclamations about everything from transgender troops to world affairs without first consulting his cabinet or going through proper PR channels. In the end, Trump's wants wound up taking typical bureaucratic, legislative, and/or judicial paths to fruition—when they've come to fruition at all. Some people—perhaps including Trump himself—may think the president can change policy via social-media decree, but (so far at least) this isn't the case.
I hereby demand, and will do so officially tomorrow, that the Department of Justice look into whether or not the FBI/DOJ infiltrated or surveilled the Trump Campaign for Political Purposes—and if any such demands or requests were made by people within the Obama Administration!

— Donald J. Trump (@realDonaldTrump) May 20, 2018
As usual, there are some folks taking issue not with the actual substance of Trump's demands but the way he made them. CNN's Callan writes that Trump using Twitter to announce important criminal justice news is "inappropriate" because it "trivializes the entire process."
Personally, I'd rather Trump keep "saying the quiet parts loud," so to speak. It gives the public a good insight into presidential priorities; gives Trump a good opportunity to self-sabotage by contradicting carefully crafted legal justifications for things; and sends his advisers and staff scrambling to clean up after or justify the president's outbursts, which seems like a more benign use of time than whatever else they might get up to in the White House. In a way, it diminishes the importance of presidential declarations. Rather than appearing as an all-powerful authoritarian nightmare, Trump seems an impotent, embittered senior citizen, isolated and ranting from behind his various screens while the machinery of government keeps churning out its typical crap and constitutional checks and balances do their thing.
I may be pathologically convinced that nothing is new and everyone should calm down (whatever it is we're talking about), but a lot of popular pundits and press have laughably goldfish-like memories when it comes to the president. Here's the New York Times editorial board yesterday:
Putting aside the cartoonish language ("I hereby demand"? Really?), consider the seriousness of the threat posed by a president ordering federal law enforcement officials to investigate the people who are investigating him.
Consider the seriousness! And yet… Trump has been calling for exactly that since he got in office a year and a half ago. On Twitter and just about every other medium. No constitutional crisis yet. Is it just the "cartoonish language" that has everyone so scared this time? (Are they actually scared, or is it a mix of moral performance and economic incentives to scare other people? I can never quite tell.)
In any event, things outside Trump's Twitter feed seem to be business as usual right now. White House officials announced yesterday that some Republican congressional leaders will be able to view some of Special Counsel Robert Mueller's investigative documents. Specifically, they'll get a glimpse of dirt related to the FBI informant who fed the agency information on the overseas activities of Trump-world folks in 2016.
Meanwhile, a Monday meeting in the Oval Office between Justice Department officials and the president ended with a promise that DOJ's inspector general would look into any "irregularities," according to White House press secretary Sarah Huckabee Sanders. Some are reading it as a response to Trump's tweets, but "the White House characterized the meeting as routine, and said it was scheduled last week," reports USA Today.
FREE MINDS
Another round of primary races run today. Voters in Arkansas, Georgia, Kentucky, and Texas head to the polls today. Texans will re-vote on races where no candidate got a majority in March. The other three states see contests that "include a handful of congressional districts critical to Democrats' chances to win back the chamber," points out Politico.
Two battleground districts in particular—in Lexington, Kentucky, and outside Houston—feature examples of the continuing battle between establishment Democrats and insurgent candidates, who are proudly spurning party bigwigs in their efforts to win primaries. Meanwhile, in Georgia, Democrats are poised to nominate an African-American woman for governor five months after winning a special Senate election in neighboring Alabama—a victory the party credits, in large part, to black women, who voted resoundingly for now-Sen. Doug Jones. Former state Rep. Stacey Abrams would be the first African-American woman to serve as a governor, and the first elected African-American governor in the deep South of any gender.
FREE MARKETS
Cord-cutting consumers happier than cable customers. Cable and internet service providers are among the most disliked companies in the country—a 2014 survey found them at the bottom of the Consumer Satisfaction Index and falling. In spite—or perhaps because—of this, TV and movie streaming services earn extremely high marks from consumers. An April 2017 through March 2018 survey found "video-streaming services scored among the highest in the telecommunications categories tracked by the American Customer Satisfaction Index," reports Qz.
Twenty-eighteen was the first year the index assessed video-streaming services, and the category debuted with a score of 75 on the scale of 100; scores for both subscription TV and internet services fell 3% in the last year.
The Internet and Subscription TV satisfaction ratings were only 62 each. Faring slightly better (but not as well as streaming services) were "traditional pay-TV services like AT&T's DirecTV, Verizon's Fios, and Comcast's Xfinity," notes Qz. They got a 68. Among streaming platforms, Netflix, Sony Playstation Vue, and Twitch earned the highest consumer satisfaction marks (78/100), followed by Apple iTunes and the Microsoft Store with a 77, YouTube Red with a 76, and Amazon Prime Video, Google Play, Hulu, and Vudu with a 75.