Reason Nominated for a Record 30 Southern California Journalism Awards
From "Game of Thrones: Libertarian Edition" to depressing criminal-justice investigations to this here blog, Reason's eclectic 2017 work receives some industry recognition.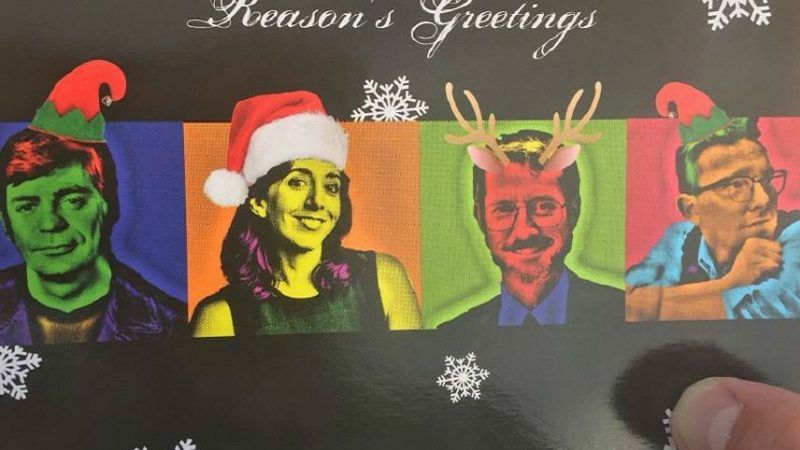 The Greater Los Angeles Press Club, whose coverage area reaches from Santa Barbara in the north to the border fencing down south, has announced finalists for its 60th annual Southern California Journalism Awards. Reason, your multipronged defender/explorer of "Free Minds and Free Markets," has broken our previous record with 30 nominations.
The categories include Best Group Blog and Best Website of a traditional news organization (we're up against The Hollywood Reporter, KCET, KPCC, and Variety), plus the following cross-platform nominations:
Best Humor/Satire Writing: Austin Bragg, Meredith Bragg, and Andrew Heaton, for "Game of Thrones: Libertarian Edition"
Best Obituary/Appreciation, Politics/Business/Arts: Brian Doherty, for "Tom Petty, RIP"
Best Activism Journalism: David Bier, for "Why the Wall Won't Work"
Best Health Journalism: Eric Boehm, for "A Baby Dies in Virginia"
Best National Political/Government Reporting: Robert W. Poole Jr., for "Your Flight Is Delayed," and Jesse Walker, for "The Indestructible Idea of the Basic Income"
Best Educational Reporting: Lenore Skenazy and Jonathan Haidt, for "The Fragile Generation"
Best Environmental Reporting: Shawn Regan, for "How Capitalism Saved the Bees"
Best Minority/Immigration Reporting (print): Joe Coon, for "Bringing Bandar Home"
Best Commentary on TV/Film: Zach Weissmueller, for "What HBO's Veep Gets Right About Politics"
Best Criticism on Books/Art/Architecture/Design: Brian Doherty, for "The Great James Buchanan Conspiracy"
Best Criticism on Food/Culture: Peter Suderman, for "Government Almost Killed the Cocktail"
Reason also pulled down a bunch of nominations in the Magazine category, including:
Best Investigative Story: Elizabeth Nolan Brown, for "American Sex Police"
Best Columnist: Virginia Postrel (for "Love Your Homemade Quilt? Thank Capitalism," "Umbrellas: The iPhones of the Victorian Age," and "When Buying Life Insurance Was Deemed Immoral"); Deirdre Nansen McCloskey (for "One Woman's Adventures in Gender Crossing and Civil Disobedience," "The Myth of Technological Unemployment," and "An Economist Goes to Shanghai"); and J.D. Tuccille (for "Your Handy Guide to Camping in Forbidden Places," "RIP Jerome Tuccille, Author of It Usually Begins With Ayn Rand," and "Where Radar Cameras Fear To Tread")
Best Feature, Business/Government (over 1,000 words): Mike Riggs, for "How Washington Lost the War on Muscle"
Best Entertainment News or Feature: Peter Suderman, for "Young Men Are Playing Video Games Instead of Getting Jobs. That's OK. (For Now.)"
We also have several nominations in the Television category, including:
Best Entertainment News or Feature: Meredith Bragg, for "Chinese Dissident Ai Weiwei Explores the Tragedy of the Refugee Crisis"
Best Non-Entertainment Personality Profile/Interview: Justin Monticello, Alex Manning, and Zach Weissmueller, for "This Self-Taught Programmer Is Bringing Transparency to California Politics"
Best Documentary Short (under 25 minutes): Paul Detrick and Alex Manning, for "Insane Clown Posse: 'We're First Amendment Warriors' for Juggalo Nation"
We received multiple Online nominations as well:
Best News Article, Government/Politics: Eric Boehm, for "After Challenging Red Light Cameras, Oregon Man Fined $500 for Practicing Engineering Without a License"
Best Investigative Article: C.J. Ciaramella and Lauren Krisai, for "How Florida Entraps Pain Patients, Forces Them to Snitch, Then Locks Them Up for Decades"
Best Lifestyle Feature: Mike Riggs, for "Medical Researchers Are Steps From Legalizing Ecstasy. Here's How They Did It"
Best Columnist: Scott Shackford, for "Chelsea Manning Showed Us the Consequences of War, and We Threw Her in Prison," "People Who Called Snowden a Traitor Shocked to Learn About All This Domestic Surveillance," and "The Government is Here to Make Sure Your Fidget Spinner Doesn't Kill Everybody"
Best Political Commentary, National: Matt Welch, for "The Neoliberal Era Is Over"
Best Sports Commentary: Eric Boehm, for "Atlanta Braves' New Stadium Is a Disaster for Taxpayers and Fans"
Best Entertainment and Celebrity News: Elizabeth Nolan Brown, for "Hot Girls Wanted: Exploiting Sex Workers in the Name of Exposing Porn Exploitation?"
Winners will be announced June 24; last year we won five gold medals after receiving 28 nominations.
Reason could not produce this work, let alone achieve such recognition, without your active support, whether through donations, subscriptions, comments, retweets, or leaving a stealth copy on the table at the dentist's office. So thank you!