Hooray! U.S. Fertility Rate Falls to 40-Year Low
Exercising reproductive freedom is a good thing.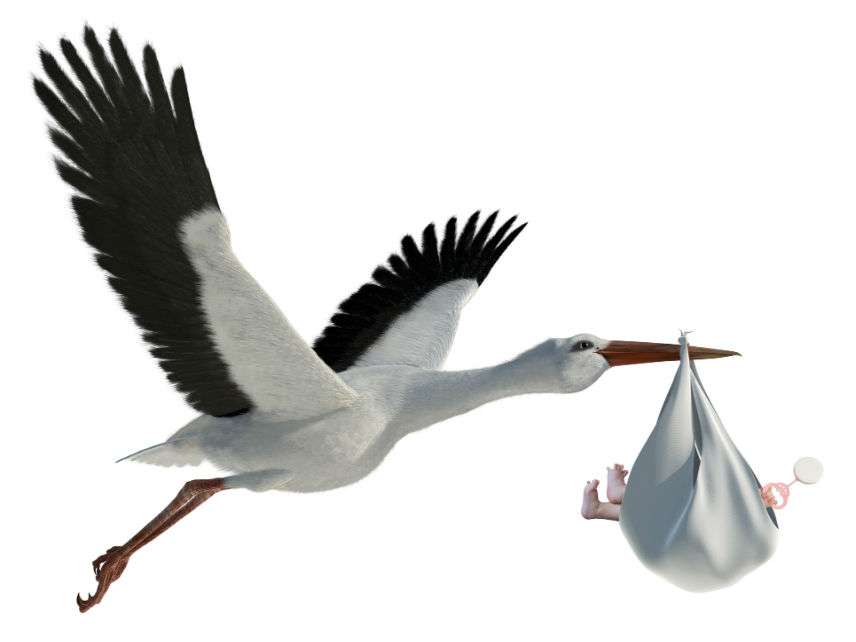 The U.S. fertility rate has fallen to a 40-year low, according to the latest figures from the Centers for Disease Control and Prevention. "The 2017 provisional estimate of fertility for the entire U.S. indicates about 3.85 million births in 2017 and a total fertility rate of about 1.76 births per woman," the pro-natalist Institute for Family Studies (IFS) notes. "These are low numbers: births were as high as 4.31 million in 2007, and the total fertility rate was 2.08 kids back then." The last time fertility in the U.S. fell this low was in the 1970s, when it reached a nadir of 1.74 births per woman in 1976.
The decline in the U.S. total fertility rate (TFR) mirrors a global trend. The world TFR fell from 5.1 children per woman in 1964 to 2.4 in 2016. The U.S. rate is now about the same as TFRs in most European countries. It is well below the population replacement TFR, which is generally calculated as 2.1 children per woman. If the current TFR is sustained and immigration is halted, U.S. population will begin to fall later in this century.
Between 2008 and 2016, the IFS reports, the fertility rate dropped from 2.15 to 1.89 among black women, from 2.85 to 2.1 among Hispanic women, and from 1.95 to 1.72 among non-Hispanic white women.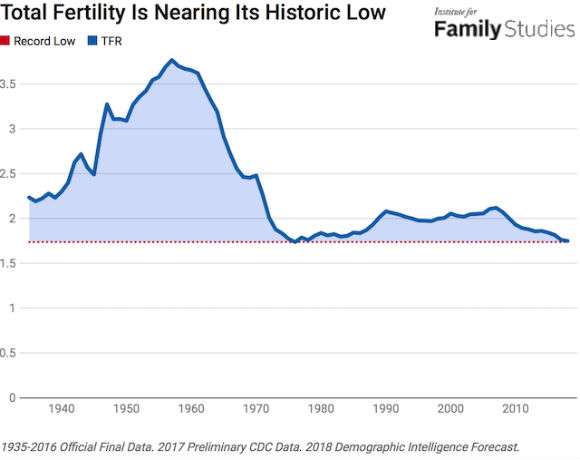 The continuing decline in the birth rate seems "inconsistent with the growing number of women of childbearing age," The New York Times notes. "In 2017, women had nearly 500,000 fewer babies than in 2007, despite the fact that there were an estimated 7 percent more women in their prime childbearing years of 20 to 39."
Back in 2014, I pointed out the strong correlation between women pursuing higher education and falling fertility rates. American women today earn around 60 percent of all college degrees. By age 31, the Bureau of Labor Statistics reports, almost 36 percent of women hold a bachelor's degree or higher, compared with 28 percent of men. The Census Bureau notes that women with college degrees tend to have fewer children. That's why I concluded that the U.S. TFR probably would never again rise above the replacement rate.
Because time and money are limited, more Americans are exercising their reproductive freedom, making the tradeoff between having more children and pursuing the satisfactions of career, travel, and lifestyle. That's a good thing.
Disclosure: My wife and I try not to flaunt our voluntarily child-free lifestyles.