Fuddy-Duddy Functionaries Are Determined to Make Graduation As Joyless As Possible
School officials drag dancing graduates off stage and threaten cheering relatives with fines.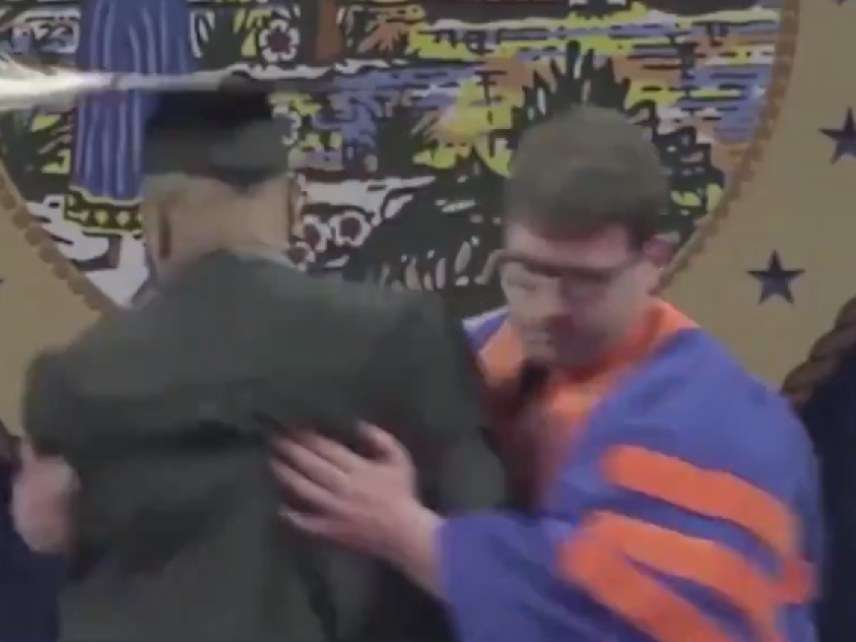 It's graduation season, and we have a couple of news stories to remind us what that's all about: fuddy-duddy functionaries scolding and browbeating people into celebrating the experience the way they're told.
At the University of Florida's massive graduation on Saturday, a faculty member whose job was to ensure a steady flow of 10,000 or so students across the stage was a bit overzealous. In about 20 cases, he physically grabbed and dragged students off the stage because they were dancing. And it wasn't like they were doing a big routine; the footwork may have added a second or two to their time on stage.
WATCH: University of Florida facing backlash over the way graduates were forced off stage. UF @PresidentFuchs has since apologized for the "aggressive" behavior. pic.twitter.com/9h7yKGPWmL

— Joel Franco (@OfficialJoelF) May 7, 2018
The outrage factor for this incident was high because the faculty member appeared to be focusing on black students. He attempted to hurry many students along, but he seemed to get physical only with black students. The University of Florida's president, Kent Fuchs, publicly apologized and said he has personally called every student who was manhandled to apologize. According to The New York Times, the unidentified faculty member was put on administrative leave, and Fuchs says he will make sure such behavior is not repeated at future graduation ceremonies.
As well it shouldn't. The part of graduation that schools want to rush through the most is the reason why everybody's actually there. Yes, the celebrating does make the longest part of the ceremony that much longer, but people who attend graduations know what they're about. If students and families don't want to sit through everybody else's stroll across the stage, they don't have to go.
A similar intolerance for joy was on display at a high school in Greenville, South Carolina, last week. During preparations for Greenville High School's June 4 graduation, officials warned students that their families could be fined up to $1,030 if they yelled too much at the ceremony. Or at all. The school literally ordered families to just sit there and shut up. This was on a slide shown to seniors at an assembly on May 1:
Since graduation is a dignified and solemn occasion, graduating seniors and their guests should behave appropriately. Please ask your guests not to call out, cheer, whistle, or applaud during the reading of names and presentation of diplomas.

The Citation for Family Members yelling out is $1,030.
If you're curious about how school officials can legally fine families for cheering, the good news is that they cannot. It was all a bit of a trick, The Greenville News reported. The graduation ceremony is taking place at a public arena under the jurisdiction of the Greenville police, who have the power to cite people for disorderly conduct but not simply for vocal exuberance. A spokesperson for the police department assured the public that there are no plans to fine graduates' families for cheering.