House Republicans Decide Some Dodd-Frank Reform Is Better Than None
After a monthslong showdown with the Senate, House leaders have agreed to pass a modest set of financial regulation reforms.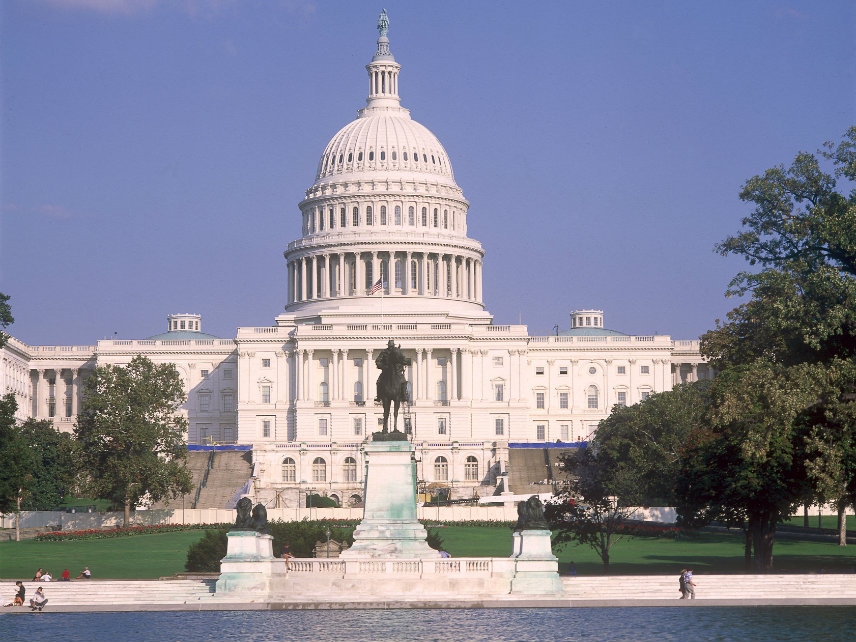 Just weeks after taking office, President Donald Trump promised that he and the Republican Congress would roll back aspects of the Dodd-Frank Act. "We're going to be doing a big number on Dodd-Frank," he said at the time.
After a monthslong stalemate between the House and Senate on exactly what those reforms would look like, it seems that congressional Republicans will indeed do a number—but a smaller one—on the Obama-era law that created the Consumer Financial Protection Bureau (CFPB) and gave the feds vast new powers to regulate banking. Speaker of the House Paul Ryan (R-Wis.) announced this week that the House plans to hold a vote on a Senate-passed financial reform bill after reaching a deal with Senate leaders. The bill had been in legislative limbo for several months as the House pressed for a more comprehensive repeal of Dodd-Frank rules.
In the end, House leaders seem to have decided that it would be better to get at least something done than to end the current session having done nothing about the issue at all.
Though there is no immediate timetable for a vote, Ryan tells The Hill that the House will vote on the Economic Growth, Regulatory Relief, and Consumer Protection Act without adding any amendments, allowing the bill to move immediately to Trump's desk. The bill cleared the Senate in March with a bipartisan 67–31 vote.
But until this week, House leaders had been refusing to take up the Senate bill and were pushing instead for the Senate to vote on a House-passed bill—the Financial Choice Act, sponsored by longtime bank bailout critic Jeb Hensarling (R-Texas)—that rolled back more Dodd-Frank rules and fundamentally altered the CFPB's structure to make it more accountable. Hensarling's bill, which passed the House last June but has been untouched by the Senate, would allow the president to dismiss the head of the CFPB at will and would prohibit the bureau from regulating payday loans or arbitration agreements, two areas where there has been significant conflict between the CFPB and financial firms.
Those changes make the bill unpalatable to Senate Democrats, who have enough votes to block its passage. With Hensarling heading into retirement at the end of the current term, it seems unlikely that his legislation will ever reach the president's desk.
In its place, Trump likely will get a package of reforms that leaves the CFPB untouched but rolls back a number of regulatory burdens for small and mid-sized financial institutions, including the community banks that struggled to comply with the 27,000 new regulations included in the 2010 law's 800-plus pages. The Senate-passed bill would exempt banks with less than $250 billion in assets from Dodd-Frank's so-called "enhanced prudential standards"—strict regulations regarding liquidity, risk management, and capital meant to serve as a "stress test" for banks' balance sheets. It would also exempt banks with less than $10 billion in assets from the so-called Volcker Rule, which limits speculative investments.
The Senate bill represents "only a modest step" toward undoing Dodd-Frank, says Diego Zuluaga, a financial policy analyst at the libertarian Cato Institute. But easing the burden on smaller banks and exempting them from restrictions that were always meant to target large institutions is enough to make the Senate bill "a positive move to facilitate lending, competition, and access to financial services," he concludes.
"This bill represents the best and most realistic opportunity to enact meaningful regulatory relief for community banks in the 115th Congress," wrote the leaders of 43 state community banking associations in a letter this week to House leaders.
Whether it's the best set of Dodd-Frank reforms currently awaiting a vote in one chamber of Congress is certainly debatable, but there's little doubt that the Senate's bipartisan bill represents the most realistic shot at getting significant financial reforms to Trump's desk before the midterms. For a Republican Party that's struggling to find a policy agenda at the moment, that will have to do.