Oliver North Tapped as President of the NRA
The former Marine Corps Lt. Colonel and current Fox News host played a central role in the Iran-contra scandal.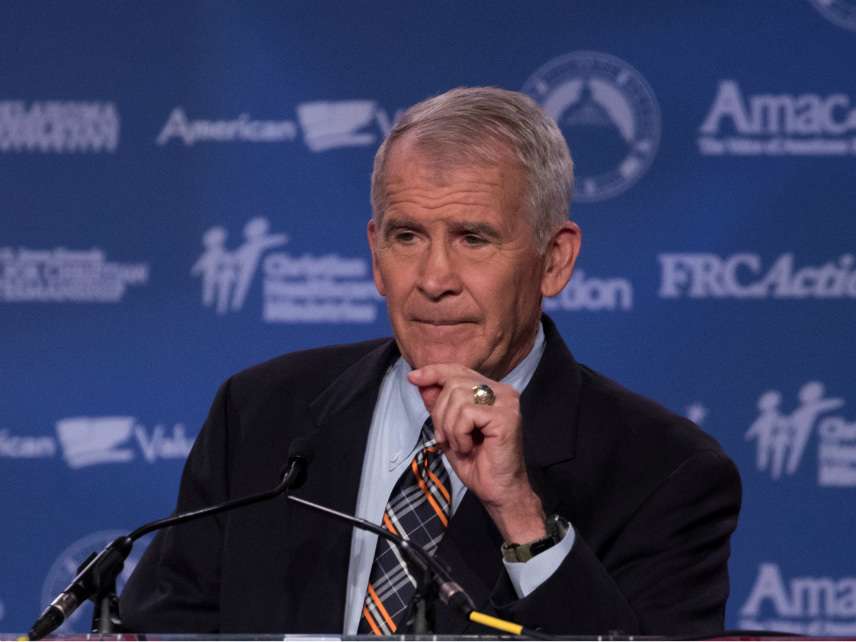 Lt. Colonel Oliver North has been tapped to be the next president of the National Rifle Association (NRA).
A Monday press release announced that the NRA's board of directors had begun the process of naming North to lead the organization, following current president Pete Brownell's decision to resign.
"Oliver North is a legendary warrior for American freedom, a gifted communicator and skilled leader," said Wayne LaPierre, the NRA's long-serving CEO, in the press release. "In these times, I can think of no one better suited to serve as our President."
According to the press release, the decision to elevate North—already an NRA board member—to the presidency came at the suggestion of LaPierre, who reportedly said the organization needed a "warrior" in the position.
North, a former Reagan administration official and current Fox News host, is best known for his central role in the Iran-contra scandal. The former Marine helped establish a covert network used to sell weapons to the Islamic Republic of Iran in the 1980s, the proceeds of which were then illegally funneled to the contra rebels fighting the left-wing government of Nicaragua.
North admitted to lying to Congress about his role in the affair. He was convicted in 1989 of three felonies, including receiving illegal bribes, destroying government documents, and obstructing a congressional investigation. His convictions were overturned in 1991.
Following the Waco stand-off of 1993, where 82 members of the Branch Davidian sect were killed following a failed attempt to serve a warrant on the group's leader, David Koresh, on weapons charges, North offered a full-throated defense of the feds, criticizing "arm-chair critics…second-guessing law enforcement officers on the scene."
North also ran an unsuccessful campaign for an open U.S. Senate seat in Virginia in 1994. During the campaign, North had his concealed carry license revoked by a state judge who determined he was "not of good character."
Brownell's resignation and North's appointment came as a something of a surprise, all apparently happening this morning.
Although North is retiring immediately from Fox News, where he hosts the show War Stories, he will not assume the NRA presidency right away.