Giuliani Confesses to Spreading 'Rumors' About Stormy Daniels
The president's admittedly uninformed and unreliable lawyer says Donald Trump never lies to the press.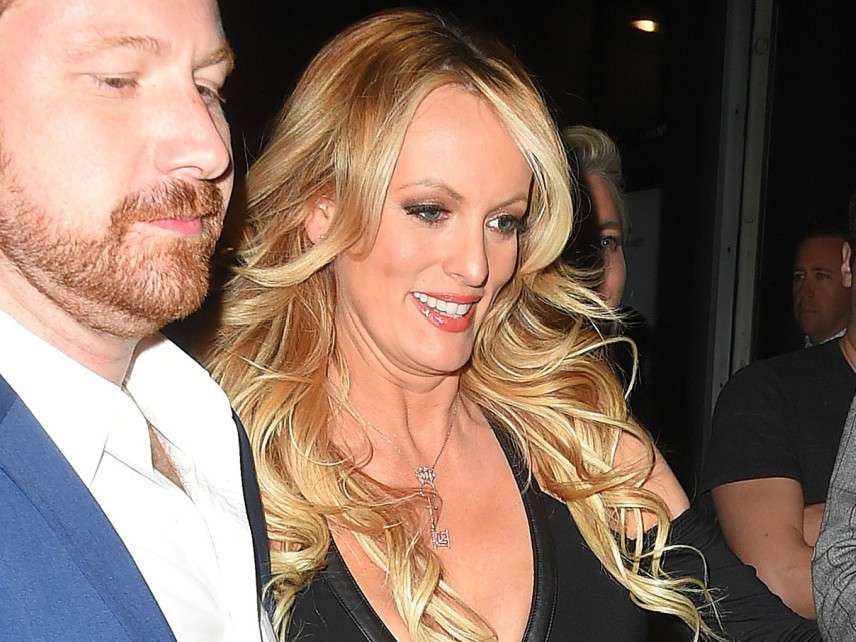 This crazy Stormy Daniels deal keeps getting crazier. On Friday, Donald Trump said Rudy Giuliani, who supposedly is speaking on the president's behalf as his lawyer, does not have his facts straight regarding the $130,000 hush payment to porn star Stormy Daniels. On ABC's This Week yesterday, Giuliani seemed rattled by his client's criticism, confessing that he had reported "rumor" as fact in several interviews last week. "This is more rumor than it is anything else," he said, referring to his own account of how Trump had reimbursed his lawyer Michael Cohen for paying Daniels to keep quiet about her affair with the future president. "I can just say it's rumor. I can prove it's rumor, but I can't prove it's fact. Yet. Maybe we will."
All of this is mystifying for several reasons. First, after his jaw-dropping interview with Sean Hannity last Wednesday, Giuliani insisted that he and the president were on the same page: Before the interview, he had consulted with Trump, who knew and approved what he planned to say. Second, the morning after the interview, Trump seemed to confirm the gist of Giuliani's account with a series of tweets acknowledging that he had reimbursed Cohen, as part of "a monthly retainer," for the cost of the nondisclosure agreement that Daniels signed. Third, Giuliani is supposed to be helping Trump, but whenever he opens his mouth he inspires fresh speculation about exactly which law the president may have violated through his arrangement with Cohen.
The leading contenders so far are the limit on individual campaign contributions, reporting rules for campaign expenditures, and a law that requires federal officials to disclose liabilities of more than $10,000. Giuliani's position, which may or may not coincide with Trump's, is that the payment to Daniels was not a contribution because it was reimbursed, was not a campaign expenditure because the motivation for it was primarily personal rather than political, and was not a debt that Trump owed Cohen because it was part of billable legal expenses. "The retainer agreement," Giuliani explained to George Stephanopoulos on This Week, "was to repay expenses, which turns out to have included this one."
That circumlocution is Giuliani's way of reconciling two apparently contradictory assertions: that Trump did not know about Cohen's payment to Daniels and that he reimbursed Cohen for it. According to Giuliani, Trump paid Cohen $420,000 in monthly installments of $35,000, and $130,000 of that covered the payment to Daniels, which was a legal expense so routine and trivial that Cohen never bothered mentioning it to Trump. Then again, that story, also according to Giuliani, may be no more than a "rumor."
If so, it is not a very plausible rumor. Nor is Giuliani's claim that Cohen paid off Daniels to avoid embarrassing Trump's wife, Melania, rather than to keep the story of Daniels' affair with Trump out of the news during the final weeks of his presidential campaign. "It was to settle a personal issue that would be embarrassing to him and his wife," Giuliani told Stephanopoulos.
Yet Giuliani also suggested, during a Fox and Friends interview last Thursday, that Cohen was worried the Stormy Daniels story would hurt Trump's electoral chances. "Imagine if that came out on October 15, 2016, in the middle of the, you know, last debate with Hillary Clinton," Giuliani said. "Cohen didn't even ask. Cohen made it go away. He did his job."
Incredible as Giuliani's tale may be, it also must be said that Cohen's fears were almost certainly misplaced. Trump survived multiple accusations from women who said he had kissed or groped them against their will, combined with a video in which he bragged about such behavior. What are the odds that reports of a consensual affair would have stopped him from winning the election? Trump has a well-known history as an indiscreet philanderer, although he denies this particular relationship. People who voted for him understood that he was boorish and unfaithful. It did not stop them.
If adultery is not the scandal here, neither is dishonesty. When Stephanopoulos asked if "it's OK to lie to the press," Giuliani acknowledged there have been "a few presidents who did that." But according to Giuliani, Trump is not one of them. "I don't think that this president has done that," he said. Of all the implausible claims that Giuliani made yesterday, that may be the most risible. Trump lies routinely, reflexively, and extravagantly, but his supporters do not seem to hold it against him.
So we are left, probably, with an arguable violation of a reporting requirement. If you think Trump knowingly broke the law to keep embarrassing information out of the news prior to the election, that would indeed be a pretty big deal. But when you listen to the president and his legal advisers, it is hard to believe they are sophisticated enough to be guilty of that crime.