It's Time To End the White House Correspondents' Dinner
Michelle Wolf's jokes weren't particularly funny or offensive, but they-and the media's outraged reaction-belie an event whose best days were long ago.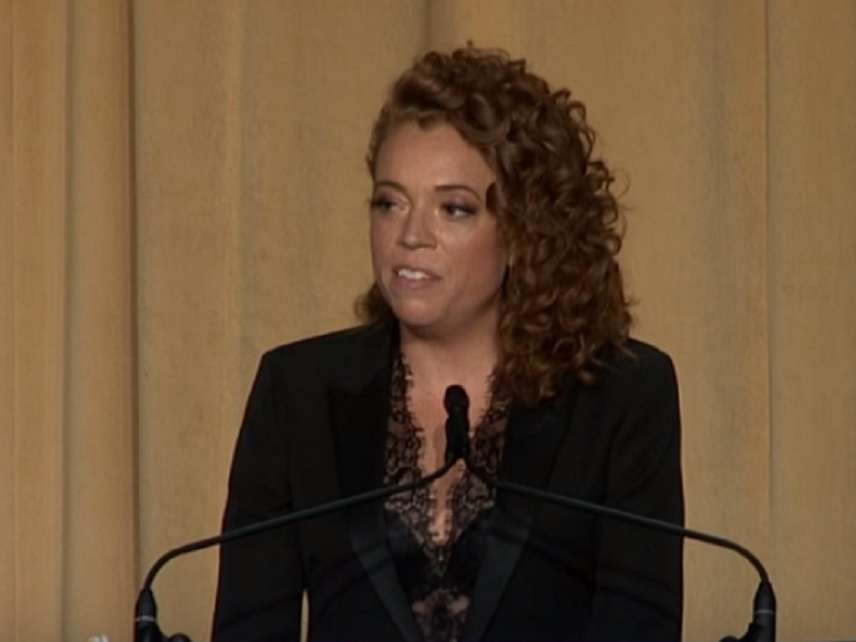 The problem with a pissing contest is that everybody involved ends up getting wet.
Which brings me to the annual White House Correspondents' Dinner, which featured a mostly unfunny 20-minute set by comedian Michelle Wolf and heaps of public outrage by conservatives and liberal journalists ostensibly upset at crude, vulgar comments aimed at the president, Kellyanne Conway, Sarah Huckabee Sanders, and other administration figures. There is no one to root for in such a spectacle. For the second straight year, Donald Trump chose not to attend, a decision which is pretty smart from almost any point of view. What exactly would he gain from showing up? (Scroll down to watch video of Wolf's set.)
Wolf's set started off promisingly, with her quipping, "Like a porn star says when she's about to have sex with a Trump, let's get this over with." But she spent far too much time explaining her jokes to get on with actually delivering solid punch lines. That said, the idea that she brutally and misogynistically attacked Sanders, which many commenters have averred, is absurd. You wouldn't know it from conservative Twitter, but the most controversial joke in the performance didn't actually attack Sanders' looks but her penchant for doublespeak:
I actually really like Sarah. I think she's very resourceful. But she burns facts and then she uses that ash to create a perfect smokey eye. Like maybe she's born with it; maybe it's lies. It's probably lies.

And I'm never really sure what to call Sarah Huckabee Sanders. You know, is it Sarah Sanders? Is Sarah Huckabee Sanders? Is it Cousin Huckabee? Is it Auntie Huckabee Sanders? Like, what's Uncle Tom but for white women who disappoint other white women? Oh, I know: Aunt Coulter.
Wolf didn't hesitate to work blue, but most of her gags were hardly "scathing" (as many anti-Trump people dubbed them). To wit:
Men are being held accountable. You know, Al Franken was ousted. That one really hurt liberals. But I believe it was the great Ted Kennedy who said, "Wow, that's crazy; I murdered a woman."

"Chappaquiddick" in theaters now.

I did have a lot of jokes—I had a lot of jokes about Cabinet members, but I had to scrap all of those because everyone has been fired. You guys are going through Cabinet members quicker than Starbucks throws out black people.

Mitch McConnell isn't here. He had a prior engagement. He's finally getting his neck circumcised. Mazel.

Paul Ryan couldn't make it. Of course, he's already been circumcised. Unfortunately, while they were down there, they also took his balls….
Wolf did get some digs in at the press itself, but the shots were not much better than the ones aimed at politicians.
You guys are obsessed with Trump. Did you used to date him? Because you pretend like you hate him, but I think you love him. I think what no one in this room wants to admit is that Trump has helped all of you. He couldn't sell steaks or vodka or water or college or ties or Eric, but he has helped you.

He's helped you sell your papers and your books and your TV. You helped create this monster, and now you're profiting off of him. And if you're gonna profit off of Trump, you should at least give him some money because he doesn't have any.
In the scheme of things, Wolf's routine was mostly forgettable. Yet conservatives were quick to outrage, including presidential assistant Mercedes Schlapp and her husband Matt (head of the American Conservative Union), who walked out of the dinner:
My wife @mercedesschlapp and I walked out early from the wh correspondents dinner. Enough of elites mocking all of us

— Matt Schlapp (@mschlapp) April 29, 2018
Far more interesting, though, then Trump supporters, conservatives, and Republicans acting like college-age snowflakes is the response of the press corps. Talk about thin skin! Here's Morning Joe's Mika Brzezinski huffing:
Watching a wife and mother be humiliated on national television for her looks is deplorable. I have experienced insults about my appearance from the president. All women have a duty to unite when these attacks happen and the WHCA owes Sarah an apology.

— Mika Brzezinski (@morningmika) April 29, 2018
And here's NBC's Andrea Mitchell sounding a similar note:
Apology is owed to @PressSec and others grossly insulted ny Michelle Wolf at White House Correspondents Assoc dinner which started with uplifting heartfelt speech by @margarettalev - comedian was worst since Imus insulted Clinton's

— Andrea Mitchell (@mitchellreports) April 29, 2018
Margaret Talev, who works for Bloomberg and is the president of the White House Correspondents Association, which sponsors the dinner, allowed that "some of [Wolf's jokes] made me uncomfortable and did not embody the spirit of the night."
Of course, exactly what that spirit is supposed to be is far from clear. The only vaguely memorable White House Correspondents' Dinner monologues have been those that, like Wolf's, were deemed nasty and out of bounds. Stephen Colbert's 2006 performance comes to mind, as do Don Imus's and Norm MacDonald's 1996 and 1997 appearances at the Radio and Television Correspondents' Association annual dinner.
New York Times' reporter Peter Baker suggested "I don't think we advanced the cause of journalism," and later counseled, "I would vote to leave the comedy acts to comedy shows and stick to journalism at journalism dinners."
That sounds about right for an evening that all too often leaves no one satisfied even as it increases the chasm between the media and the voting public. According to a Knight Foundation-Gallup report released earlier this year, "trust in the media is at an all-time low," with 43 percent having a negative view of the press and just 33 percent having a positive view.
The White House Correspondents' Dinner got started in 1920, so it's had a long run. Like so many other aspects of contemporary American life (such as today's political parties, taxicab cartels, and old-style shopping malls), it's time to hang it up and move on to something actually meaningful to 21st-century America. The event serves no meaningful purpose and accomplishes nothing other than raising hackles all around by underscoring the prickliness of the press and diverting attention from actual reporting and analysis. Certainly, no one will miss it.